Chaos of War and Rampant Horses-兵荒马乱 (bīng huāng mǎ luàn)
Monday, November 20, 2023
In the vast river of history, there are many periods filled with turmoil and chaos, described as "兵荒马乱" (bīng huāng mǎ luàn), signifying chaotic times. In this Chinese story, residents of a small town endure hardship due to war. Soldiers and horses flood the town, making life exceptionally difficult. People are displaced, struggling to survive, and the entire town becomes a casualty of the 火焰 (huǒ yàn) flames of war.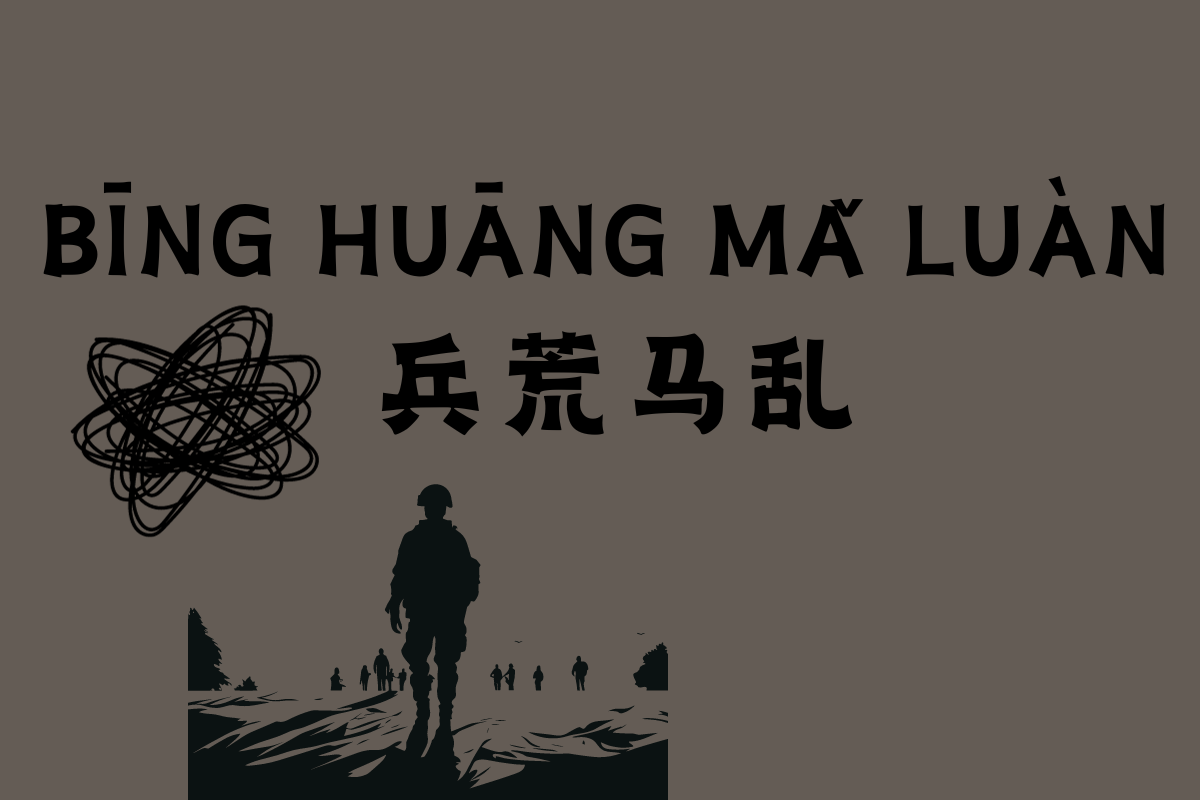 火焰 (huǒ yàn), noun, flame
Examples:
The flames danced in the fireplace, warming the room.
火焰在壁炉中舞动,温暖了房间。


Huǒyàn zài bìlú zhōng wǔdòng, wēnnuǎn le fángjiān.

As the candles burned, soft flames illuminated the dark room.
蜡烛燃烧时,柔和的火焰照亮了黑暗的房间。


làzhú ránshāo shí, róuhé de huǒyàn zhàoliàng le hēi'àn de fángjiān.
Inspiration of 兵荒马乱 (bīng huāng mǎ luàn)
"兵荒马乱" serves as a warning of the hardships and disorder during times of war. In peacetime, it encourages cherishing the existing peace and happiness while urging people to strive for the maintenance of 和平 (hé píng) peace, preventing a recurrence of the chaos described by the phrase.
和平 (hé píng), noun, peace
Examples:
Everyone dreams of a world filled with peace and harmony.
人人都梦想着一个充满和平与和谐的世界。


Rénrén dōu mèngxiǎng zhe yīgè chōngmǎn hépíng yǔ héxié de shìjiè.

After years of conflict, the region finally found peace.

经过多年的冲突,该地区终于迎来了和平。



Jīngguò duō nián de chōngtū, gāi dìqū zhōngyú yíng lái le hépíng.
Meaning of the Phrase
兵荒马乱 (bīng huāng mǎ luàn): Idiom, describing the chaos and hardships during times of war.
Modern Application
Despite living in an era of peace, "兵荒马乱" still finds modern relevance. This idiom reminds us to appreciate peace, actively work to maintain societal stability, and prevent a descent into chaos and upheaval.
Key Sentences:
During the war, the small town experienced turmoil of war, leaving homes in ruins.
在战争期间,小镇兵荒马乱,房屋残破。


Zài zhànzhēng qījiān, xiǎo zhèn bīng huāng mǎ luàn, fángwū cán pò.

The chaos of war, brought hardship, forcing families to seek refuge elsewhere.
兵荒马乱带来困苦,迫使家庭寻求避难。


Bīng huāng mǎ luàn dàilái kùnkǔ, pòshǐ jiātíng xúnqiú bìnàn.

In the tumult of war disrupted the peaceful life of the village.
在战乱的混乱中,兵荒马乱打破了村庄的宁静生活。


Zài zhànluàn de hùnluàn zhōng, bīng huāng mǎ luàn dǎpò le cūnzhuāng de níngjìng shēnghuó.
Related Articles
Sign up for a free trial now!