Managing the Wild Card: Dealing With Disruptive Elements
Thursday, September 7, 2023
In Chinese culture, the phrase "害群之马" (hài qún zhī mǎ) refers to an individual who disrupts harmony within a group, often causing harm to the collective effort. The literal translation of this idiom is "a horse that harms the herd." Let's explore this concept further.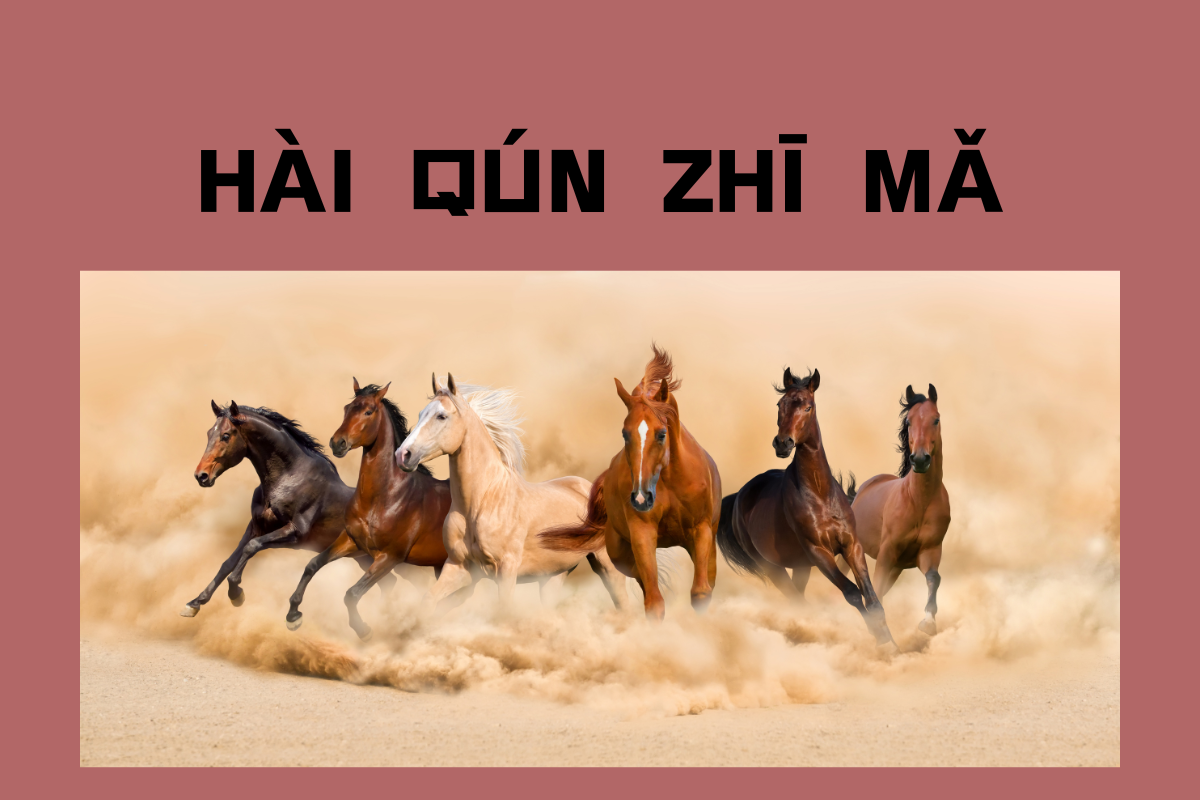 The concept of "害群之马" revolves around the idea that a group can only thrive and succeed when all its members work together cohesively towards a common goal. However, there are occasions when one member, often unknowingly, jeopardizes this harmony. This 破坏性的 (
pò huài xìnɡ de
) disruptive influence can manifest in various ways, such as through constant complaints, unreliability, selfishness, or a lack of commitment. The impact of such individuals can be substantial, leading to reduced team morale, hindered productivity, and even the ultimate failure of a project or endeavor. Therefore, it is essential to recognize and address the presence of these disruptive elements to maintain a healthy and productive group dynamic.
破坏性的 (

pò huài xìnɡ de

)
: adj, disruptive
Example:
It's disruptive.
它具有破坏性
tā jù yǒu pò huài xìnɡ。
Such a huge change would have to be highly disruptive.
这么大的改变将会是极具破坏性的。
zhè me dà de ɡǎi biàn jiānɡ huì shì jí jù pò huài xìnɡ de。
The crisis will prove hugely disruptive.
这场危机将显示出极大的破坏性。
zhè chǎnɡ wēi jī jiānɡ xiǎn shì chū jí dà de pò huài xìnɡ。
Understanding 害群之马 (hài qún zhī mǎ):
The term consists of three key components:
害群 (

hài qún

)
: "害" (
hài
) means harm or damage, and "群" (
qún
) means a group or herd. Together, they convey the idea of causing harm within a group.
之 (

zhī

)
: This character signifies a possessive relationship, indicating that the horse belongs to the group, yet its actions are detrimental.
马 (

mǎ

)
: Literally, this means horse, but in this context, it metaphorically represents the individual causing trouble.
Key Sentences:
The troublemaker in the class is always disrupting the lessons.
班上的害群之马总是打扰课程。
Bān shàng de hài qún zhī mǎ zǒng shì dǎrǎo kèchéng.
He's the troublemaker at work because he never meets deadlines.
在工作中,他是害群之马,因为他从不按时完成任务。
Zài gōngzuò zhōng, tā shì hài qún zhī mǎ, yīnwèi tā cóng bù ànshí wánchéng rènwù.
The team's success was compromised by the troublemaker's negative attitude.
团队的成功受到了害群之马消极的态度的影响。
Tuánduì de chénggōng shòudàole hài qún zhī mǎ xiāojí de tàidu de yǐngxiǎng.
Sign up for a free trial now!