A Galloping Thousand Horses-万马奔腾 (wàn mǎ bēn téng)
Friday, October 27, 2023
万马奔腾 (
wàn mǎ bēn téng
) is a captivating
Chinese idiom
that translates to "a thousand horses galloping" in English. This expression evokes the imagery of unstoppable momentum and a powerful force moving forward. In this article, we'll delve into the story behind this phrase, its inspirational aspects, its meaning, and how it can be applied in modern life.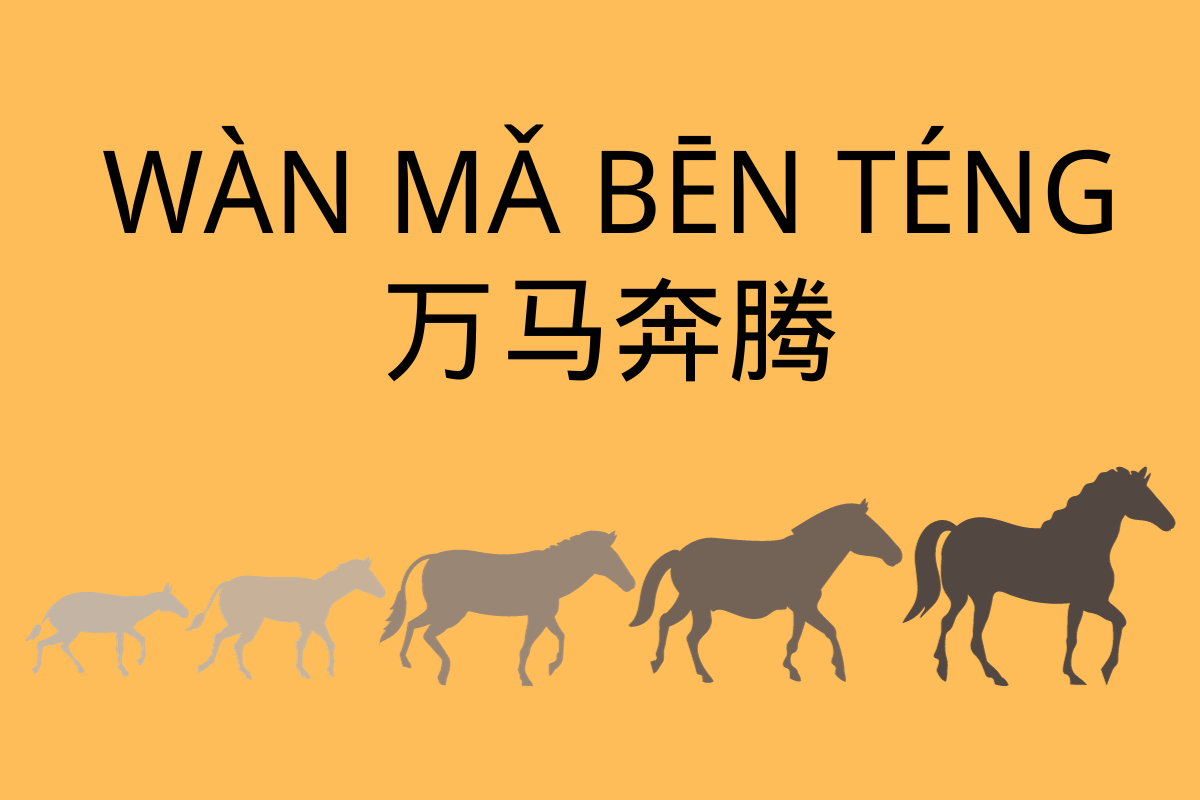 The Story Behind 万马奔腾 (
wàn mǎ bēn téng

)

The origins of this idiom can be traced back to ancient China, during the Warring States period. In a time of constant warfare and political upheaval, a courageous general named Zhang Fei served under the warlord Liu Bei. During a critical battle, Zhang Fei led a charge of a thousand mounted soldiers. The thunderous sound of their galloping hooves created an awe-inspiring spectacle, striking fear into the hearts of their enemies. This event led to the coining of the phrase "万马奔腾" (

wàn mǎ bēn téng

) to describe this formidable display of 能力 (

néng lì

)

power and unity.

能力 (néng lì), noun, power

Examples:
She has the power to make important decisions.
她有能力做出重要决定。


Tā yǒu nénglì zuò chū zhòngyào juédìng.

I do not have the power to complete this project.
我没有能力完成这个项目。


Wǒ méiyǒu nénglì wánchéng zhège xiàngmù.
The Meaning of 万马奔腾 (
wàn mǎ bēn téng

)

万马奔腾 represents an unstoppable force or a collective effort that moves forward with great momentum. It signifies unity, determination, and the power of a large group working together to overcome obstacles.
Modern Applications
In contemporary society, the concept of 万马奔腾 (wàn mǎ bēn téng) remains highly relevant:
Teamwork: In the workplace, successful teams exemplify the idea of a thousand horses galloping together to achieve common goals.
Social Movements: The power of 集体 (

jí tǐ

) collective action in social movements, such as civil rights protests, demonstrates the unstoppable force of unity.
Entrepreneurship: Start-up companies with a dedicated team working towards a shared vision can experience rapid growth and success, akin to the idiom's imagery.
集体 (jí tǐ), noun, collective
Examples:
Our collective efforts made the project a success.
我们的集体努力使项目取得了成功。


Wǒmen de jítǐ nǔlì shǐ xiàngmù qǔdéle chénggōng.

The collective decision was to hold the meeting in the afternoon.
集体决定是在下午举行会议。


Jítǐ juédìng shì zài xiàwǔ jǔxíng huìyì.

During the sports day, it's like a thousand horses galloping.
运动会上万马奔腾。


Yùndònghuì shàng wàn mǎ bēn téng.
Key Sentences:
The company's employees work diligently, like a thousand horses galloping.
公司的员工勤劳的像万马奔腾。


Gōngsī de yuángōng qínláo de xiàng wàn mǎ bēn téng.

Volunteers complete projects with the same energy as a thousand horses galloping.
志愿者们万马奔腾一样完成项目。


Zhìyuànzhěmen wàn mǎ bēn téng yīyàng wánchéng xiàngmù.
Related Articles
Sign up for a free trial now!