Glancing at the Scenery on Horseback-走马观花 (zǒu mǎ guān huā)
Friday, October 27, 2023
走马观花 (
zǒu mǎ guān huā
) is a popular
Chinese idiom
that translates to "viewing flowers while riding a horse" in English. It conveys the idea of taking a quick and superficial glance at things. In this article, we'll explore the origins of this expression, its underlying meaning, the lessons it imparts, and how it can be applied to modern life.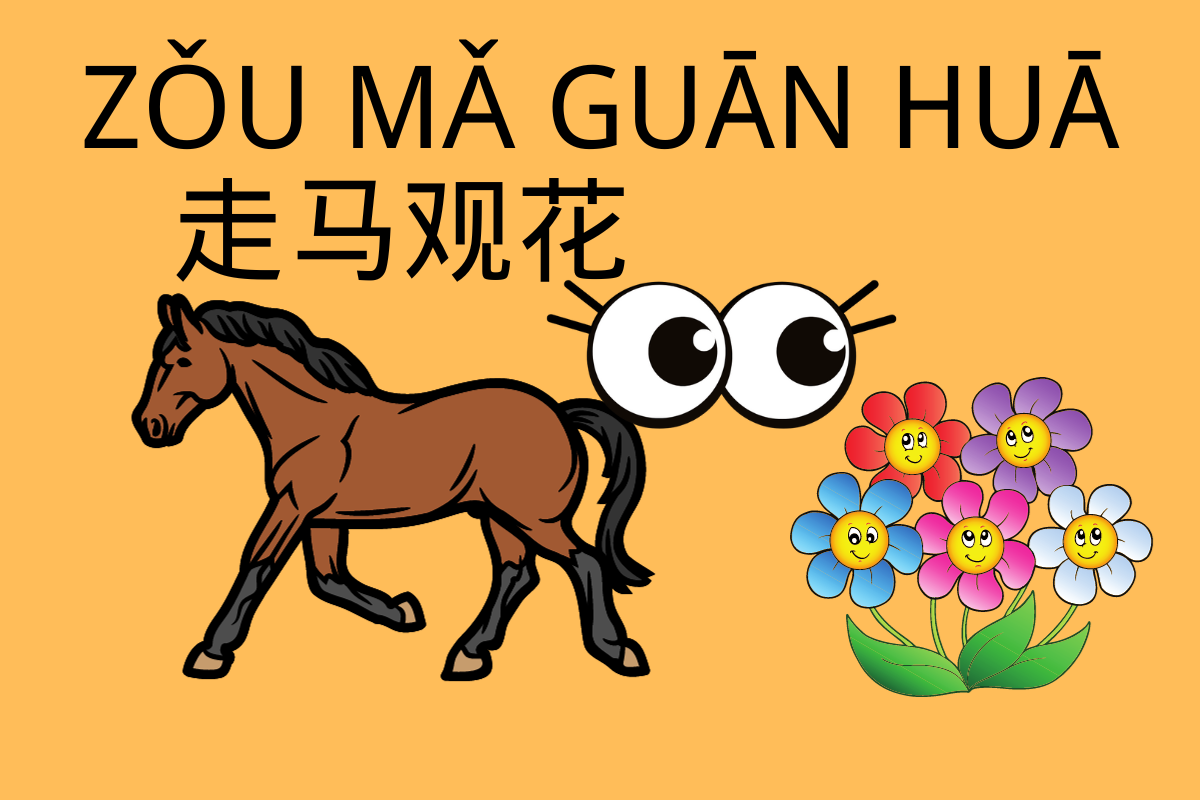 The Story Behind 走马观花 (
zǒu mǎ guān huā

)

This idiom's roots can be traced back to the Tang Dynasty in China. A famous poet, Du Fu, once wrote a poem describing his journey on a horse. In the poem, he mentioned passing by beautiful flowers while riding his horse but not having the time to stop and 欣赏 (

Xīn shǎng

)

appreciate their beauty. The phrase "走马观花" (

zǒu mǎ guān huā

) was later derived from this poem.

欣赏 (

xīn shǎng

)

, verb, appreciate
They obviously appreciate you very much.
他们明显很欣赏你。


tā men mínɡ xiǎn hěn xīn shǎnɡ nǐ.

She appreciates the beauty of nature when she goes hiking.
她在徒步旅行时欣赏大自然的美丽。


Tā zài túbù lǚxíng shí xīnshǎng dàzìrán de měilì.
The Meaning of 走马观花 (
zǒu mǎ guān huā

)
走马观花 (
zǒu mǎ guān huā
) represents a hurried and superficial approach to observing or experiencing things. It reminds us that in our fast-paced lives, we often miss out on the deeper details of what's around us because we are too busy or preoccupied.
Modern Applications
In today's fast-paced world, the concept of 走马观花 (zǒu mǎ guān huā) remains relevant:
Technology and Social Media: Many people scroll through social media and consume information rapidly, often 缺失的 (

quē shī de

) missing the essence of what they're viewing.
Work-Life Balance: In our careers, we're often in a rush to meet deadlines and achieve goals, sometimes neglecting the smaller, more meaningful moments.
Travel and Exploration: Tourists may rush through popular destinations without truly absorbing the local culture and the unique experiences they offer.
缺失的 (quē shī de), adj, missing
I found a missing piece of the puzzle.
我找到拼图缺失的一部分了。


Wǒ zhǎodào pīntú quēshī de yī bùfènle.

She found the missing key.
她找到了缺失的钥匙。


Tā zhǎodàole quēshī de yàoshi.
Key Sentences:
He skimmed through the book, skim the surface, missing its profound message.
他匆匆翻阅书籍,走马观花,错过了其中的深刻信息。


Tā cōngcōng fānyuè shūjí, zǒumǎguānhuā, cuòguòle qízhōng de shēnkè xìnxī.

In the museum, tourists often skim the surface, missing the art's finer details.
在博物馆里,游客经常走马观花,错过了艺术品的细节之美。


Zài bówùguǎn lǐ, yóukè jīngcháng zǒumǎguānhuā, cuòguòle yìshù pǐn de xìjié zhī měi.

When reading novels, don't skim through them.
阅读小说时不要走马观花。


Yuèdú xiǎoshuō shí bùyào zǒumǎguānhuā.
Related Articles
Sign up for a free trial now!