Childhood Sweethearts-青梅竹马 (qīng méi zhú mǎ)
Monday, September 11, 2023
"青梅竹马" (qīng méi zhú mǎ) is a Chinese phrase that literally means "green plums and bamboo horses." While it may sound poetic, this expression is rooted in Chinese culture and carries a deep meaning. In this article, we will explore the story behind this phrase, why it is called "青梅竹马" (qīng méi zhú mǎ) and how it is used in everyday life.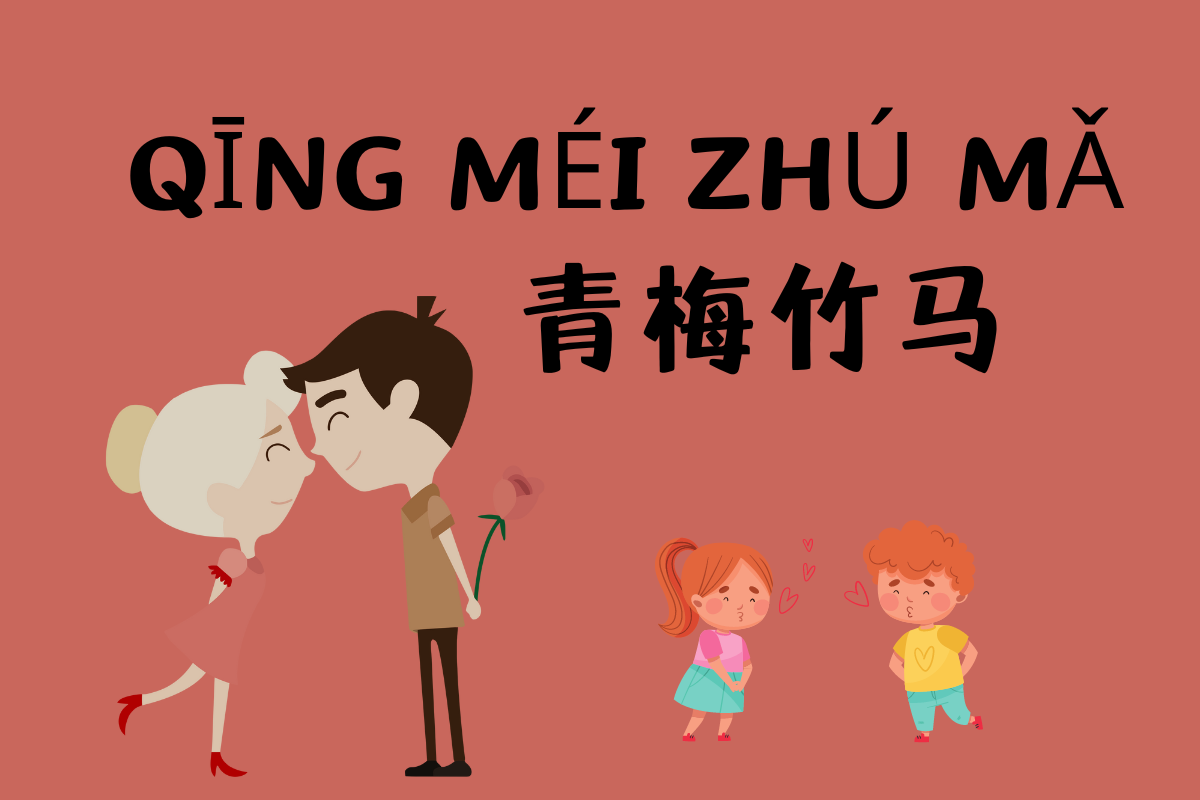 The Story
Long ago, in a picturesque village nestled by the mountains and rivers of ancient China, there lived two young children named Mei and Zhu. Mei, a lively and adventurous girl, lived in a house surrounded by lush plum trees, and her family had a horse named Zhu. Zhu, on the other hand, was a sturdy and reliable horse that resided in a bamboo grove.
Mei and Zhu grew up together, sharing countless adventures and forming a deep bond over the years. Mei would often feed Zhu plums from her family's trees, and Zhu would carry Mei on its back through the bamboo forest. Their friendship 友谊(yǒu yì)blossomed into a profound connection that transcended childhood playmates.
The phrase "青梅竹马" (qīng méi zhú mǎ) was coined to describe such childhood friends who grow up together and share a special, unbreakable bond. It signifies a deep and lasting relationship that withstands the test of time and remains strong into adulthood.
友谊(yǒu yì): noun, friendship
Examples:
We have a very deep friendship.
我们之间有很深厚的友谊。
wǒmen zhījiān yǒu hěn shēn hòu de yǒu yì。
We have known each other for a long time and have a long friendship
我们认识许久,有着很久的友谊。
wǒmen rèn shíxǔjiǔ,yǒu zhe hěn jiǔde yǒu yì。
Daily Application
In modern times, "青梅竹马" (qīng méi zhú mǎ) is used to refer to childhood sweethearts or close friends who have known each other since they were young. It is often used to describe a romantic relationship that began during childhood and endures through adulthood. This phrase emphasizes the deep connection and shared history between two people who have grown up together.
Why is called qīng méi zhúmǎ?
"青梅" (qīng méi): refers to youth, young time. In Chinese culture, green plum is often used to describe the good years of young people.
"竹马" (zhú mǎ): refers to a toy horse made of bamboo. The "bamboo horse" here implies childhood friendship or playmate relationship. Bamboo horses are a common element in childhood games, representing the innocence of childhood and the depth of friendship.
Therefore, the idiom "childhood 童年 (tóng nián) sweetheart" combines "青梅" and "青梅竹马" to describe people who grew up together when they were young ,shared good times, and established a deep friendship or relationship. It emphasizes the specialness and durability of the relationship, the friendship or love that will remain strong no matter how time passes.
童年 (tóng nián): noun, childhood
Examples:
Grandma has been with me throughout my childhood.
奶奶陪伴了我整个童年。
nǎi nǎi péi bàn le wǒzhěng gètóng nián。
My best friend is my most important childhood companion
我的好朋友是我童年最重要的伙伴。
wǒde hǎo péng yǒu shìwǒtóng nián zuìzhòng yào de huǒbàn.
Key points:
Mei and Zhu were childhood sweethearts,and their love story is heartwarming.
梅和竹是青梅竹马,他们的爱情故事令人感动。
Méi hézhúshìqīng méi zhúmǎ,tāmen deàiqíng gùshìlìng rén gǎndòng.
Their friendship,like the bond between green plums and bamboo horses
他们的友情,如同青梅竹马之间的纽带
Tāmen de yǒuqíng,rútóng qīng méi zhúmǎzhījiān de niǔdài.
They grew up together and were childhood sweethearts.
他们一起长大,是青梅竹马。
Tāmen yīqǐzhǎngdà,shìqīng méi zhúmǎ.
Sign up for a free trial now!