Old Mare Leading the Way-老马识途 (lǎo mǎ shí tú)
Wednesday, October 25, 2023
"老马识途" (lǎo mǎ shí tú) is an idiom rooted in traditional Chinese rural wisdom. The story narrates an encounter between an elderly farmer and his reliable workhorse. On a long journey, the old farmer relied on his seasoned horse to navigate through unfamiliar terrain, traversing mountains and rivers. The old horse seemed to possess the uncanny ability to 认出 (rèn chū) recognize the lay of the land and the best paths to take, guiding the farmer to their destination in a remarkable manner.Time and time again, the old farmer felt immense gratitude because the horse's experience and intuition ensured the safety and smoothness of their journey. This Chinese story underscores the importance of experience and wisdom when facing unknown challenges.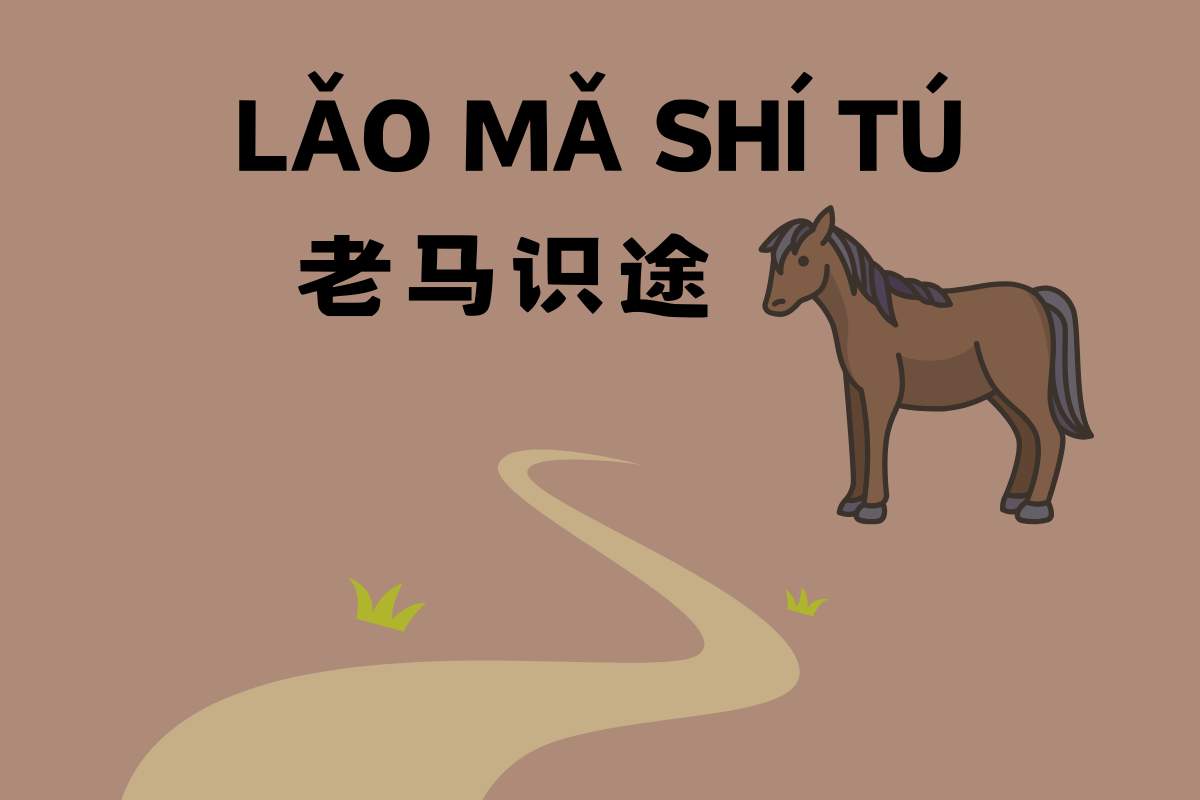 认出 (rèn chū), verb, recognize
Examples:
She can recognize her best friend in a crowd.
她能够在人群中认出她最好的朋友。


Tā nénggòu zài rénqún zhōng rènchū tā zuìhǎo de péngyǒu.

I recognize this song; it's one of my favorites.
我认出这首歌,它是我最喜欢的之一。


Wǒ rènchū zhè shǒu gē, tā shì wǒ zuì xǐhuān de zhī yī.
The Inspiration of "老马识途" (
lǎo mǎ shí tú

)

The story of "老马识途" (lǎo mǎ shí tú) teaches us that experience and wisdom are invaluable treasures. In the face of unfamiliar roads and challenges, the seasoned experience can act as our guiding light and support.
The Meaning of the Phrase
"老马识途" (lǎo mǎ shí tú) signifies that those with substantial experience and wisdom in a particular field can provide valuable guidance and assistance in various circumstances.
Application in Modern Times
In modern society, this concept is equally applicable. Seeking advice from experienced mentors or experts can help us better cope with challenges and uncertainties. It also underscores the importance of respecting and harnessing the wisdom of the older generation for improved 指导 (zhǐ dǎo) guidance.
指导 (zhǐ dǎo), noun, guidance
Examples:
She sought the teacher's guidance.
她寻求老师的指导。


Tā xúnqiú lǎoshī de zhǐdǎo.

Mom guided my math.
妈妈指导了我的数学。


Māmā zhǐdǎo le wǒ de shùxué.
Key Sentences:
He's been a chef for decades; he truly embodies "an old horse knows the way."
他当了几十年的厨师,他确实体现了"老马识途"。


Tā dāngle jǐshí nián de chúshī, tā quèshí tǐxiànle "lǎo mǎ shí tú."

she has that "an old horse knows the way" wisdom.
她具备"老马识途"的智慧。


Tā jùbèi "lǎo mǎ shí tú" de zhìhuì.

Learning from experienced mentors is a way to embrace "an old horse knows the way."
向有经验的导师学习是"老马识途"的一种方式。


Xiàng yǒu jīngyàn de dǎoshī xuéxí shì "lǎo mǎ shí tú" de yī zhǒng fāngshì。
Related Articles
Sign up for a free trial now!