Unrelenting Pace for the Horse-马不停蹄 (mǎ bù tíng tí)
Tuesday, October 24, 2023
"马不停蹄" (mǎ bù tíng tí) is an idiom rooted in an ancient Chinese tale. During the Warring States period, a young courier was tasked with delivering crucial documents to a distant state. He rode a swift horse and never stopped, even in extreme weather and on treacherous roads. This young courier faced numerous challenges, but his determination and persistence carried him through. He reached his 目的地 (mù dì dì) destination at a breakneck pace, delivering the documents on time and earning acclaim for his nation.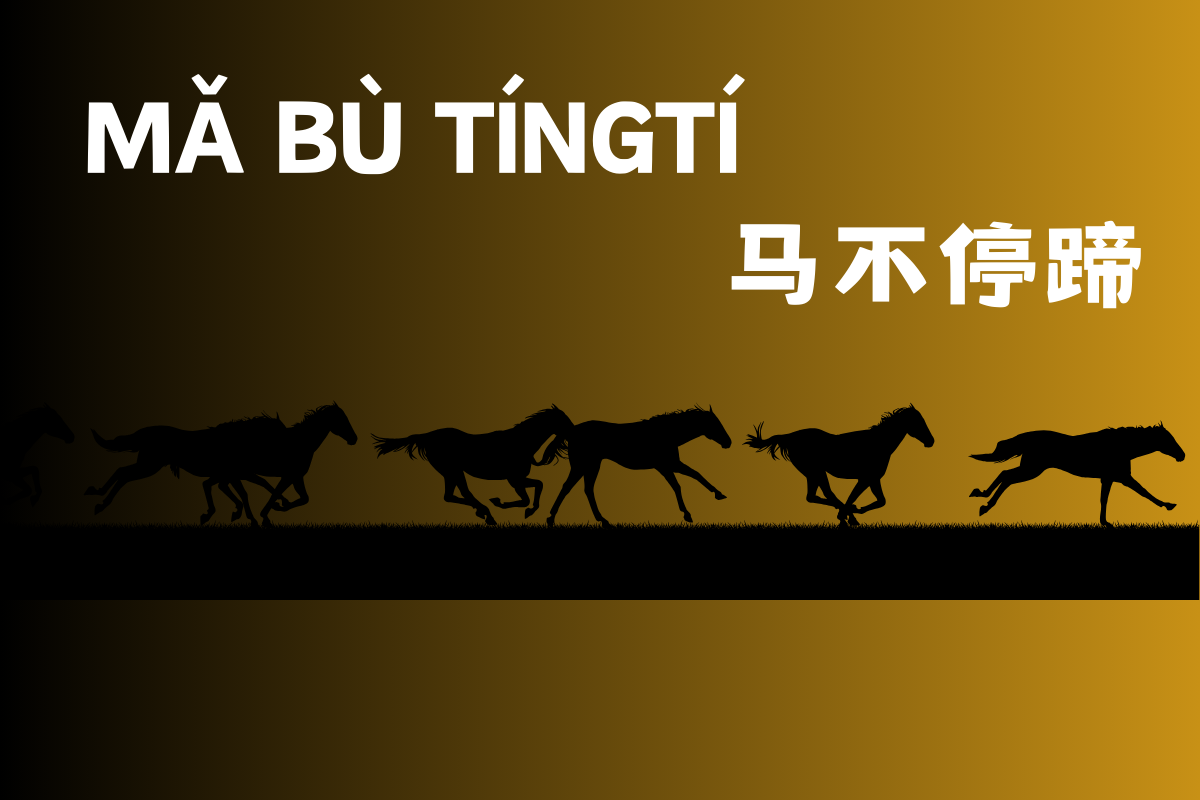 目的地 (mù dì dì), noun, destination
Examples:
Our destination for the trip is the beach.
我们这次旅行的目的地是海滩。


Wǒmen zhècì lǚxíng de mùdìdì shì hǎitān.

Our destination is the gas station.
我们的目的地是加油站。


Wǒmen de mùdìdì shì jiāyóuzhàn.
The Inspiration of "马不停蹄" (
mǎ bù tíng tí

)

The story of "马不停蹄" (mǎ bù tíng tí) teaches us that perseverance and resilience can overcome various difficulties and obstacles. This idiom emphasizes unwavering effort when facing important tasks.
The Meaning of the Phrase
"马不停蹄" signifies 连续 (lián xù) continuous work or progress, regardless of how many difficulties or obstacles one encounters.
连续 (lián xù), adj, continuous
Examples:
The continuous rain lasted for hours.
连续的雨持续了好几个小时。


Liánxù de yǔ chíxùle hǎo jǐ gè xiǎoshí.

We have a hundred straight games.
我们有一百场连续的比赛。


wǒ men yǒu yì bǎi chǎnɡ lián xù de bǐ sài.
Application in Modern Times
In contemporary society, the spirit of "马不停蹄" (mǎ bù tíng tí) remains highly valuable. When working and pursuing personal goals, this idiom reminds us to persist, keep moving forward, even in the face of challenges and obstacles.
Key Sentences:
She works tirelessly.
她马不停蹄的工作。


Tā mǎ bù tíngtí de gōngzuò.

He studies relentlessly.
他马不停蹄的学习。


Tā mǎ bù tíngtí de xuéxí.

I've been on the go all day.
我一整天忙得马不停蹄。


wǒ yì zhěnɡ tiān mánɡdé mǎ bù tínɡtí.
Related Articles
Sign up for a free trial now!