Tracing the Threads: Unraveling Clues-蛛丝马迹 (zhū sī mǎ jì)
Wednesday, October 25, 2023
"蛛丝马迹" (zhū sī mǎ jì) is a wise approach to exploration, originating from ancient Chinese wisdom. It's said that in ancient times, there was a brilliant detective known for his keen insight and patience in solving many mysteries. He was called the "蛛丝马迹" (zhū sī mǎ jì) because he often found nearly invisible threads of silk and horse tracks at crime scenes. In a mysterious case where a precious gem was stolen with no apparent leads, the astute 侦探(zhēn tàn) detective arrived at the scene. He observed carefully and discovered a tiny strand of silk, something only a spider could produce. Additionally, he noticed a faint horse's hoofprint in the mud. These minute clues guided him to uncover the hiding place of the gem.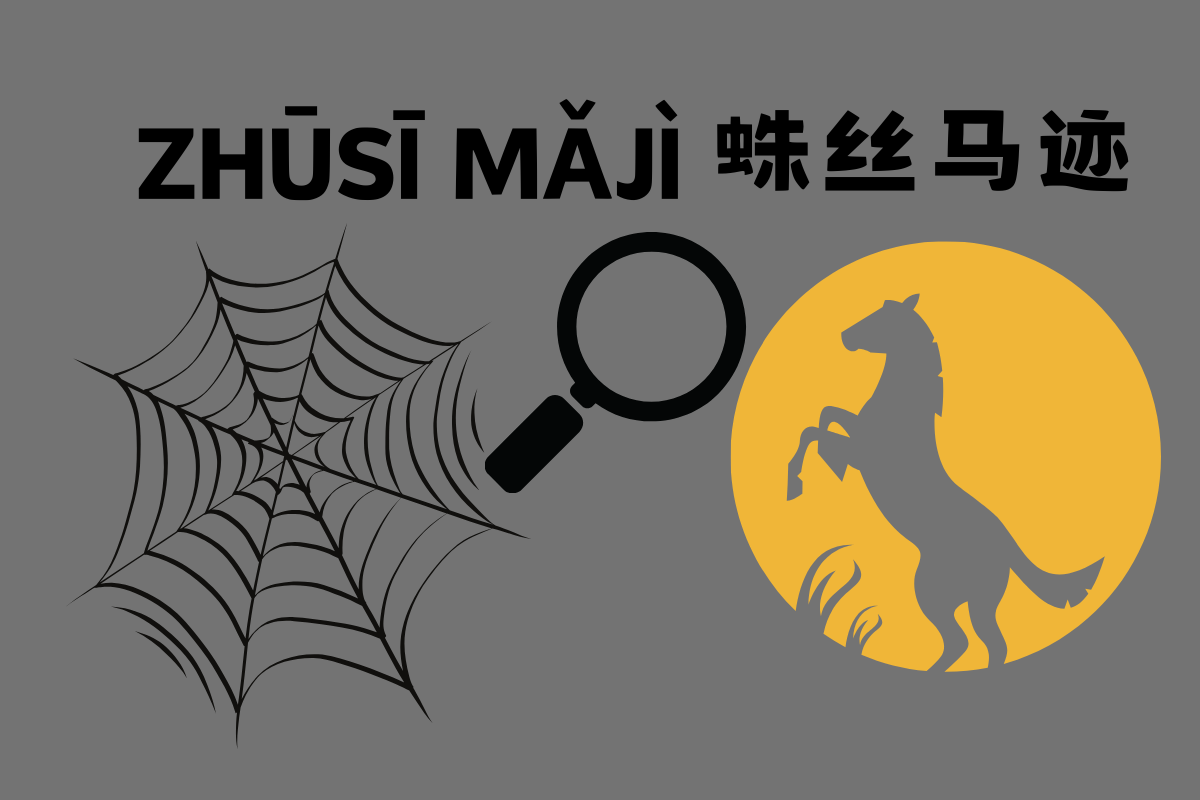 侦探 (zhēn tàn), noun, detective
Examples:
The detective solved the mystery.
侦探解开了谜团。


Zhēntàn jiě kāile mí tuán.

The detective followed the suspect.
侦探跟踪嫌疑人。


Zhēntàn gēnzōng xiányírén.
The Inspiration of "蛛丝马迹" (
zhū sī mǎ jì

)

The story of "蛛丝马迹" teaches us that careful observation and patience can help us solve problems, even when they 出现 (chū xiàn) appear to have no leads. It emphasizes perseverance in the quest for the truth.

出现 (chū xiàn), verb, appear

Examples:
The sun will appear in the morning.
太阳会在早上出现。


Tàiyáng huì zài zǎoshang chūxiàn.

He will appear at the meeting tomorrow.
他明天会出现在会议上。


Tā míngtiān huì chūxiàn zài huìyì shàng.
The Meaning of the Phrase
"蛛丝马迹" signifies the search for tiny and imperceptible clues to discover the truth or solve problems.
Application in Modern Times
In modern society, this concept remains important. It encourages us to stay vigilant and seek potentially overlooked clues when dealing with complex problems or investigations. It can be applied to solving puzzles, addressing issues, or improving work.
Key Setences:
The detective followed the "traces and clues" to solve the mysterious case.
侦探跟踪"蛛丝马迹"解决了这个神秘案件。


Zhēntàn gēnzōng "zhūsī mǎjì" jiějuéle zhège shénmì ànjiàn.

With determination, he followed every "traces and clues" to find his lost dog.
凭着决心,他追踪每一个"蛛丝马迹"找到了丢失的狗。


Píngzhe juéxīn, tā zhuīzōng měi yīgè "zhūsī mǎjì" zhǎodàole diūshī de gǒu.

She won't miss any "traces and clues."
她不会放过任何一个蛛丝马迹。


Tā bù huì fàngguò rènhé yīgè zhūsī mǎjì.
Related Articles
Sign up for a free trial now!