Adding Wings to a Tiger-如虎添翼 (rú hǔ tiān yì)
Sunday, October 22, 2023
In a distant past, there was a small bird named Xiao Ming who dreamed of soaring freely like a tiger. Despite being an ordinary sparrow, Xiao Ming held a strong belief and tirelessly practiced his flying skills. One day, he encountered a kind old cat who, upon seeing Xiao Ming's determination, decided to 帮助 (bāng zhù) help him. The old cat imparted flying techniques and knowledge to Xiao Ming, enabling him to fly higher and farther.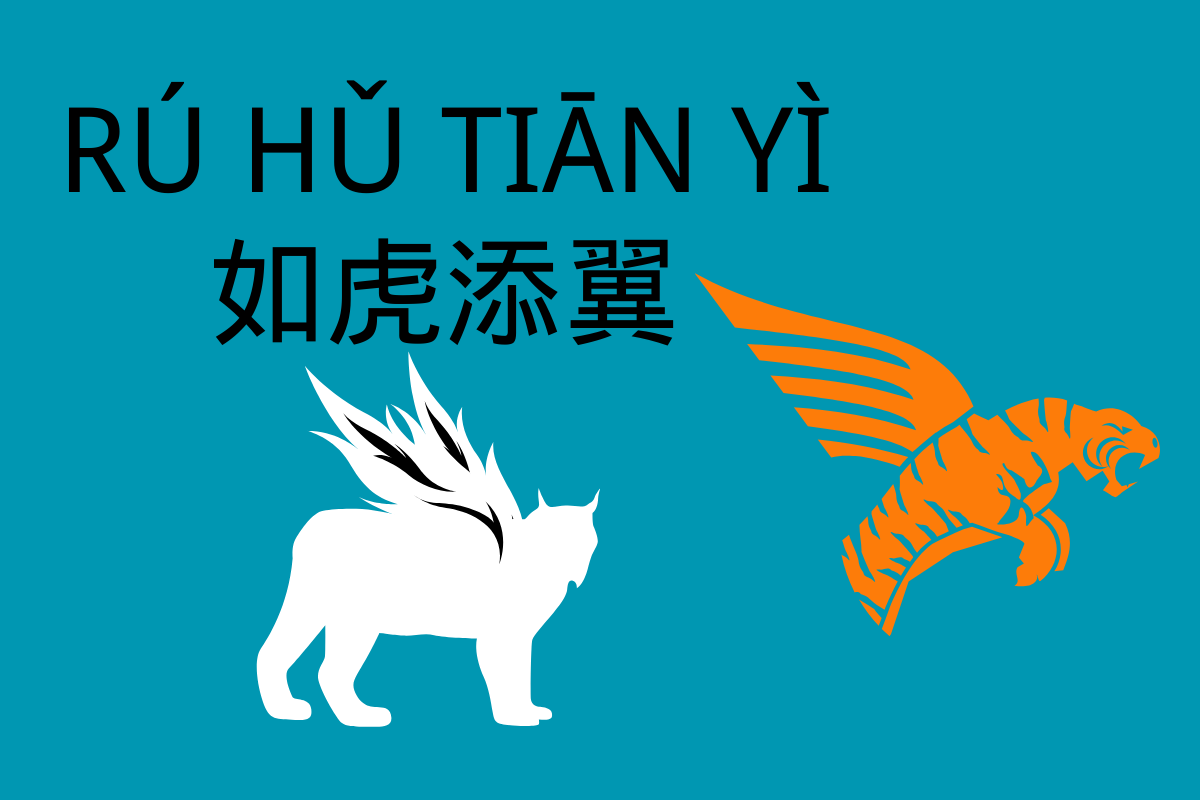 帮助 (bāngzhù), verb, help
Examples:
He is always willing to help others.
他总是乐意帮助他人。


Tā zǒng shì lèyì bāngzhù tārén.

I need your help to complete this project.
我需要你的帮助来完成这个项目。


Wǒ xūyào nǐ de bāngzhù lái wánchéng zhège xiàngmù.
Inspiration of 如虎添翼 (rú hǔ tiān yì)
This story inspires us to believe that, regardless of our background, strong beliefs and unwavering efforts can help us achieve our dreams. Like Xiao Ming, whose dream was to fly, with the help of the old cat, he realized his dream. This teaches us that sometimes, we need to seek the guidance of a mentor or a friend to enrich our 知识 (zhī shì) knowledge and skills, allowing us to become stronger, just like 如虎添翼 (rú hǔ tiān yì), which means "to add wings like a tiger."
知识 (zhī shì), noun, knowledge
Examples:
We should continuously seek knowledge to broaden our horizons.
我们应该不断追求知识,以拓宽我们的视野。


Wǒmen yīng gāi bùduàn zhuīqiú zhīshì, yǐ tuòkuān wǒmen de shìyè.

I have acquired a lot of knowledge.
我学习了很多知识。


Wǒ xuéxíle hěnduō zhīshì.
Modern Application
This story still holds significance in modern society. It tells us that, regardless of our background, we have the opportunity to become stronger. In education, career, or personal development, we can seek guidance from mentors or friends to acquire new knowledge and skills, enabling us to achieve our dreams.Additionally, the story emphasizes unwavering belief and perseverance. No matter the size of the challenge, with enough determination, we can overcome difficulties and reach our goals.
Key Sentences:
With her mentor's guidance, she was to add wings like a tiger, excelling in her studies.
在导师的指导下,她如虎添翼,在学业上表现出色。


Zài dǎoshī de zhǐdǎo xià, tā rú hǔ tiān yì, zài xuéyè shàng biǎoxiàn chūsè.

Through dedicated training, the athlete likes to add wings like a tiger, achieving remarkable success in the competition.
经过刻苦训练,这名运动员如虎添翼,在比赛中取得卓越成绩。


Jīngguò kèkǔ xùnliàn, zhè míng yùndòngyuán rú hǔ tiān yì, zài bǐsài zhōng qǔdé zhuóyuè chéngjì.

With his added capabilities, he developed into a successful company.
他如虎添翼,发展成一家成功的公司。


Tā rú hǔ tiān yì, fāzhǎn chéng yī jiā chénggōng de gōngsī.
Related Articles
Sign up for a free trial now!