Copying a Cat to Paint a Tiger-照猫画虎 (zhào māo huà hǔ)
Friday, October 13, 2023
Long ago, in a small village in China, there lived a young artist named Xiaoming. He had a deep passion for painting, especially animals. One day, he heard a story about a master who could paint a lifelike tiger by looking at a cat. It was said that the tiger would appear incredibly real. Xiaoming was excited by this tale and decided to give it a try.
When Xiaoming returned home, he picked up his brushes and paper and carefully observed his pet cat. He tried to imitate the cat's appearance and paint a tiger, but the result didn't turn out as he had hoped. Despite his efforts, the 涂漆的 (tú qī de) painted tiger lacked the lifelike quality he desired. Xiaoming realized that mere imitation was not enough to create great art; he needed to tap into his own creativity and imagination.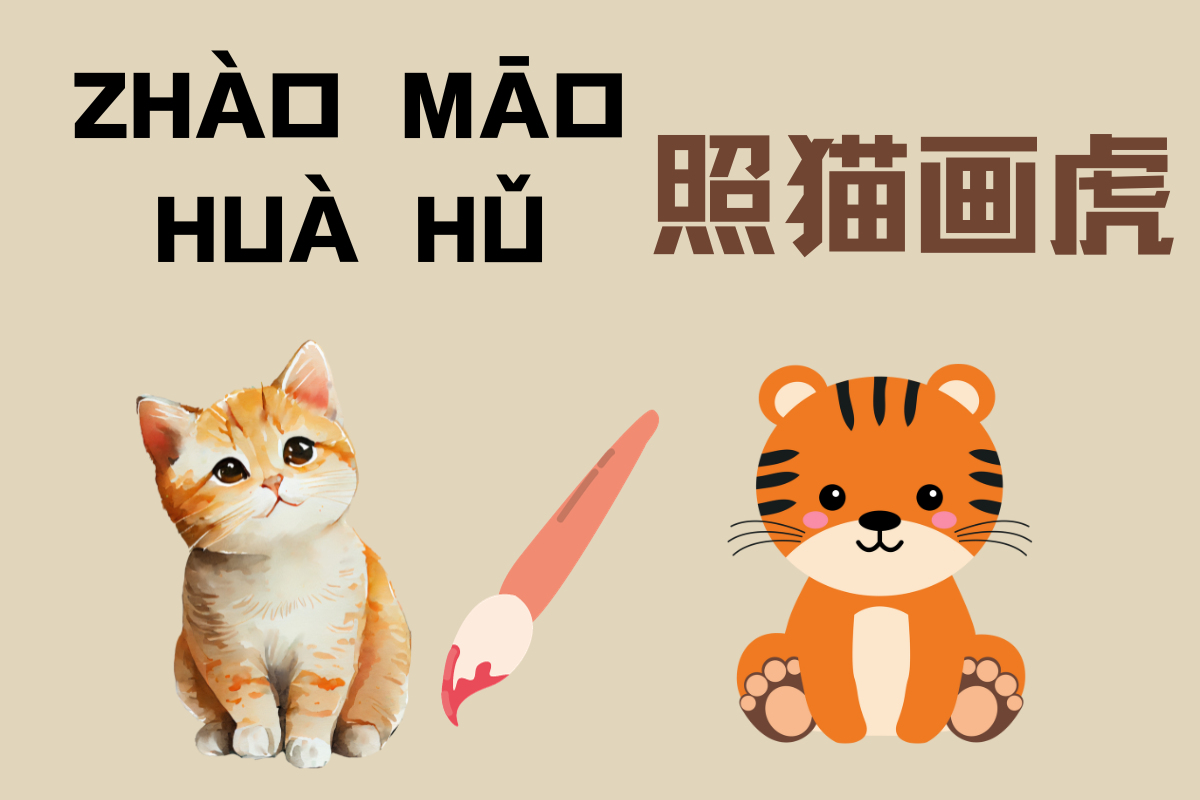 涂漆的 (tú qī de), adj, painted
Examples:
She enjoys paiZnting her nails with colorful polish.
她喜欢用彩色指甲油涂漆她的指甲。


Tā xǐhuān yòng cǎisè zhǐjiǎyóu tú qī tā de zhǐjia.

The carpenter will paint the new bookshelves brown.
木匠将会把新的书架涂漆成褐色。


Mùjiàng jiāng huì bǎ xīn de shūjià tú qī chéng hèsè.
Inspiration
This story teaches us that simply imitating without truly understanding the essence of something cannot lead to genuine creativity and artistic achievement. While "照猫画虎" (zhào māo huà hǔ) "copying a cat to paint a tiger" may yield some results, creating outstanding works requires the expression of one's creativity and imagination. Only by truly comprehending the nature and principles behind something can one produce unique and exceptional creations.
Meaning of the Phrase
"照猫画虎" (zhào māo huà hǔ) "copying a cat to paint a tiger" is a Chinese idiom that literally means painting a tiger based on the appearance of a cat. Figuratively, it implies that simple imitation without a deep understanding of the essence or principles of something is 不太可能的 (bú tài kě néng de) unlikely to achieve authentic results.
不太可能的 (bú tài kě néng de), adj, unlikely
Examples:
It's unlikely to rain today, so you can go for a picnic.
今天不太可能下雨,所以你可以去野餐。


Jīntiān bù tài kěnéng xiàyǔ, suǒyǐ nǐ kěyǐ qù yěcān.

Winning the lottery is unlikely, but it's fun to dream about.
中彩票的机会不太可能,但白日梦一下也挺有趣。


Zhòng cǎipiào de jīhuì bù tài kěnéng, dàn báirìmèng yīxià yě tǐng yǒuqù.
Modern Application
In today's society, the story of "照猫画虎" (zhào māo huà hǔ) remains relevant. It serves as a reminder that in learning and the creative process, reliance solely on imitation is insufficient. Instead, individuals should strive to gain a deep understanding of the essence of a subject and exercise their creativity. This lesson applies across various fields, including art, science, and innovative technologies.
Key Sentences:
Trying to replicate her success is like "Copying a Cat to Paint a Tiger"; it's not easy to recreate.
想要复制她的成功就像"照猫画虎",不容易重新创造。


Xiǎng yào fùzhì tā de chénggōng jiù xiàng "zhào māo huà hǔ", bù róngyì chóngxīn chuàngzào.

He imitated his older brother's handwriting, but it was just "Copying a Cat to Paint a Tiger"。
他模仿哥哥的字迹,但只是"照猫画虎"。


Tā mófǎng gēgē de zìjì, dàn zhǐshì "zhào māo huà hǔ"。

She watched the chef cook on TV and tried to replicate the dish, but it was like "Copying a Cat to Paint a Tiger"。
她看电视上的厨师烹饪,尝试复制这道菜,但就像"照猫画虎"一样。


Tā kàn diànshì shàng de chúshī pēnrèn, chángshì fùzhì zhè dào cài, dàn jiù xiàng "zhào māo huà hǔ" yīyàng.
Related Articles
Sign up for a free trial now!