Dragons and Tigers in Fierce Battle-龙争虎斗 (lóng zhēng hǔ dòu)
Tuesday, October 17, 2023
In the distant past, in a mysterious forest, two powerful wild animals, a dragon and a tiger, lived side by side. Their territories were adjacent, leading to frequent intense conflicts. The dragon was proud and mighty, while the tiger was cunning and fierce. Their rivalry persisted for a long time. However, during a year of severe drought, the forest suffered from a critical lack of water. The dragon and the tiger had to face a common threat. They realized that only by working together could they find a water source and continue to survive.
So, they set aside their past animosities and embarked on a joint quest to find water. Eventually, they succeeded in finding it. This experience transformed their relationship; they no longer fought but became close friends, together safeguarding the harmony of the forest.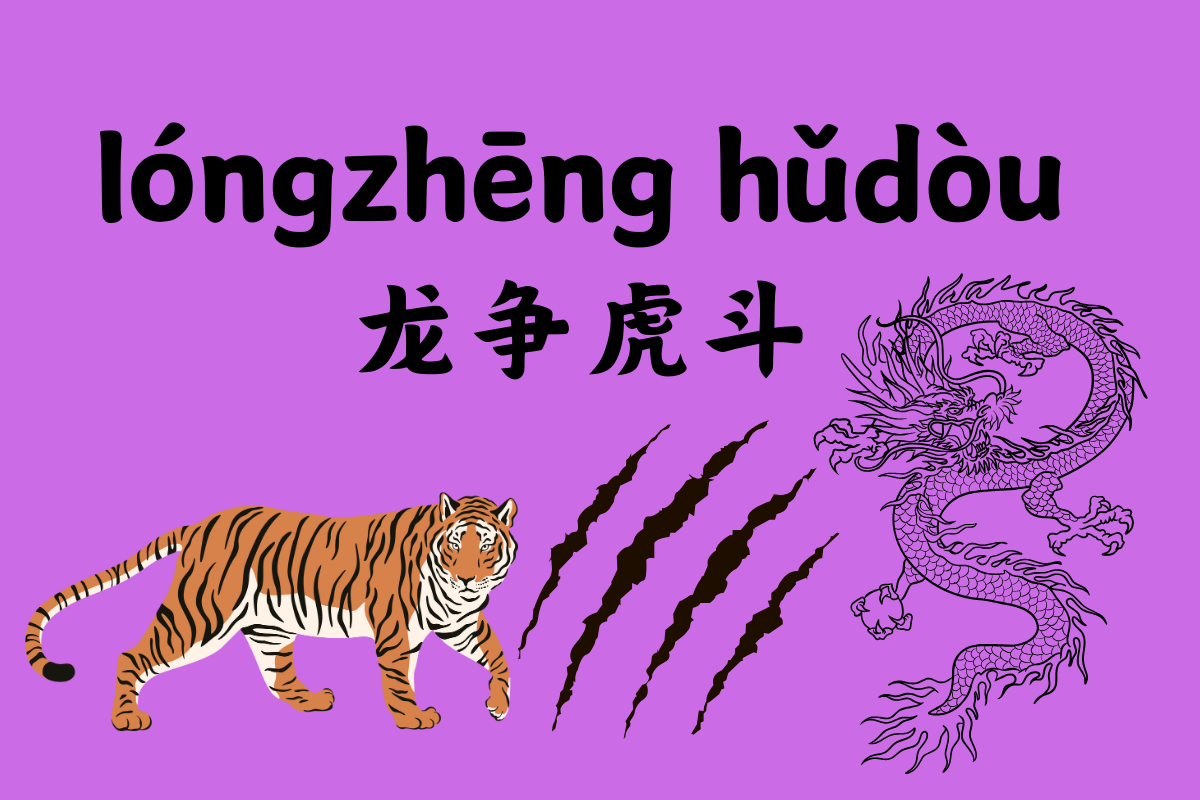 The Inspiration
This story teaches us that sometimes, even opposing parties can resolve common problems through cooperation. Collaboration helps overcome obstacles, maintain peace, and achieve shared 目标 (mù biāo) goals. The dragon and the tiger learned this lesson under the threat of common adversity, and modern society can draw inspiration from it.
目标 (mù biāo), noun, goals
Examples:
She set clear goals for her career to track her progress.
她为自己的职业设定了明确的目标,以跟踪自己的进展。


Tā wèi zìjǐ de zhíyè shèdìngle míngquè de mùbiāo, yǐ gēnzuī zìjǐ de jìnzhǎn.

My main goal for today is to finish all my homework.
我今天的主要目标是完成所有的作业。


Wǒ jīntiān de zhǔyào mùbiāo shì wánchéng suǒyǒu de zuòyè。
Meaning of 龙争虎斗 (
lóng zhēng hǔ dòu

)

"龙争虎斗" (lóng zhēng hǔ dòu) dragons and tigers Battle describes intense 竞争 (jìng zhēng) competition or rivalry where two parties are locked in fierce competition for dominance.

竞争 (jìng zhēng), noun, competition
In the job market, there is always strong competition for positions in the tech industry.
在职场上,科技行业的职位总是竞争激烈。


Zài zhíchǎng shàng, kējì hángyè de zhíwèi zǒng shì jìngzhēng jīliè.

There's healthy competition among the students to get the highest grades in the class.
学生们之间为了在班里获得最高分数存在健康的竞争。


Xuéshēngmen zhī jiān wèile zài bān lǐ huòdé zuì gāofēnshù cúnzài jiànkāng de jìngzhēng.
Modern Application
The concept of "龙争虎斗" (lóng zhēng hǔ dòu) is highly applicable in contemporary society. Competition is a part of business and life, but we should also recognize that sometimes, cooperation is more conducive to achieving shared success. Collaboration is crucial in addressing global issues, promoting social harmony, and protecting the environment.
Key Sentences:
In the business world, there is often fierce competition between companies.
在商业界,公司之间常常存在激烈的龙争虎斗.


Zài shāngyè jiè, gōngsī zhī jiān chángcháng cúnzài jīliè de lóngzhēng hǔdòu.

In their group, there is often intense competition.
他们的小组里经常龙争虎斗。


Tāmen de xiǎozǔ lǐ jīngcháng lóng zhēng hǔ dòu.

During voting, there is often a situation of fierce competition.
投票时经常出现龙争虎斗的情况。


Tóupiào shí jīngcháng chūxiàn lóngzhēng hǔdòu de qíngkuàng.
Related Articles
Sign up for a free trial now!