Full Of Life And Energy-生龙活虎 (shēnɡ lónɡ huó hǔ)
Monday, October 16, 2023
In a peaceful village, there lived an elderly man named Grandpa Li. Despite his old age, he remained 生龙活虎 (shēnɡ lónɡ huó hǔ) vibrant and energetic. He was known for his diligence and optimism, always wearing a cheerful smile, even in the face of life's constant challenges. Grandpa Li's life exemplified an old saying: "Fear no difficulties, stay vibrant and energetic; remain hopeful, unafraid of setbacks." Every morning, he would rise early, exercise, and then work in the fields, tending to his crops. His 能量 (néng liàng) energy and vitality often put younger folks to shame.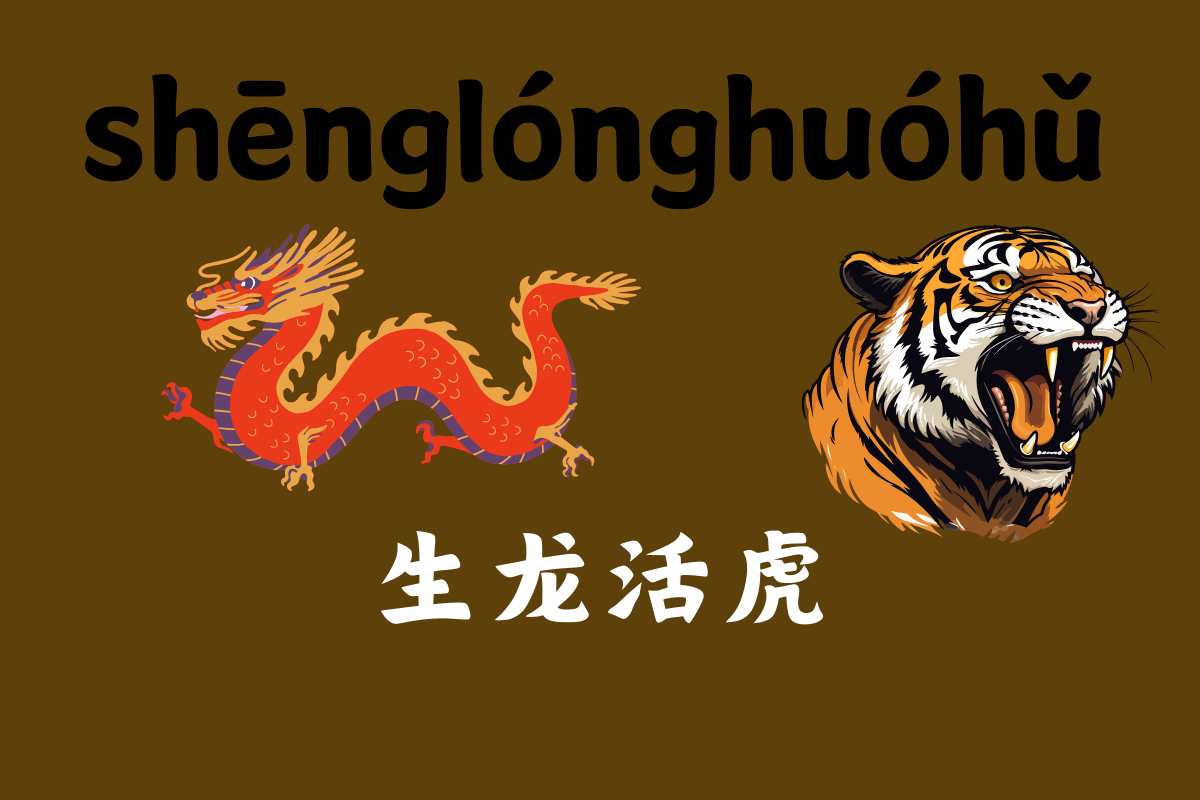 能量 (néng liàng), noun, energy
Examples:
I need some energy for the long day ahead.
我需要一些能量来面对漫长的一天。


Wǒ xūyào yīxiē néngliàng lái miànduì màncháng de yītiān.

I need a lot of energy.
我需要很多能量。


Wǒ xūyào hěnduō néngliàng.
The Inspiration
Grandpa Li's story teaches us that age is not a hindrance, and optimism and diligence are the keys to success and happiness. No matter how many difficulties you encounter, as long as you maintain a positive attitude and persevere, life will continue to be filled with vitality.
Meaning of the Phrase
The literal meaning of the phrase 生龙活虎 (shēnɡ lónɡ huó hǔ) is "lively and full of energy." It describes a person who is full of vitality and spirit. This idiom is often used to depict elderly people who are still 活泼 (huó pō) lively and energetic, but it can also be used to describe things that possess life and vigor.
活泼 (huó pō), adj, lively
Examples:
The children at the playground were so lively.
游乐场上的孩子们非常活泼。


Yóulèchǎng shàng de háizimen fēicháng huópō.

The music made the party feel lively and fun.
音乐让派对变得充满活力和有趣。


Yīnyuè ràng pàiduì biàn de chōngmǎn huólì hé yǒuqù.
Modern Application
This inspirational story can also be applied in modern life. Regardless of age, people can maintain a vibrant and energetic state through a positive mindset and relentless effort. This spirit is not only beneficial for physical health but can also be applied in one's career and daily life.
Key Sentences about 生龙活虎 (shēnɡ lónɡ huó hǔ):
Despite being in his seventies, Uncle Li is still vibrant and energetic.
李大爷虽然已经七旬高龄,仍然生龙活虎。


Lǐ dàye suīrán yǐjīng qīxún gāo líng, rén cái shēnglónghuóhǔ.

This child runs around all day; he is truly vibrant and energetic.
这个孩子每天跑来跑去,真是生龙活虎的。


Zhège háizi měitiān pǎolái pǎoqù, zhēnshi shēnglónghuóhǔ de.

Maintaining a vibrant and energetic attitude can make life more fulfilling.
保持生龙活虎的态度可以使生活更加充实。


Bǎochí shēnglónghuóhǔ de tàidu kěyǐ shǐ shēnghuó gèngjiā chōngshí.
Related Articles
Sign up for a free trial now!