Chinese song-White dragon horse-bai long ma-白龙马
Monday, July 10, 2023
Do you want to learn Chinese through songs? Today we will learn a song about White dragon horse. Have you heard before? Let's get started.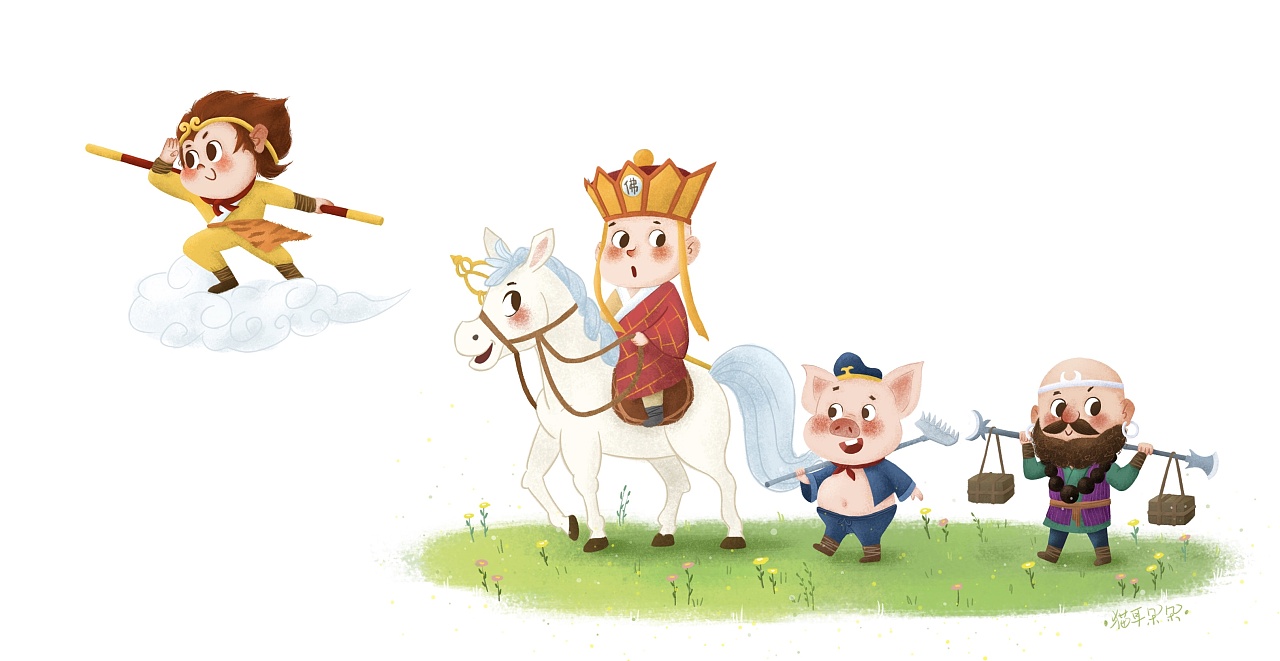 White dragon horse hooves to the west, carrying Tang Sanzang followed by three apprentices;
白龙马蹄儿朝西,驮着唐三藏跟着仨徒弟;
bái lóng mǎ tí er zhāo xī , tuó zhe táng sān zàng gēn zhe sā tú di;
To the west via the main road, a walk is tens of thousands of miles.
西天取经上大路,一走就是几万里。
xī tiān qǔ jīng shàng dà lù , yī zǒu jiù shì jǐ wàn li。
demons, beauty painted skin;
什么妖魔鬼怪,什么美女画皮;
shén me yāo mó guǐ guài , shén me měi nǚ huà pí;
What fires and traps and tricks;
什么刀山火海,什么陷阱诡计;
shén me dāo shān huǒ hǎi , shén me xiàn jǐng guǐ jì;
Can not stop the eyes of the wishful rod, escorted the apprentice to the west.
都挡不住火眼金睛的如意棒,护送师徒朝西去。
dōu dǎng bù zhù huǒ yǎn jīn jīng de rú yì bàng , hù sòng shī tú zhāo xī qù。
White dragon horse neck jingle urgent, bumpy Tang Xuanzang trotting three brothers;
白龙马脖铃儿急,颠簸唐玄奘小跑仨兄弟;
bái lóng mǎ bó líng er jí , diān bǒ táng xuán zàng xiǎo pǎo sā xiōng di;
It is not easy to learn lessons from the West.
西天取经不容易,容易干不成大业绩。
xī tiān qǔ jīng bù róng yì , róng yì gàn bù chéng dà yè jī。
Magic is vicious, its own magic;
什么魔法狠毒,自有招数神奇;
shén me mó fǎ hěn dú , zì yǒu zhāo shù shén qí;

Eighty-one difficult block, seventy-two change the enemy;
八十一难拦路,七十二变制敌;
bā shí yī nàn lán lù , qī shí èr biàn zhì dí;
Four masters cut demons, fighting demons concentric force;
师徒四个斩妖,斗魔同心合力;
shī tú sì gè zhǎn yāo , dòu mó tóng xīn hé lì ;
Evil cannot beat good.
邪恶打不过正义。 xié è dǎ bù guò zhèng yì。
Sign up for a free trial now!