Dragon-Riding Groom-乘龙快婿 (chéng lóng kuài xù)
Saturday, October 21, 2023
In Chinese culture, idioms are not just expressions; they are a reflection of history, wisdom, and life lessons. 乘龙快婿 (chéng lóng kuài xù) is an idiom that signifies marrying a dragon, representing an individual who makes a brilliant marriage or seizes a great opportunity. This article delves into the origin of the idiom, its significance, and its modern applications.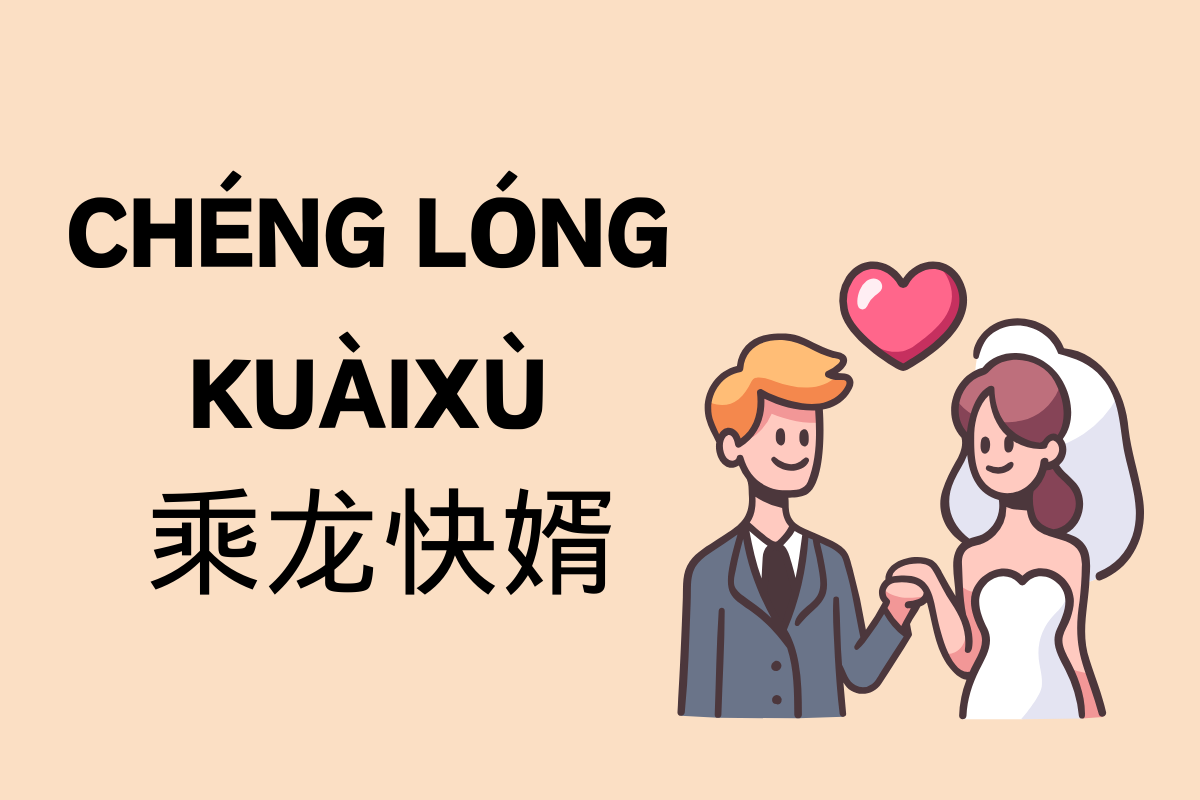 Origin and Story of 乘龙快婿 (
chéng lóng kuài xù

)

The idiom 乘龙快婿 (chéng lóng kuài xù) has its roots in a Chinese legend. It tells the story of a young man who 结婚 (jié hūn) marries a woman from a prominent family known for their exceptional abilities. Initially, the young man faced skepticism and doubts, but he proved himself through hard work, intelligence, and diligence. He was the dragon that many aspired to ride, and he raced ahead in life, achieving great success and recognition.

结婚 (jié hūn), verb, marries

Examples:
She marries her childhood sweetheart next month.
她下个月将与她的青梅竹马结婚。


Tā xià gè yuè jiāng yǔ tā de qīngméi zhúmǎ jiéhūn.

My sister is getting married.
我姐姐要结婚了。


Wǒ jiějie yào jiéhūn le.
Inspiration and Meaning
乘龙快婿 (chéng lóng kuài xù) inspires us to recognize and seize opportunities that come our way, even if they seem daunting at first. It encourages people to have faith in themselves, work hard, and strive for excellence. This idiom reminds us that with determination and effort, we can marry the metaphorical dragon and enjoy a life of 繁荣 (fán róng) prosperity and success.
繁荣 (fánróng), noun, prosperity
Examples:
Peace and stability are essential for the prosperity of a nation.
和平与稳定对国家的繁荣至关重要。


Hépíng yǔ wěndìng duì guójiā de fánróng zhìguān zhòngyào.

We are a prosperous nation.
我们是一个繁荣的国家。


Wǒmen shì yīgè fánróng de guójiā.
Modern Application
In contemporary life, 乘龙快婿 (chéng lóng kuài xù) remains a relevant and valuable concept. It urges us to be bold, to embrace challenges and take calculated risks in our careers and personal lives. By seizing opportunities, learning continuously, and demonstrating dedication, we can become the dragon that others want to ride.
Key Sentences:
I understand what 'to marry a dragon and ride a dragon' means.
我明白什么是乘龙快婿。"


Wǒ míngbai shénme shì chénglóng kuàixù.

He married the boss's daughter and quickly became a top executive—truly living the "to marry a dragon and ride a dragon" dream.
他娶了老板的女儿,迅速成为高管,真正活出了"乘龙快婿"的梦想。


Tā qǔle lǎobǎn de nǚ'ér, xùnsù chéngwéi gāoguǎn, zhēnzhèng huó chūle "chéng lóng kuàixù" de mèngxiǎng.

By taking the opportunity to learn a new language, she aims to become a "to marry a dragon and ride a dragon" in the global market.
通过学习一门新语言的机会,她希望在全球市场上成为"乘龙快婿"。


Tōngguò xuéxí yī mén xīn yǔyán de jīhuì, tā xīwàng zài quánqiú shìchǎng shàng chéngwéi "chéng lóng kuàixù".
Related Articles
Sign up for a free trial now!