How Can You Start Learning Chinese on Your Own?
Thursday, August 24, 2023
If you want to start learning Chinese on your own, here are some steps you can follow: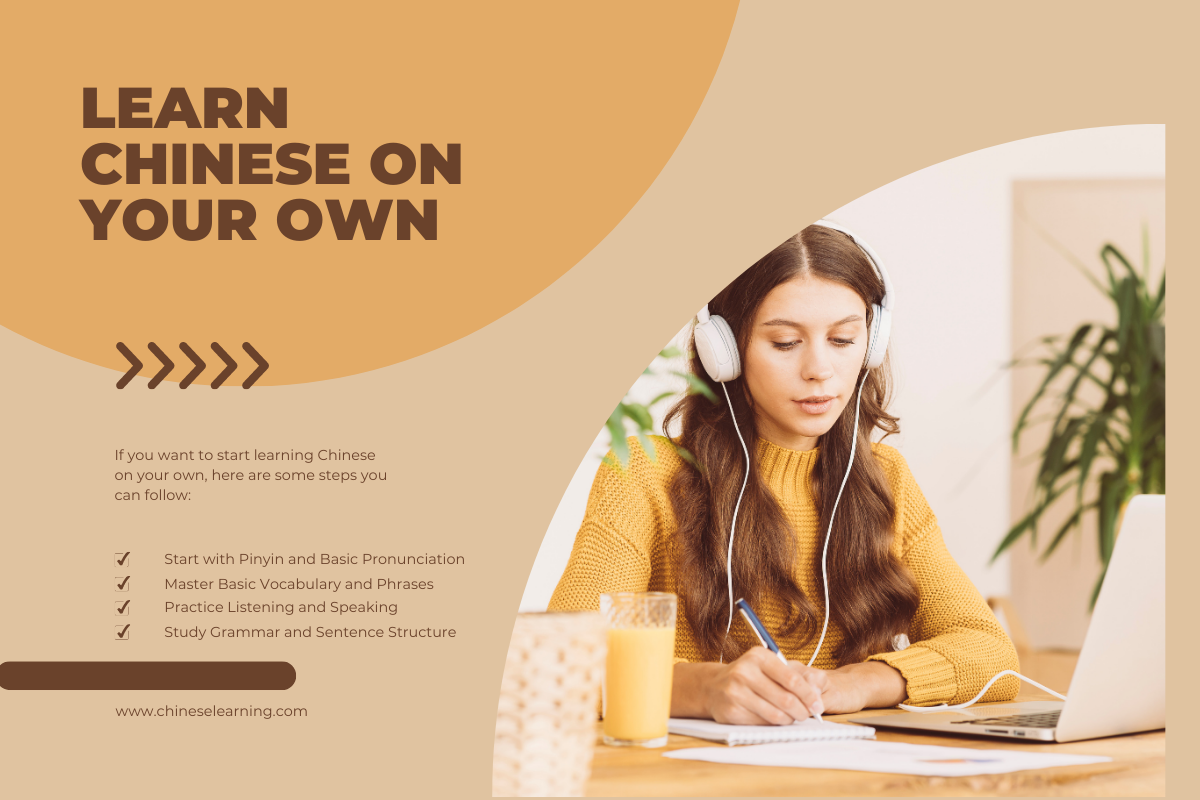 Start with Pinyin and Basic Pronunciation
Chinese has different sounds compared to many other languages. Familiarize yourself with the Pinyin system, including the consonants, vowels, and tone markers. Pay attention to the four tones and practice pronouncing them correctly. Listening to native speakers and imitating their pronunciation can be helpful.
Master Basic Vocabulary and Phrases
We can start with daily words, which are also high frequency words because they are often used in our daily life. After you learn it, you can use it in everyday expressions, such as greetings, food, daily routines and so on. If you talk more, it will be easier for you to remember, and it will give you a great motivation to learn.
Practice Listening and Speaking
In the process of learning Mandarin Chinese, the first and foremost step is highly important, which is listening. You can listen to some Chinese songs or watch relatively simple Chinese movies while washing your face, brushing your teeth, or on your way to work, and so on. At first, you may not understand much, but that's okay. Keep up with your listening practice. Then, start boldly trying to speak it out. After some time, you will notice significant progress in yourself.
Study Grammar and Sentence Structure
At the beginning, we can learn simple sentence patterns and grammar, such as subject-verb-object structure. We can practice speaking by incorporating the vocabulary we have learned into these sentence patterns. The purpose of learning grammar is ultimately for expression and practicing listening and speaking skills.
Learn Basic Chinese Characters
Begin by learning a few basic Chinese characters. Start with simple ones that are commonly used and gradually expand your vocabulary. Practice writing the characters stroke by stroke.
Immerse Yourself in Chinese Culture
Immerse yourself in the Chinese language and culture as much as possible. Watch Chinese movies, listen to Chinese music, try cooking Chinese dishes, and explore Chinese traditions. This will deepen your understanding and appreciation of the language.
Establish a study routine and dedicate a specific time each day or week to practice Chinese. Find a balance between self-study and opportunities to interact with native speakers to improve your language skills.
Sign up for a free trial now!