A Simple Soar for the Clumsy Bird-笨鸟先飞 (bèn niǎo xiān fēi)
Monday, November 20, 2023
In a tranquil forest lived a clumsy little bird named Xiao Ben. He was slower in learning to fly than the other birds and couldn't soar very high. One day, Xiao Ben heard the story of an eagle. The eagle's advice was profound: "笨鸟先飞 (bèn niǎo xiān fēi) - Clumsy birds should attempt flight first, meaning, bravely try without fear of 失败 (shī bài) failure." Inspired by this wisdom, Xiao Ben dedicated himself to learning to fly and eventually became the bravest bird in the forest.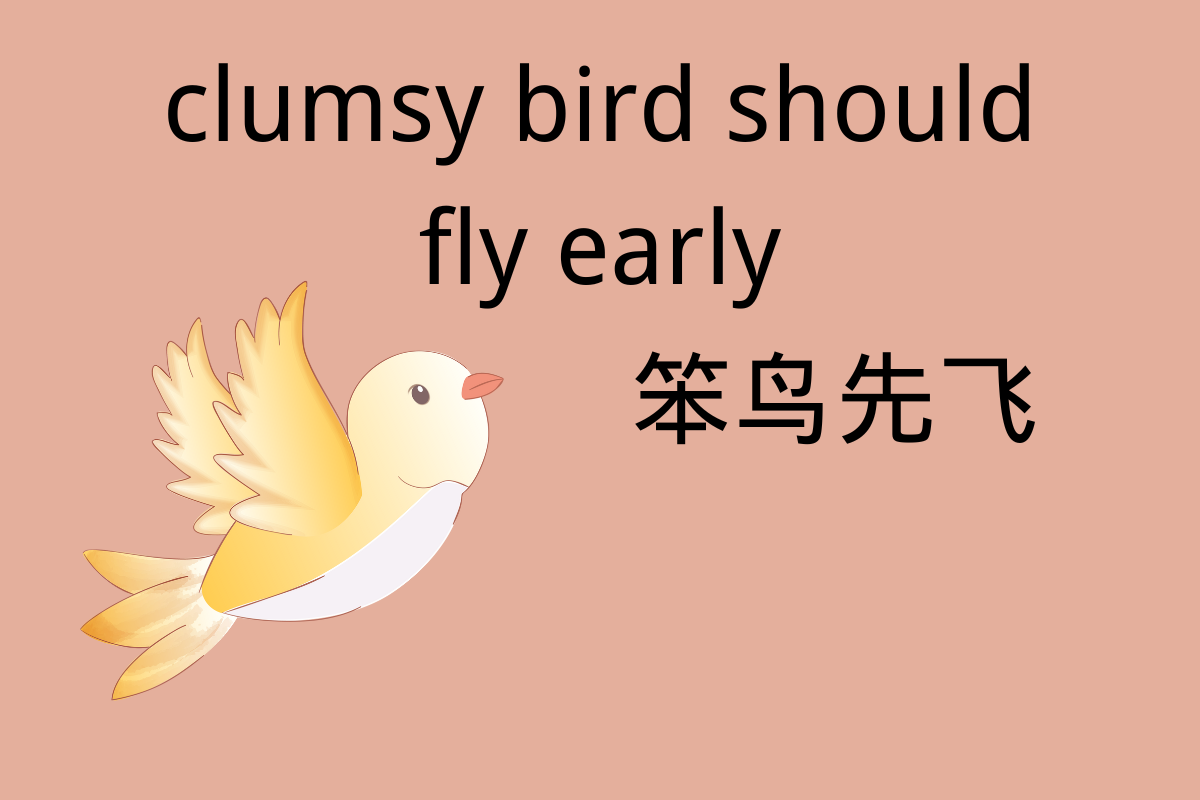 失败 (shī bài), noun, failure
Examples:
Despite the failure, he remained determined to try again.
尽管遭遇失败,他仍决心再次尝试。


Jǐnguǎn zāoyù shībài, tā réng juéxīn zàicì chángshì.

Learning from failure is crucial for personal growth.
从失败中学习对个人成长至关重要。


Cóng shībài zhōng xuéxí duì gèrén chéngzhǎng zhì guān zhòngyào.
Inspiration of 笨鸟先飞 (bèn niǎo xiān fēi)
"笨鸟先飞" teaches us that in the face of challenges, it's more crucial to bravely attempt than to fear failure. Everyone has a different learning process, and the key is to persistently believe in one's ability to progress. Instead of giving up due to initial clumsiness, it encourages moving forward with 勇气 (yǒng qì) courage and facing difficulties head-on.
勇气 (yǒng qì), noun, courage
Examples:
Having courage is crucial when facing difficult situations.
面对困境时拥有勇气是至关重要的。


Miàn duì kùnjìng shí yǒngyǒu yǒngqì shì zhì guān zhòngyào de.

She showed great courage in standing up for what was right.
她在维护正义方面表现出了极大的勇气。


Tā zài wéihù zhèngyì fāngmiàn biǎoxiàn chū le jídà de yǒngqì.
Meaning of the Phrase
笨鸟先飞 (bèn niǎo xiān fēi): Idiom, metaphorically suggesting in learning or working, one should bravely try regardless of clumsiness.
Modern Application
This Chinese story is equally relevant in modern times. It encourages people to maintain courage and confidence when facing new challenges or adversity, not to retreat due to initial difficulties. Success often comes from continuous efforts and determined struggles.
Key Sentences:
Despite being clumsy, a clumsy bird should fly early.
尽管有些笨拙,笨鸟先飞。


Jǐnguǎn yǒuxiē bèn zhuō, bèn niǎo xiān fēi.

In the end, a clumsy bird should fly early, proving that effort and courage lead to success.
最终,笨鸟先飞,证明了努力和勇气会带来成功。


Zuìzhōng, bèn niǎo xiān fēi, zhèngmíng le nǔlì hé yǒngqì huì dài lái chénggōng.

"A clumsy bird should fly early," encouraging us to face challenges with courage and determination."
笨鸟先飞,鼓励我们用勇气和决心面对挑战。


Bèn niǎo xiān fēi, gǔlì wǒmen yòng yǒngqì hé juéxīn miàn duì tiǎozhàn.
Related Articles
Sign up for a free trial now!