Birdsong and Floral Fragrance-鸟语花香 (niǎo yǔ huā xiāng)
Friday, October 20, 2023
The term 鸟语花香 (niǎo yǔ huā xiāng) "birdsong and fragrant blooms" first appeared in ancient Chinese literary works, such as the Tang Dynasty poet Du Mu's poem "Autumn Evening." In this poem, Du Mu depicted the beauty of autumn, including "birdsong and 香的 (xiāng de) fragrant blooms," to convey the grandeur of natural beauty. This term also frequently appeared in other ancient literary works and poems, becoming an important symbol in Chinese culture representing reverence and longing for nature.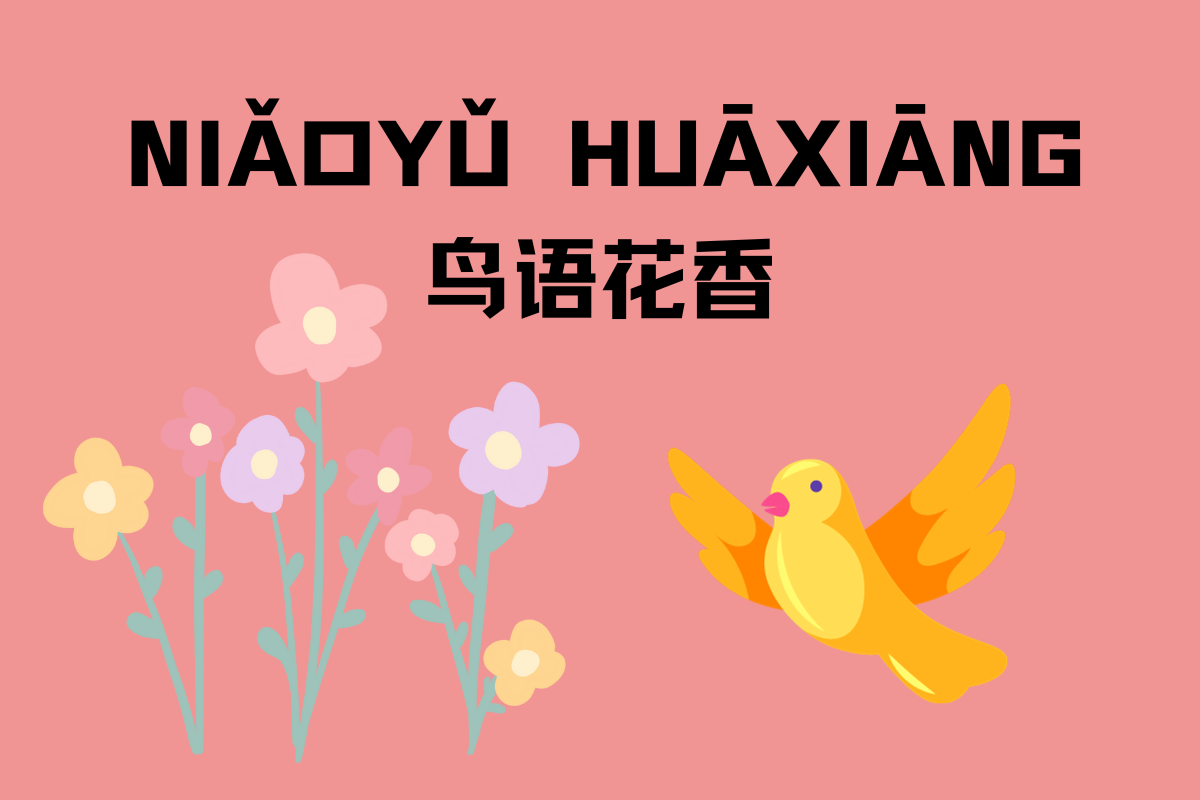 香的 (xiāng de), adj, fragrant
Examples:
The flowers in the garden are very fragrant.
花园里的花很香。


Huāyuán lǐ de huā hěn xiāng.

I love the fragrant aroma of freshly baked bread.
我喜欢新烤面包的香的气味。


Wǒ xǐhuān xīn kǎo miànbāo de xiāngde qìwèi .
Inspiration from Nature
鸟语花香 (niǎo yǔ huā xiāng) birdsong and fragrant blooms are not just words to describe natural beauty; they represent a way of life that is intimately connected with nature. Literally translating to "the song of birds and the scent of flowers," these four words encompass more than meets the eye. Birdsong and fragrant blooms reflect the close relationship between humans and nature, evoking inner 和平 (hé píng) peace and joy. This concept is rooted in ancient Chinese literature and poetry, inspired by cultural traditions, and emphasizes the profound influence of nature on the human spirit.
和平 (hé píng), noun, peace
Examples:
Peace brings stability to a region.
和平给一个地区带来稳定。


Hépíng gěi yīgè dìqū dàilái wěndìng.

We all hope for a world filled with peace.
我们都希望世界充满和平。


Wǒmen dōu xīwàng shìjiè chōngmǎn hépíng.
Meaning of the Words
鸟语花香 (niǎo yǔ huā xiāng) birdsong and fragrant blooms merge two core elements, the songs of birds and the scents of flowers, to describe the perfect experience of natural beauty. Birdsong represents the sounds of nature, with their songs brimming with vitality during the early morning and dusk. Fragrant blooms are nature's gift, their aromatic scent filling the air with fragrance and the vitality of life. Together, they create a harmonious, tranquil, and beautiful natural landscape.
Key Sentences:
The birdsong and fragrant blooms make the park more beautiful.
鸟语花香让公园更美丽。


Niǎoyǔ huāxiāng ràng gōngyuán gèng měilì.

The park was filled with the fragrance of blooming flowers, and the sweet melodies of birdsong filled the air.
鸟语花香的香气充满了公园,甜美的鸟歌充盈了空气。


Nǐaó yǔ huāxiāng de xiāngqì chōngmǎnle gōngyuán, tiánměi de niǎogē chōngyíngle kōngqì。

During a walk, I feel the tranquility of birdsong and fragrant blooms.
散步时,感受到鸟语花香的宁静。


Sànbù shí, gǎnshòu dào niǎoyǔ huāxiāng de níngjìng.
Sign up for a free trial now!