A Bird's Trust: An Endearing Connection-小鸟依人 (xiǎo niǎo yī rén)
Friday, October 20, 2023
小鸟依人 (xiǎo niǎo yī rén) is an ancient Chinese story that tells of a mutually dependent relationship between a little bird and a kind human. This tale not only holds profound cultural significance but also imparts valuable lessons applicable to modern life.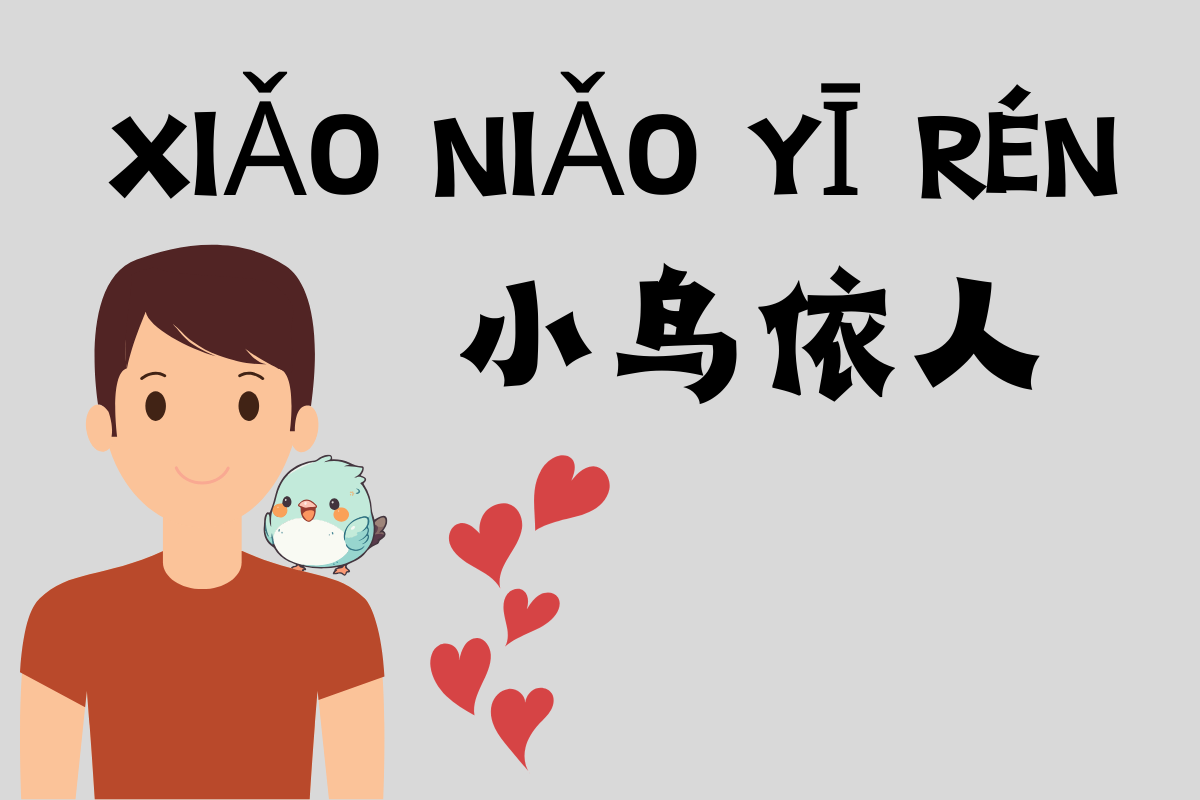 Story of 小鸟依人 (
xiǎo niǎo yī rén

)

The story revolves around an elderly hermit living in a secluded village. One day, he discovered an injured little bird in the fields. He brought the bird home, nursed it back to health, and formed a deep 情感 (qíng gǎn) emotional bond. Every day, the bird would return, spending time with the old man.

情感 (qíng gǎn), adj, emotional

Examples:
Her emotional response to the touching movie made her cry.
她对这部感人的电影的情感反应让她哭了。


Tā duì zhè bù gǎnrén de diànyǐng de qínggǎn fǎnyìng ràng tā kū le.

Expressing emotional intelligence is crucial in building strong relationships with others.
表现情感智力在与他人建立牢固关系方面至关重要。


Biǎoxiàn qínggǎn zhìlì zài yǔ tārén jiànlì láogù guānxì fāngmiàn zhìguān zhòngyào.
Inspiration
This story emphasizes the importance of dependence and mutual assistance. The interdependence between the elderly man and the bird demonstrates the interaction between humans and the natural world and the concept of mutual benefit. Just as the old man provided shelter and care for the bird, we also can convey kindness and goodwill in real life by treating nature and animals with kindness.
Modern Application
In contemporary society, we can draw several valuable lessons from the 小鸟依人 (xiǎo niǎo yī rén) story. Firstly, we can learn to treat animals with kindness and protect the natural environment to maintain ecological balance on Earth. Secondly, we can apply this lesson to interpersonal relationships, fostering mutually beneficial 关系 (guān xi) relationships, mutual support, and assistance, thus creating a more harmonious society.
关系 (guān xi), noun, relationship
Examples:
Good relationships are built on trust and mutual respect.
良好的关系建立在信任和相互尊重的基础上。


Liánghǎo de guānxi jiànlì zài xìnrèn hé xiānghù zūnzhòng de jīchǔ shàng.

Maintaining strong family relationships requires open communication and understanding.
保持良好的家庭关系需要开放的沟通和理解。


Bǎochí liánghǎo de jiātíng guānxi xūyào kāifàng de gōutōng hé lǐjiě.
Key Sentences:
The story of "xiǎo niǎo yī rén" teaches us the importance of caring for nature and all living beings.
小鸟依人的故事教导我们关爱自然和所有生灵的重要性。


Xiǎo niǎo yī rén de gùshì jiàodǎo wǒmen guān'ài zìrán hé suǒyǒu shēnglíng de zhòngyào xìng.

The little bird perches on the old man's shoulder affectionately.
小鸟依人地栖息在老人的肩膀上。


Xiǎo niǎo yī rén de qīxī zài lǎorén de jiān bǎng shàng.

She is always gentle with small animals, just like a like a bird relying on a person.
她对小动物总是像小鸟依人一样温柔。


Tā duì xiǎo dòngwù zǒng shì xiàng xiǎo niǎo yī rén yīyàng wēnróu.
Related Articles
Sign up for a free trial now!