Sly and Shifty: A Deceptive Gaze-贼眉鼠眼 (zéi méi shǔ yǎn)
Tuesday, October 10, 2023
"贼眉鼠眼" (zéi méi shǔ yǎn) is an ancient Chinese idiom originating from fables and legends. In this story, there is a cunning mouse with eyebrows and eyes that always gleam with a treacherous light. This mouse frequently sows discord among other animals, creates conflicts, and seeks to further its own 自私 (zì sī) selfish interests. However, in the end, the mouse's devious actions are exposed, and it faces the consequences it deserves.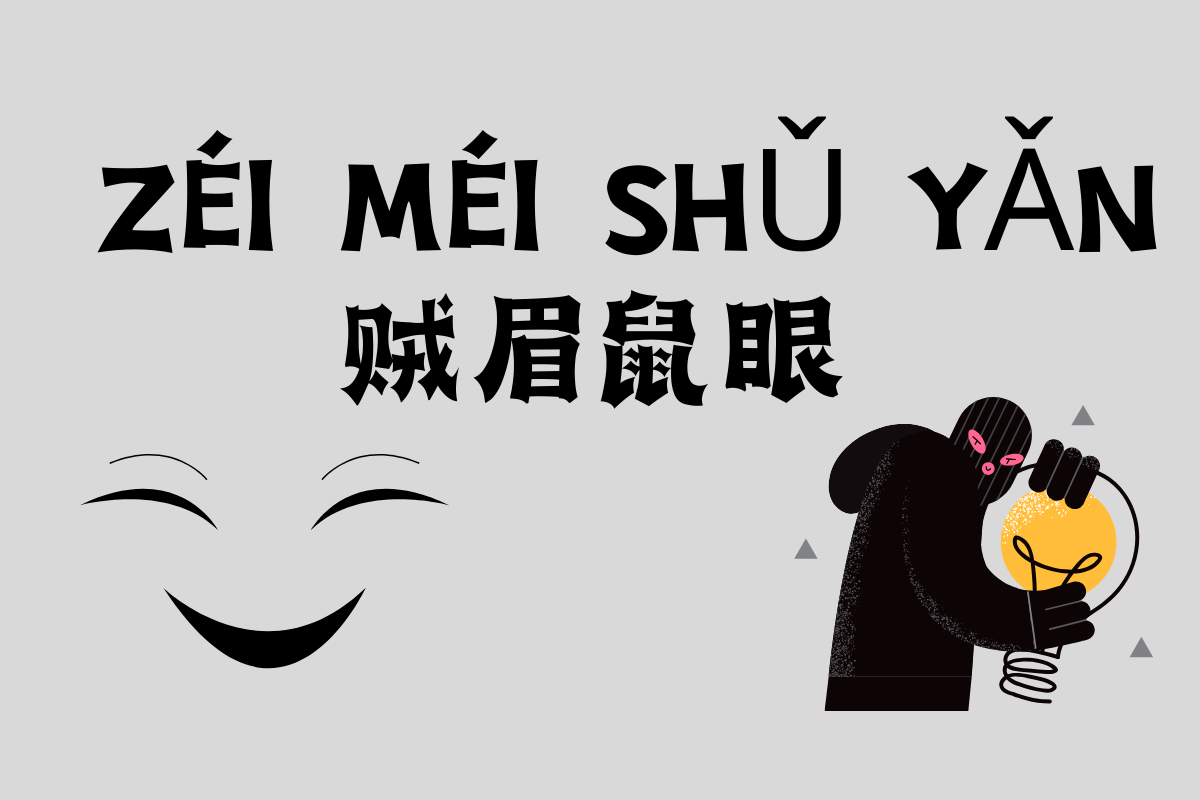 自私 (zì sī),adj,selfish
Examples:
She's always so selfish, thinking only of her own needs and desires.
她总是那么自私,只考虑自己的需求和欲望。


Tā zǒngshì nàme zìsī, zhǐ kǎolǜ zìjǐ de xūqiú hé yùwàng.

Sharing is a valuable lesson that teaches children to be less selfish.
分享是一项宝贵的教训,教导孩子们变得不那么自私。


Fēnxiǎng shì yī xiàng bǎoguì de jiàoxùn, jiàodǎo háizimen biànde bù nàme zìsī.
Inspiration and Meaning
The story serves as a warning against the behavior described by the idiom "贼眉鼠眼" (zéi méi shǔ yǎn) which characterizes someone as deceitful, attempting to frame others or gain unfair advantages. This story teaches us to be vigilant against devious actions and to uphold 诚实 (chéngshí) honesty and justice.
诚实 (chéng shí),noun,honesty
Examples:
We know her to be honest.
我们知道她很诚实。


wǒ men zhī dào tā hěn chénɡ shí.

He is honest, sober and hard-working.
他诚实、稳重、勤奋。


tā chénɡ shí 、 wěn zhònɡ 、 qín fèn.
Modern Application
The meaning of "贼眉鼠眼" (zéi méi shǔ yǎn) remains relevant in modern times. It reminds us to maintain honesty and integrity in interpersonal relationships and in the face of workplace competition, avoiding unethical means. Additionally, this idiom is applicable in politics and society, emphasizing the importance of honesty and fairness.
Key Sentences:
That colleague always engages in devious actions, sowing discord among the team members and creating an atmosphere of tension.
那个同事总是贼眉鼠眼地搬弄是非,导致团队之间的关系紧张不安。


Nàge tóngshì zǒngshì zéiméishǔyǎn de bānnòng shìfēi, dǎozhì tuánduì zhījiān de guānxì jǐnzhāng bù'ān.

In business competition, adhering to the principles of honesty is more likely to gain trust than resorting to devious actions.
在商业竞争中,坚守诚实原则比贼眉鼠眼的手段更能赢得信任。


Zài shāngyè jìngzhēng zhōng, jiānshǒu chéngshí yuánzé bǐ zéiméishǔyǎn de shǒuduàn gèng néng yíng dé xìnrèn.

Society needs more individuals with strong moral character to counteract the devious actions of those who engage in deceitful behavior.
社会需要更多的人拥有正直品德,以对抗那些贼眉鼠眼的行为。


Shèhuì xūyào gèng duō de rén yǒngyǒu zhèngzhí pǐndé, yǐ duìkàng nàxiē zéiméishǔyǎn de xíngwéi.
Sign up for a free trial now!