Shortsighted Perspective: A Mouse's View-鼠目寸光 (shǔ mù cùn guāng)
Monday, October 9, 2023
鼠目寸光 (shǔ mù cùn guāng) is an ancient Chinese fable that has been passed down through the ages. The story features a clever mouse that resides in a small container, believing it to be the entirety of the world. However, one day, it 尝试 (cháng shì ) ventures outside and discovers a world far broader and richer than it ever imagined. This story teaches us the importance of broadening our horizons and avoiding narrow-mindedness.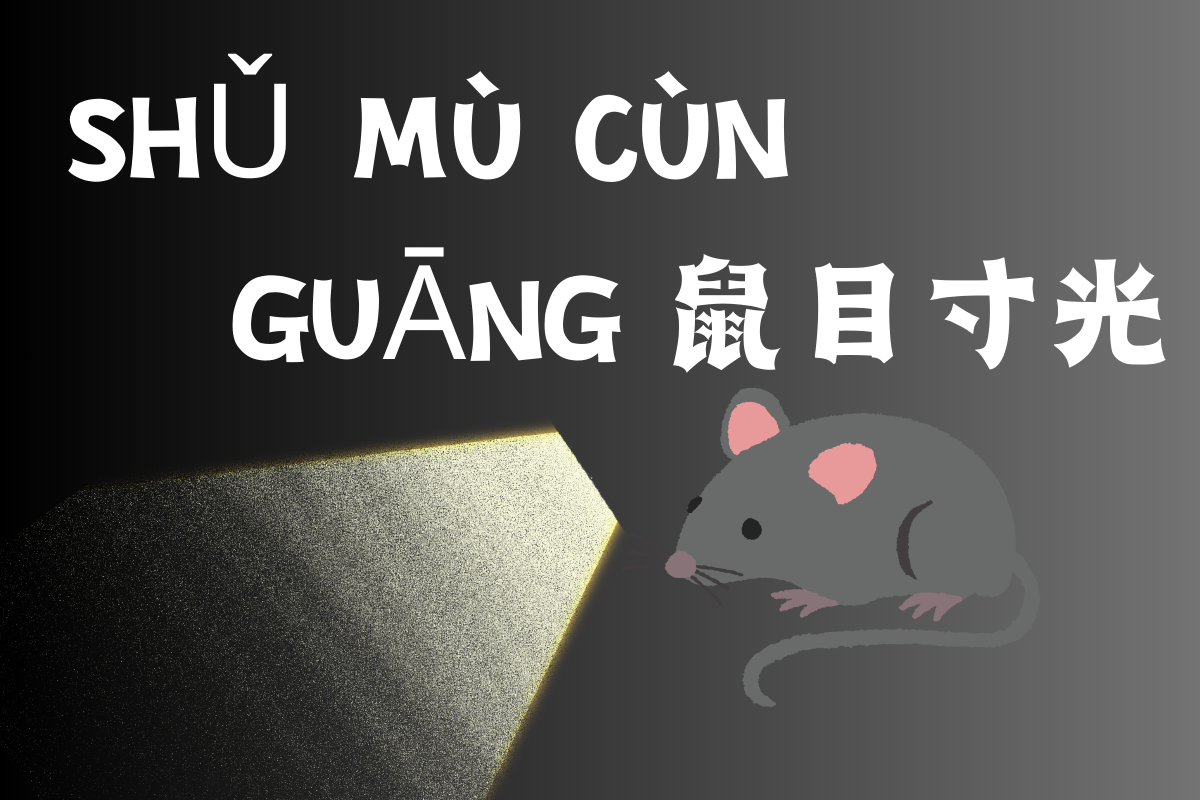 尝试 (cháng shì ),verb,ventures
Examples:
Starting a new business venture can be both exciting and challenging.
开始一项新的商业尝试既令人兴奋又具有挑战性。


Kāishǐ yī xiàng xīn de shāngyè chángshì jì lìngrén xīngfèn yòu jùyǒu tiǎozhàn xìng.

She decided to venture out and try her hand at painting.
她决定尝试一下绘画。


Tā juédìng chángshì yīxià huìhuà.
Inspiration and Meaning
The story serves as an inspiration by emphasizing the importance of open-mindedness and expansive thinking. 鼠目寸光 (shǔ mù cùn guāng) signifies having a limited perspective, only seeing things within a narrow scope and missing out on the broader world. It conveys an essential lesson: the need to continuously learn, explore, and 扩展 (kuò zhǎn) expand our knowledge and thinking.
扩展 (kuòzhǎn),verb,expand
Examples:
The company plans to expand its operations to other countries.
公司计划扩展到其他国家。


Gōngsī jìhuà kuòzhǎn dào qítā guójiā.

Regular exercise can help you expand your lung capacity.
定期锻炼有助于扩展你的肺活量。


Dìngqī duànliàn yǒuzhù yú kuòzhǎn nǐ de fèi huóliàng.
Modern Application
鼠目寸光 (shǔ mù cùn guāng) remains highly relevant in modern society. It reminds us not to be confined by narrow viewpoints and encourages open-mindedness, active exploration of the world, and the pursuit of new knowledge. This is crucial for personal growth, career success, and effective cross-cultural communication.
Key Sentences:
That young person was so focused on their small circle, turning a blind eye to new things in the outside world; truly an example of "narrow-minded."
那位年轻人只顾着自己的小圈子,对外界的新事物视而不见,真是鼠目寸光。


Nà wèi niánqīng rén zhǐgùzhe zìjǐ de xiǎo quānzi, duì wàijiè de xīn shìwù shì'érbùjiàn, zhēnshi shǔmùcùnguāng.

In the era of globalization, a "narrow-minded" mindset can limit a country's international competitiveness.
在全球化时代,鼠目寸光的观念将限制一个国家的国际竞争力。


Zài quánqiúhuà shídài, shǔmùcùnguāng de guānniàn jiāng xiànzhì yīgè guójiā de guójì jìngzhēnglì.)

This book teaches us the importance of continuous learning to avoid "narrow-minded," enabling us to achieve success in our careers.
这本书教导我们要不断学习,避免鼠目寸光,以便在职业生涯中取得成功。


Zhè běn shū jiàodǎo wǒmen yào bùduàn xuéxí, bìmiǎn shǔmùcùnguāng, yǐbiàn zài zhíyè shēngyá zhōng qǔdé chénggōng.
Sign up for a free trial now!