A Monkey's Moonlit Catch-猴子捞月 (hóu zi lāo yuè)
Wednesday, November 8, 2023
"猴子捞月" (hóu zi lāo yuè) is a popular Chinese idiom with an amusing story. Long ago, in a tranquil village, a group of playful monkeys lived near a clear pond. One night, as they gazed at the reflection of the moon on the water's surface, they were intrigued.
One clever monkey named Sun Wukong (孙悟空 - Sūn Wùkōng) decided to reach for the moon's reflection, thinking it was a delicious fruit. He extended his hand toward the water, but the moon's reflection remained just out of reach. Sun Wukong's efforts continued, with him leaping and stretching, but the 月亮 (yuè liang) moon's reflection eluded him.
As the night wore on, the other monkeys watched, amused by Sun Wukong's determination to catch the unattainable. The humorous sight left everyone in stitches, teaching them a valuable lesson about pursuing unrealistic goals.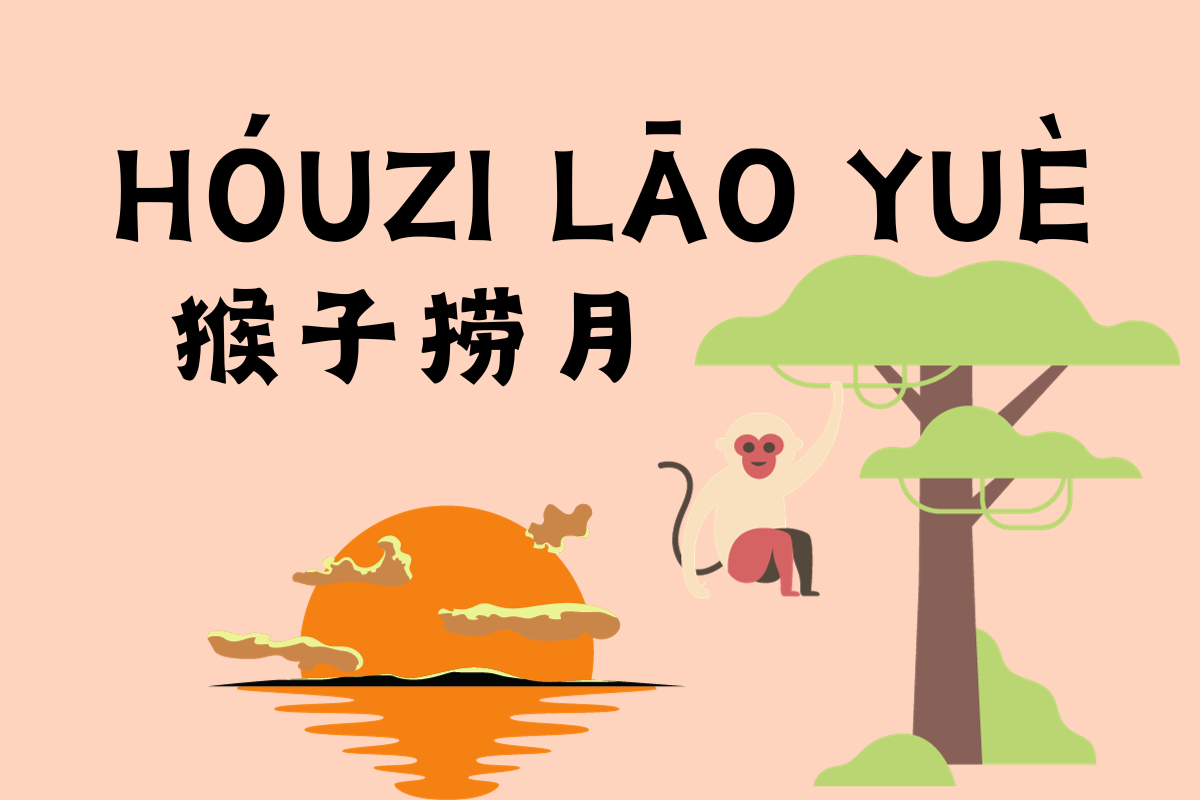 月亮 (yuè liang), noun, moon
The moon is bright in the night sky.
月亮在夜空中明亮。


Yuèliang zài yèkōng zhōng míngliàng.

I love watching the moon and stars at night.
我喜欢在晚上看月亮和星星。


Wǒ xǐhuān zài wǎnshàng kàn yuèliang hé xīngxīng.
The Inspiration (启发 - Qǐfā)
"猴子捞月" (hóu zi lāo yuè) serves as a lighthearted reminder that some goals are unattainable, no matter how hard we strive. In today's fast-paced world, people often chase after impossible dreams, sometimes to the detriment of more achievable pursuits. This story encourages us to set 现实的 (xiàn shí de) realistic goals and not to waste energy on the unattainable.
现实的 (xiàn shí de), adj, realistic
His goal to save money for a vacation is realistic and achievable.
他为度假存钱的目标是现实的且可实现的。


Tā wèi dùjià cún qián de mùbiāo shì xiànshí de qiě kě shíxiàn de.

Setting realistic expectations helps avoid disappointment.
设定现实的期望有助于避免失望。


Shèdìng xiànshí de qīwàng yǒuzhù yú bìmiǎn shīwàng.
Modern Application (现代如何运用 - Xiàndài Rúhé Yùnyòng)
The story of "猴子捞月" (hóu zi lāo yuè) is a fun analogy for the pursuit of unrealistic goals. In today's world, where ambition and aspirations run high, it is essential to differentiate between attainable and unattainable objectives. This story encourages us to set meaningful, achievable goals and work towards them effectively.
Key Sentences:
His dream of owning a private jet is like a monkey trying to snatch the moon.
他拥有私人飞机的梦想就像猴子捞月一样。


Tā yǒngyǒu sīrén fēijī de mèngxiǎng jiùxiàng hóuzi lāo yuè yīyàng.

His attempt to win the lottery with just one ticket was like a monkey trying to snatch the moon.
他仅凭一张彩票想中奖,就如同猴子捞月。


Tā jǐn píng yī zhāng cǎipiào xiǎng zhòngjiǎng, jiù rútóng hóuzi lāo yuè.

Attempting to buy a luxury car with pocket change is akin to a monkey trying to snatch the moon.
试图用零钱购买豪车就像猴子捞月。


Shìtú yòng língqián gòumǎi háochē jiù xiàng hóuzi lāo yuè.
Related Articles
Sign up for a free trial now!