A Desperate Dog Leaps the Wall-狗急跳墙 (gǒu jí tiào qiáng)
Friday, November 10, 2023
"狗急跳墙" (gǒu jí tiào qiáng) is a Chinese idiom that vividly illustrates the idea that when someone is in a desperate situation, they may resort to extreme or unexpected actions. In this article, we will explore the meaning of this idiom, share an enlightening story, and discuss how it applies to modern life.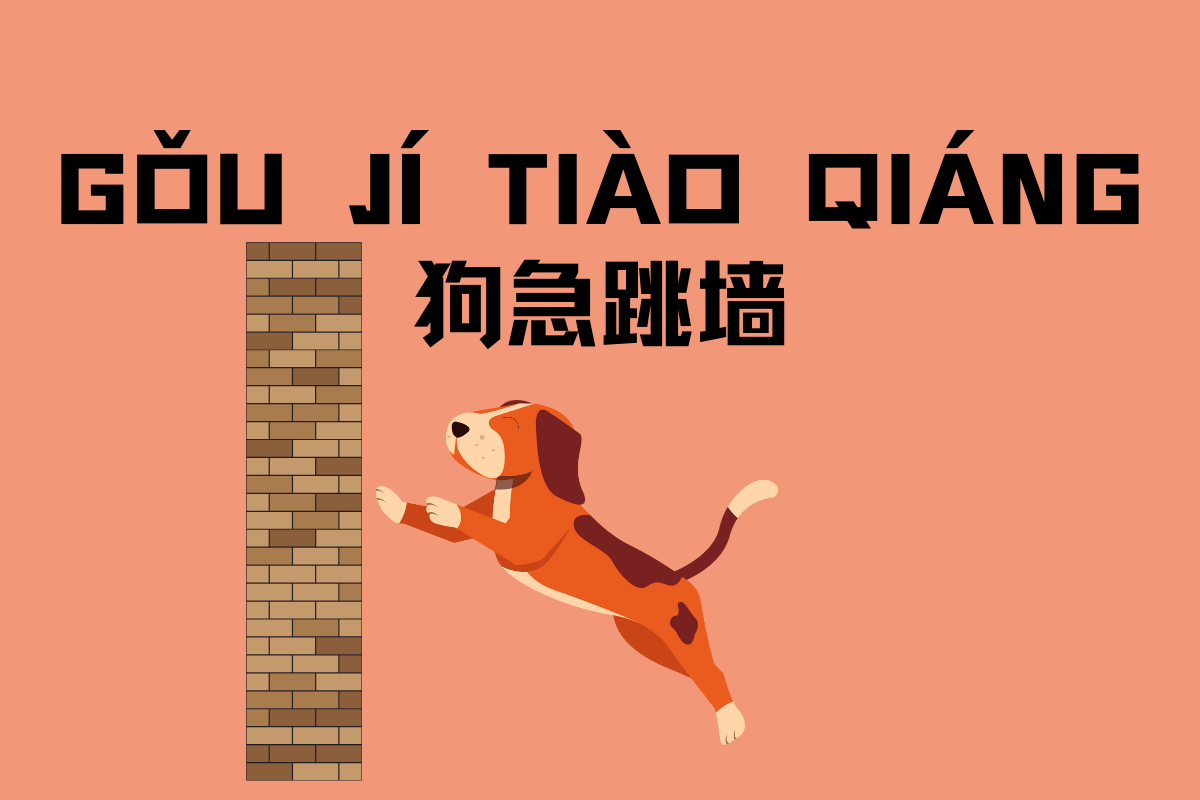 The Story of 狗急跳墙 (gǒu jí tiào qiáng)
Once in a peaceful village, there lived a mischievous dog named Max. Max was known for his playful antics, but one day, he found himself in a tricky situation. He had chased a cat up a tree, but now he couldn't figure out how to get down. As Max sat on a high branch, yelping for help, the villagers gathered below. They tried to coax him down with treats and kind words, but Max was too frightened to move. It seemed as though he was stuck up there for good. But desperation can make one resourceful. Max, despite being a dog, found the courage to make a daring leap from the tree. To everyone's surprise, he landed safely on his paws. The idiom "狗急跳墙" (gǒu jí tiào qiáng) perfectly captured this moment when Max's desperation led to an 意外的 (yì wài de) unexpected and bold action.
意外的 (yì wài de), adj, unexpected
Examples:
The unexpected rain caught us off guard.
意外的雨让我们措手不及。


Yìwài de yǔ ràng wǒmen cuòshǒubùjí.

Meeting an old friend was an unexpected surprise.
遇到老朋友是一个意外的惊喜。


Yù dào lǎo péngyǒu shì yī gè yìwài de jīngxǐ.
Inspiration
The story of "狗急跳墙" teaches us that even in dire circumstances, individuals can summon the courage to take risks and overcome challenges. It serves as a reminder that when push comes to shove, people (and even 狗 (gǒu) dogs) can surprise us with their resourcefulness and determination.
狗 (gǒu), noun, dog
Examples:
I have a dog.
我有一只狗。


Wǒ yǒu yī zhī gǒu.

The dog is running.
狗在跑。


Gǒu zài pǎo.
Meaning of the Idiom
"狗急跳墙" translates to "When a dog is desperate, it will jump over the wall." It means that in desperate situations, people or animals may take drastic actions they wouldn't consider under normal circumstances.
Modern Application
In today's world, "狗急跳墙" reminds us that when faced with adversity, we might need to step out of our comfort zones and take bold steps to find solutions. It can be applied to situations like overcoming obstacles in one's career or making significant life changes when circumstances become challenging.
Key Sentences:
When the cat cornered the dog, it had to "cornered like a rat" to escape.
当猫将狗逼到绝路时,狗不得不"狗急跳墙"逃跑。


Dāng māo jiāng gǒu bī dào juélù shí, gǒu bùdébù "gǒu jí tiào qiáng" táo pǎo.

With exams approaching, students sometimes resort to "cornered like a rat" tactics to cram all night.
考试临近,学生们有时采取"狗急跳墙"的策略通宵复习。


Kǎoshì línjìn, xuéshengmen yǒushí cǎiqǔ "gǒu jí tiào qiáng" de cèlüè tōngxiāo fùxí.

When the deadline was near, he had to "cornered like a rat" to finish his project on time.
截止日期临近,他必须"狗急跳墙"以按时完成项目。


Jiézhǐ rìqī línjìn, tā bìxū "gǒu jí tiào qiáng" yǐ ànshí wánchéng xiàngmù.
Related Articles
Sign up for a free trial now!