Bits and Pieces-鸡零狗碎 (jī líng gǒu suì)
Thursday, November 9, 2023
鸡零狗碎 (jī líng gǒu suì) is a Chinese idiom that literally translates to "chicken feathers and dog hair." It is used to describe small, trivial things or a scattered mess. In this article, we will explore the origins of this idiom, its meaning, and how it can be applied in modern contexts.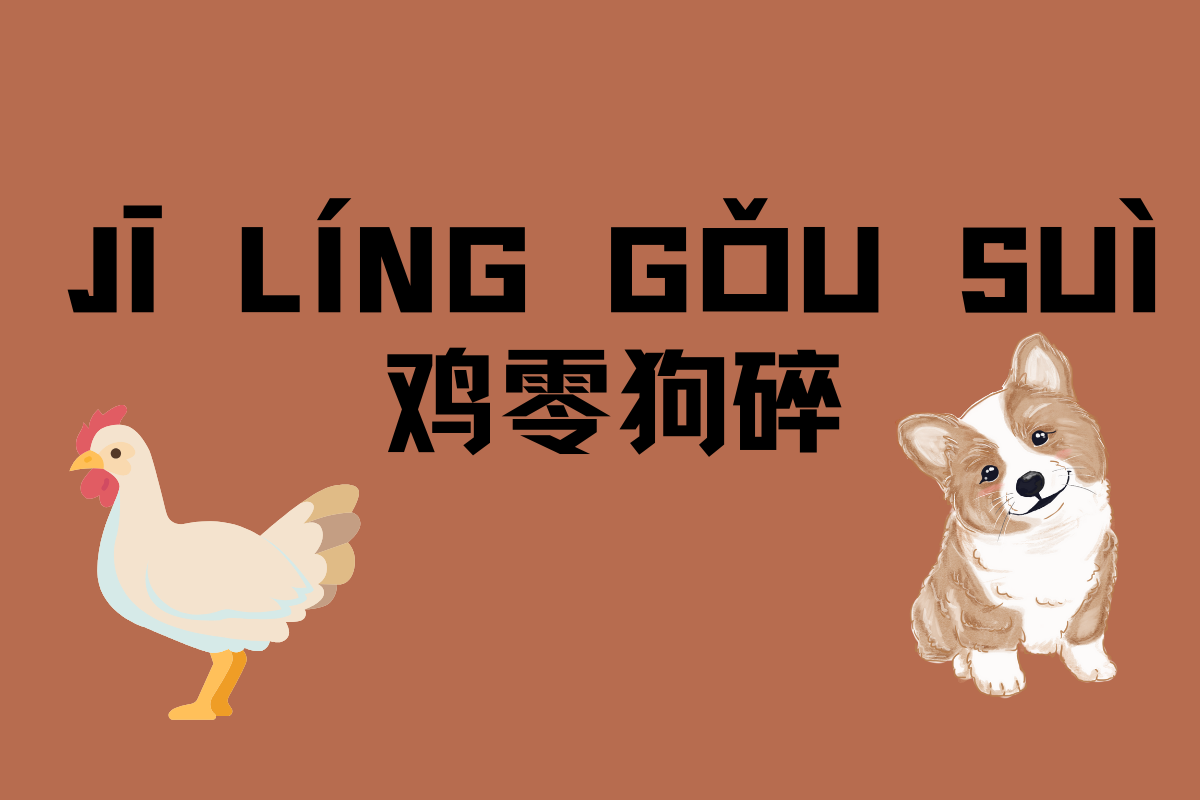 Origins of 鸡零狗碎 (
jī líng gǒu suì

)

鸡零狗碎 (jī líng gǒu suì) is believed to have originated from an old Chinese story. In ancient times, a group of people gathered to discuss an important matter. Among them, there were a few dogs and chickens. However, when the discussions became heated, the dogs started barking, and the chickens flapped their wings and scattered. This chaos made it impossible to continue the meeting, and the term 鸡零狗碎 was coined to describe the scattered 混乱 (hùn luàn) mess.

混乱 (hùn luàn), verb, mess

Examples:
The room is a mess.
房间很混乱。


Fángjiān hěn hùnluàn.

My brain is a mess.
我的大脑很混乱。


Wǒ de dànǎo hěn hùnluàn.
Meaning
The idiom 鸡零狗碎 is used to describe trivial or insignificant matters that disrupt or scatter, making it challenging to focus on important issues. It highlights the distractions that can 阻碍 (zǔ ài) hinder progress or the chaos that can disrupt order.
阻碍 (zǔ ài), verb, hinder
Examples:
The heavy rain may hinder our outdoor plans.
大雨可能会阻碍我们的户外计划。


Dà yǔ kěnéng huì zǔ'ài wǒmen de hùwài jìhuà.

Don't let fear hinder your progress.
不要让恐惧阻碍你的进步。


Bùyào ràng kǒngjù zǔ'ài nǐ de jìnbù.
Modern Application
In modern contexts, 鸡零狗碎 can be applied to various situations. It can describe small, everyday disturbances or distractions that divert attention from more significant tasks. For example, it might refer to interruptions like phone notifications, small talk in a meeting, or minor inconveniences that disrupt daily routines.
Key Sentences:
My workday is full of trivial matters interruptions.
我的工作日充满了鸡零狗碎的干扰。


Wǒ de gōngzuò rì chōngmǎnle jī líng gǒu suì de gānrǎo.

He couldn't focus on his studies with so many trivial matters noises around.
有这么多鸡零狗碎的噪音,他无法集中精力学习。


Yǒu zhème duō jī líng gǒu suì de zàoyīn, tā wúfǎ jízhōng jīnglì xuéxí.

Don't let trivial matters distractions keep you from your goals.
不要让鸡零狗碎的干扰阻止你实现目标。


Bùyào ràng jī líng gǒu suì de gānrǎo zǔzhǐ nǐ shíxiàn mùbiāo.
Sign up for a free trial now!