West Lake Vinegar Fish: A Zhejiang Delicacy
Wednesday, September 27, 2023
West Lake Vinegar Fish is a famous dish from Hangzhou, China, known for its delightful combination of tender fish and tangy-sweet vinegar sauce. The dish typically features fresh fish fillets, often from grass carp or silver carp ,lightly fried until crispy on the outside and tender on the inside. The fish is then topped with a savory and aromatic vinegar sauce made from Zhejiang black vinegar, sugar, soy sauce, ginger, garlic, creating a perfect balance of flavors. The dish's name, "West Lake Vinegar Fish," is derived from the picturesque West Lake in Hangzhou, where this delicious specialty originated. It has become a beloved delicacy, showcasing the culinary excellence of Zhejiang province and attracting food enthusiasts from all around the world.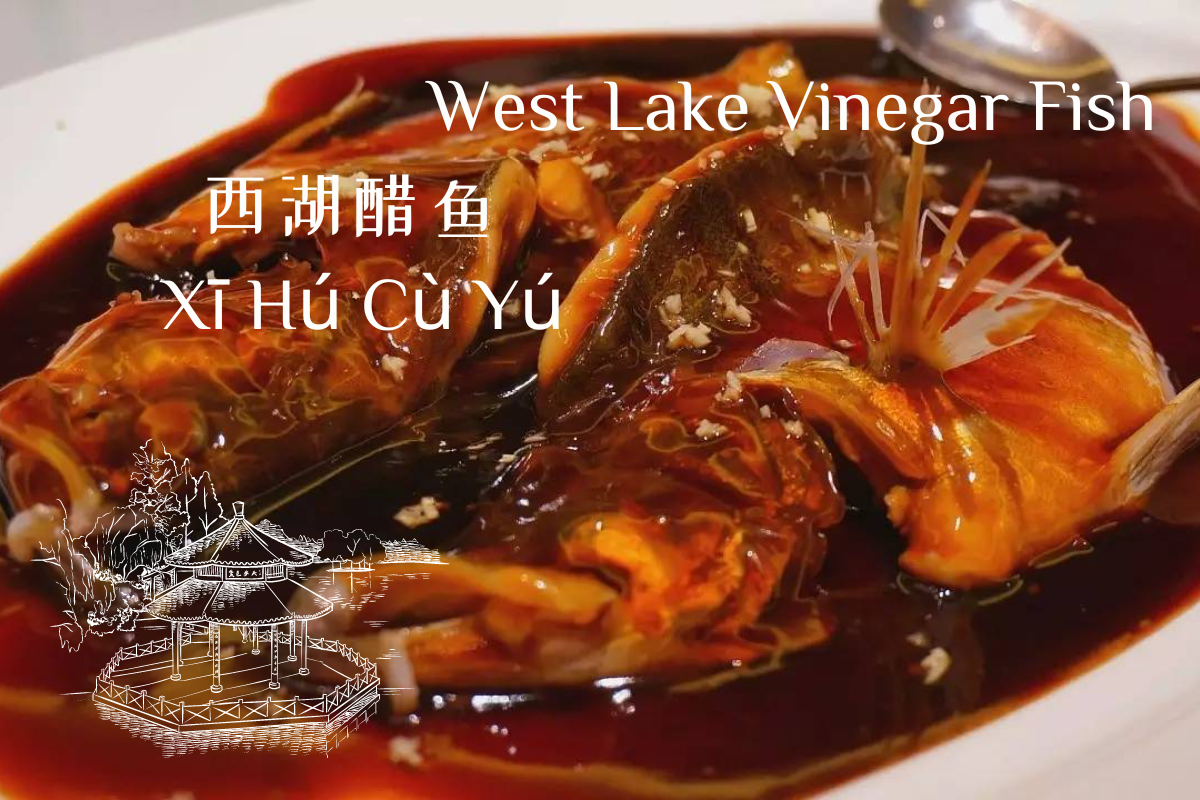 The name "西湖醋鱼" (Xī Hú Cù Yú) is derived from a beautiful legend. It is said that in ancient times, a fisherman caught an exceptionally large fish in West Lake. He wanted to share it with the entire village, but the fish was too big to be cooked whole. So, the fisherman decided to cut the fish into pieces and cooked them separately to share with the villagers. In order to ensure that each piece of fish had the delicious taste of vinegar, the fisherman drizzled them with tasty vinegar sauce. The villagers were amazed by the flavor, and thus this dish became known as "西湖醋鱼 (Xī Hú Cù Yú)," which means "West Lake Vinegar Fish" in Chinese, and it has become a famous specialty in Hangzhou.
西湖(XīHú)-West Lake
醋(cù)-Vinegar
鱼(yú)-Fish
Key sentences:
I tried the famous West Lake Vinegar Fish during my trip to Hangzhou.
我在杭州游玩时尝试了著名的西湖醋鱼。
Wǒzài Hángzhōu yóuwán shíchángshìle zhùmíng de XīHúCùYú.
We had a delicious meal of West Lake Vinegar Fish at the local restaurant.
我们在当地餐馆品尝了美味的西湖醋鱼。
Wǒmen zài dāngdìcānguǎn pǐnchángle měiwèi de XīHúCùYú.
The tangy flavor of West Lake Vinegar Fish is truly delightful.
西湖醋鱼的酸甜味道真是让人愉悦。
XīHúCùYúde suāntián wèidào zhēnshìràng rén yúyuè.
Sign up for a free trial now!