Suzhou Gardens-苏州园林 (sū zhōu yuán lín)
Thursday, September 21, 2023
苏州园林 (sū zhōu yuán lín), also known as Suzhou Gardens, is a collection of classical Chinese gardens nestled in the charming city of Suzhou, Jiangsu province. Renowned for their exquisite design and harmonious integration with nature, these gardens are a living testament to China's ancient gardening aesthetics. Let's explore the enchanting allure of Suzhou Gardens and the artistry they embody.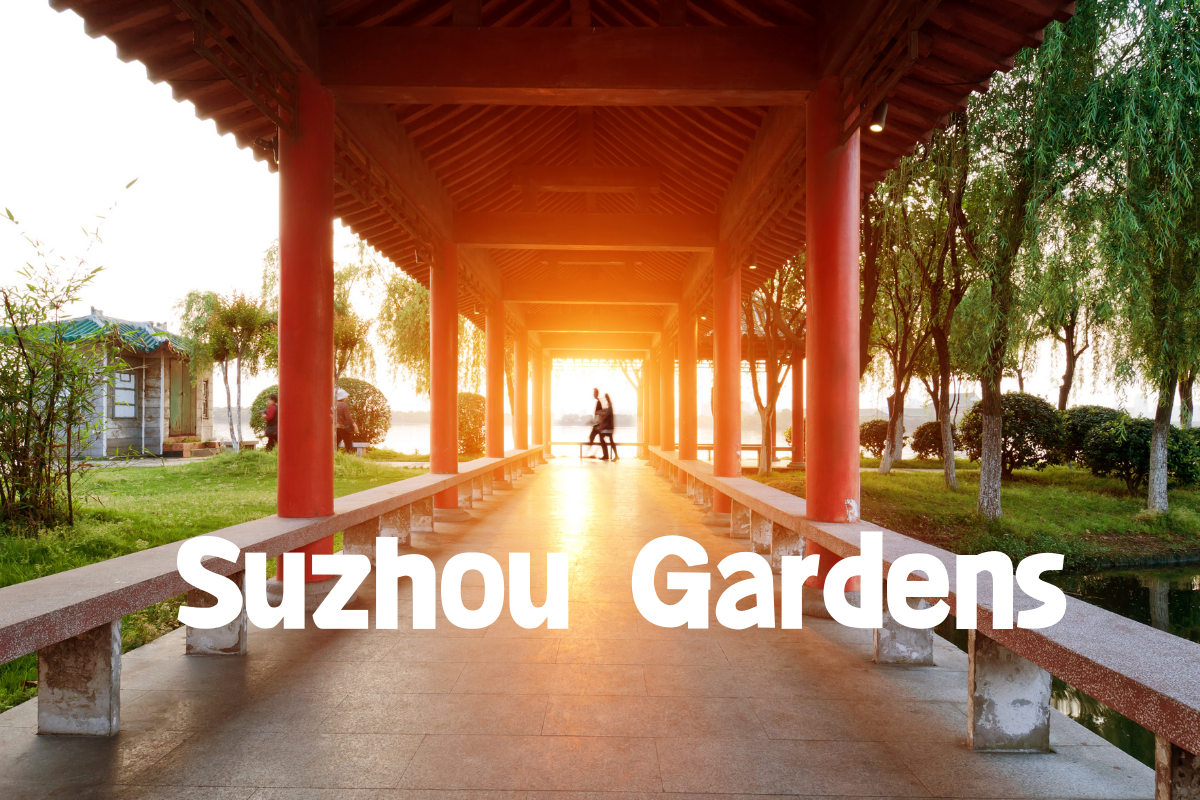 古典园林 (
Gǔdiǎn Yuánlín

) - Classical Garden Design

Suzhou Gardens exemplify the essence of traditional Chinese garden design. Inspired by Confucian and Taoist principles, these gardens aim to create a miniature landscape that symbolizes the harmony between humans and nature. Delicate pavilions, winding corridors, and serene ponds are meticulously arranged to evoke a sense of tranquility and balance.
精湛工艺 (
Jīngzhàn Gōngyì

) - Exquisite Craftsmanship

The construction of Suzhou Gardens involves meticulous craftsmanship handed down through generations. Skilled artisans use traditional techniques to craft intricate rockeries, ornate bridges, and delicate woodcarvings, all of which contribute to the gardens' timeless elegance and beauty.
四季景观 (
Sìjì Jǐngguān

) - Year-round Scenic Delights

Each season in Suzhou Gardens offers a unique spectacle. In spring, vibrant blossoms paint the gardens with a kaleidoscope of colors. Summer brings lush greenery and the fragrance of flowers, while autumn dresses the gardens in golden hues. In winter, the gardens' serene beauty takes on a tranquil charm, enchanting visitors throughout the year.
文化遗产 (
Wénhuà Yíchǎn

) - Cultural Heritage

Suzhou Gardens are designated as UNESCO World Heritage sites, recognizing their historical and cultural significance. These gardens have played an integral role in preserving Chinese garden design and aesthetics, showcasing the profound influence of ancient Chinese philosophy and art.
艺术瑰宝 (
Yìshù Guībǎo

) - Artistic Treasures

The elegant beauty of Suzhou Gardens has inspired numerous poets, painters, and scholars throughout history. These gardens have been immortalized in poetry and paintings, solidifying their position as timeless artistic treasures in Chinese culture.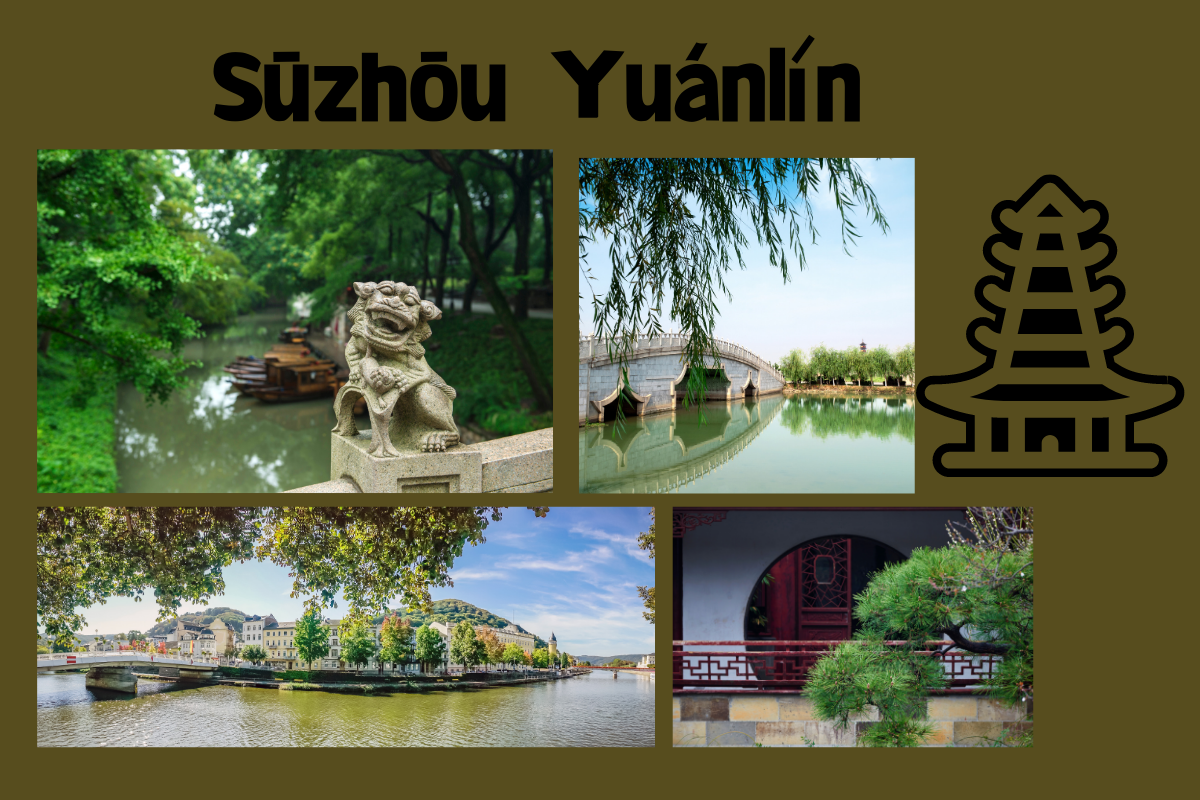 苏 (Sū): The first character "苏" is pronounced as "soo" in English. Begin with a "s" sound, as in "sun," and then quickly transition to the "oo" sound, as in "moon." The "oo" sound should be short and crisp.
州 (zhōu): The second character "州" (zhōu). "zh" like "j" in "jump", but with the tip of tongue a little further back. "-ou" like "o" in "go". Lips closing slightly at end of sound.
园 (Yuán): The third character "园" is pronounced as "wa" in English. Begin with a "y" sound, as in "yes". "-uan" like "uan" in "juan".
林 (Lín): The fourth character "林" is pronounced as "een" in English. Start with an "l" sound, as in "love," and "-in" as in "pin".
Key Sentences:
The classical beauty and exquisite craftsmanship of Suzhou Gardens make them a haven of serenity and elegance.
苏州园林古典的美和精湛的工艺使其成为宁静和优雅的天堂。
Sūzhōu Yuánlín gǔdiǎn de měi hé jīngzhàn de gōngyì shǐ qí chéngwéi níngjìng hé yōuyǎ de tiāntáng.
During my visit to Suzhou Gardens, I marveled at the artistry and harmony that permeated the picturesque landscapes.
在我参观苏州园林时,我为其画面如诗如画的景观所倾倒。
Zài wǒ cānguān Sūzhōu Yuánlín shí, wǒ wèi qí huàmiàn rúshī rúhuà de jǐngguān suǒ qīngdǎo.
Suzhou Gardens, as a UNESCO World Heritage site, represent a rich cultural heritage and offer a glimpse into the timeless beauty of traditional Chinese gardens.
苏州园林作为联合国教科文组织世界遗产,代表着丰富的文化遗产,并展现了中国传统园林的永恒之美。
Sūzhōu Yuánlín zuòwéi Liánhéguó Jiàokēwén Zǔzhī shìjiè yíchǎn, dàibiǎo zhe fēngfù de wénhuà yíchǎn, bìng zhǎnxiànle Zhōngguó chuántǒng yuánlín de yǒnghéng zhī měi.
Sign up for a free trial now!