Structure of Chinese Characters
Sunday, January 15, 2023
The character structure information is very useful for Chinese language learners to recognize the character composition. The following table lists the common character structures of modern Chinese characters. It is based on the 12 Ideographic Description Characters (1DCs) introduced in ISO 10646 and the version 3.0 of the Unicode standard, They describe the ideographic character composition at the abstract level.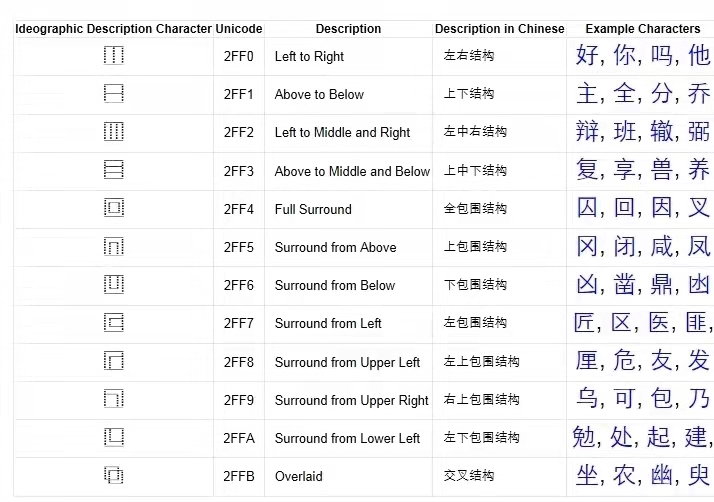 Chinese characters are made up of strokes. We have eight basic strokes in Chinese characters. They are:
The Diǎn点, is a dot, filled from the top, to the bottom, traditionally made by "couching" the brush on the page.
The Héng横, is horizontal, filled from left to right, the same way the Latin letters A, B, C, D are written.
The Shù竖, is vertical-falling. The brush begins by a dot on top, then falls downward.
The Gōu钩, ending another stroke, is a sharp change of direction either down (after a Heng) or left (after a Shù).
The Tí提, is a flick up and rightwards.
The Wān弯, follows a concave path on the left or on the right.
The Piě 撇, is a falling leftwards (with a slight curve).
The Nà 捺, is falling rightwards (with an emphasis at the end of the stroke).

When we write Chinese characters, we must know the stroke order of Chinese characters. Stroke order refers to the order in which the strokes of a Chinese character are written. The below are the general writing rules:
1. First Throw then Press, the words like: 人,八,入
2. First Horizontal then Vertical, the words like: 十,王,干
3. From top to down, the words like: 三,竟,音
4. From left to right, the words like: 理,利,和
5. First outside then inside, the words like: 问,同,司
6. First the middle then the sides, the words like: 小,水
Sign up for a free trial now!