HSK Words: 坚如磐石 (jiān rú pán shí) VS 根深蒂固 (gēn shēn dì gù)
Tuesday, November 14, 2023
Recently, Chinese film Under the Light is being screened. Do you know its meaning in Chinese? Today, we will explore the differences between two HSK words: 坚如磐石 (jiān rú pán shí) and 根深蒂固 (gēn shēn dì gù). Although these words may seem similar, their meanings are distinct, and understanding the differences will help you use these words accurately in daily Chinese communication.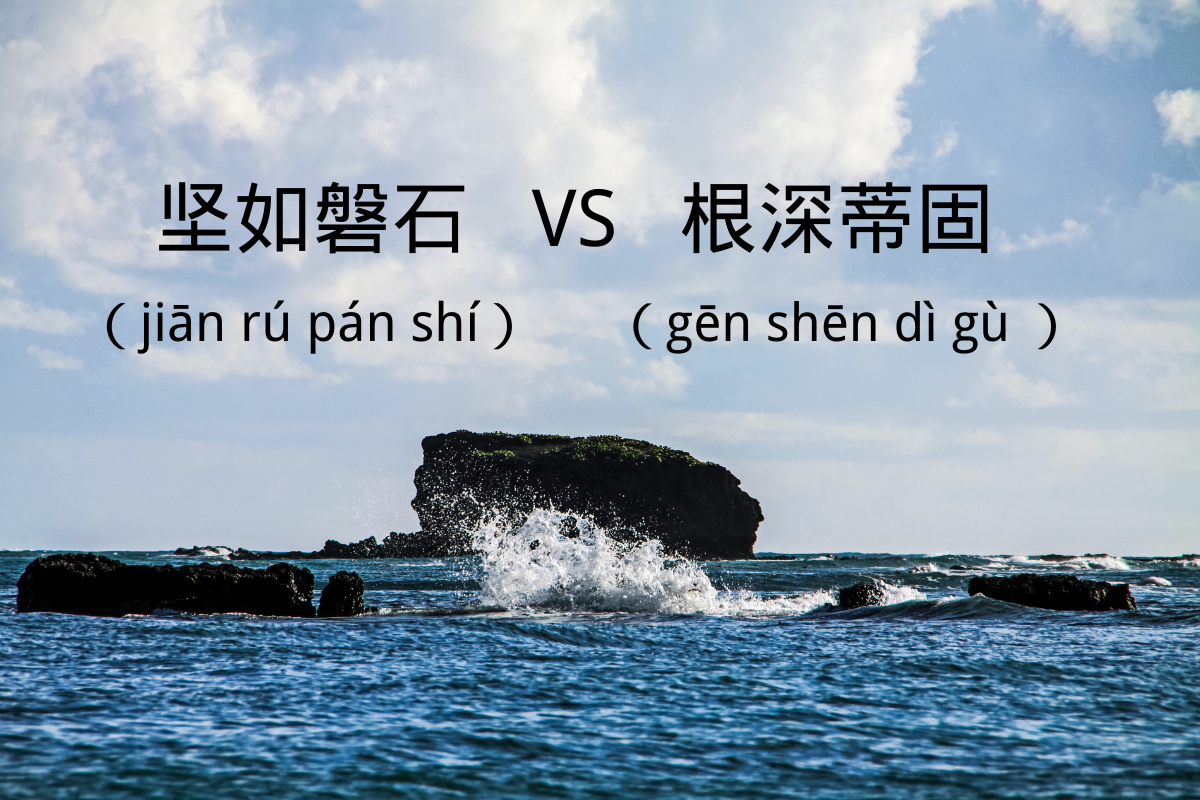 坚如磐石(jiān rú pán shí), translated as "Solid as a Rock," encapsulates the strength and unyielding nature of a solid foundation. It mirrors the stability of a massive rock formation that withstands external pressures. In linguistic terms, this expression can be applied to principles, commitments, or plans that are steadfast and resolute.
Examples:
His commitment to his principles is solid as a rock.
他对原则的执着是坚如磐石。


Tā duì yuán zé de zhí zhuó shì jiān rú pán shí.

The team's unity is solid as a rock, even in challenging times.
团队的团结在困境中是坚如磐石的。


Tuán duì de tuán jié zài kùn jìng zhōng shì jiān rú pán shí de.
根深蒂固 (gēn shēn dì gù), translated as "Deeply Rooted," conveys a sense of profound and enduring establishment, akin to the deep roots of a firmly grounded tree. This expression signifies a connection or tradition that is firmly ingrained, suggesting a long-lasting and unwavering presence.
Examples:
The values of this community are deeply rooted in its history.
这个社区的价值观根深蒂固于其历史之中。


Zhè ge shè qū de jià zhí guān gēn shēn dì gù yú qí lì shǐ zhī zhōng.

The cultural traditions of the region are deeply rooted and celebrated.
这个地区的文化传统根深蒂固且备受推崇。


Zhè ge dì qū de wén huà chuán tǒng gēn shēn dì gù qiě bèi shòu tuī chóng.
Quiz: Please consider whether to use 坚如磐石 (jiān rú pán shí) or 根深蒂固 (gēn shēn dì gù) in following sentences.
他的立场__,不会轻易改变。


tā de lìng chǎng __, bú huì qīng yì gǎi biàn 。

这家公司已经__在业界多年。


zhè jiā gōng sī yǐ jīng __ zài yè jiè duō nián 。

他对自己的信念__。


tā duì zì jǐ de xìn niàn __ 。
Answer:
根深蒂固 (

gēn shēn dì gù

)
坚如磐石 (

jiān rú pán shí

)
坚如磐石 (

jiān rú pán shí

)
Sign up for a free trial now!