HSK Words: 分辩 (fēn biàn) VS 分辨 (fēn biàn)
Monday, November 13, 2023
In this article, we will delve into the distinctions between two HSK words: 分辩 (fēn biàn) and 分辨 (fēn biàn). Despite their apparent similarity, these words carry unique meanings, and understanding the differences will enhance your precision in daily Chinese communication.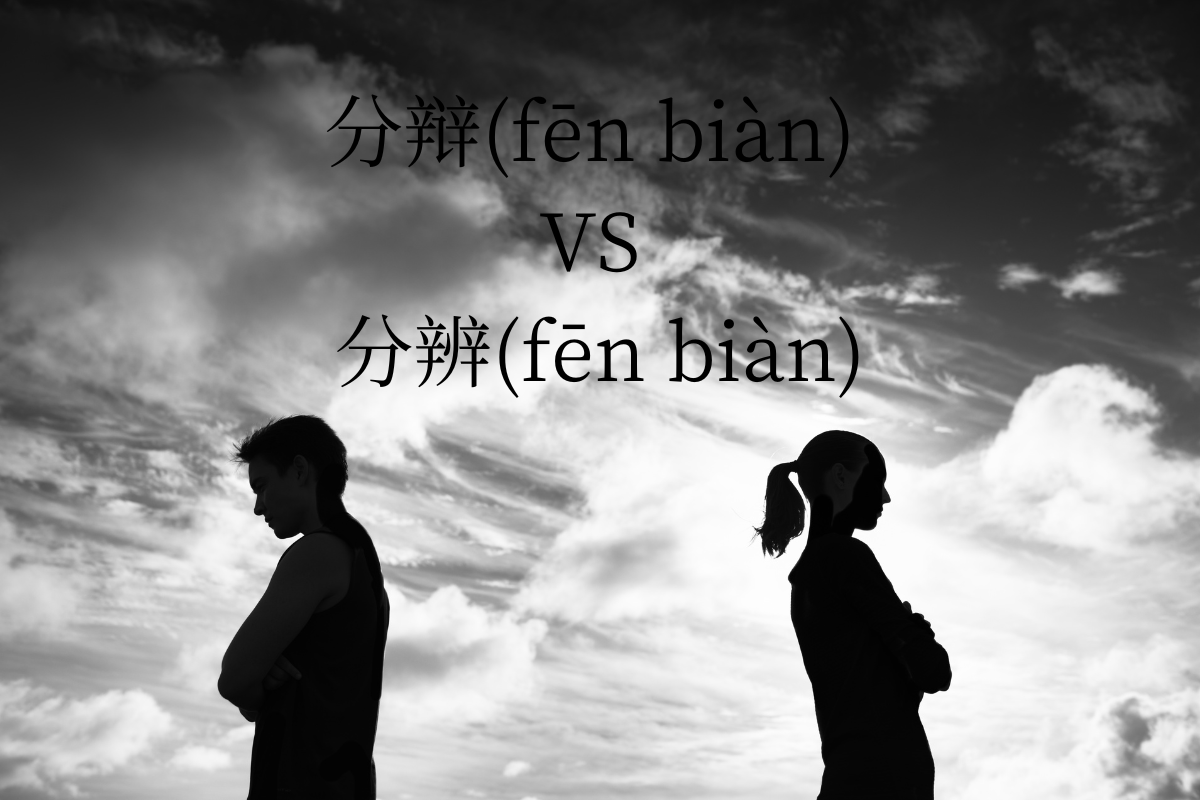 分辩 (fēn biàn), often translated as "to defend" or "to argue," implies the act of presenting arguments or evidence to justify or clarify a situation. It is commonly used in contexts where one needs to explain or defend a position, statement, or action.
Examples:
In court, the lawyer needs to strive to defend his client's innocence.
在法庭上,律师需要努力地分辩他的客户无辜。


Zài fǎ tíng shàng, lǜ shī xū yào nǔ lì de fēn biàn tā de kè hù wú gū.

During the debate, each participant has the opportunity to defend their viewpoints.
辩论中,每个参与者都有机会分辩他们的观点。


Biàn lùn zhōng, měi gè cān yù zhě dōu yǒu jī huì fēn biàn tā men de guān diǎn.

When faced with criticism, it's essential to calmly defend your actions.
面对批评,冷静地分辩自己的行为是很重要的。


Miàn duì pī píng, lěng jìng de fēn biàn zì jǐ de xíng wéi shì hěn zhòng yào de.
分辨 (fēn biàn), often translated as "to distinguish" or "to differentiate," involves the act of recognizing or identifying differences between things or situations. It implies a perceptual or cognitive process of making distinctions.
Examples:
The detective needed to carefully distinguish the subtle clues at the crime scene.
侦探需要仔细分辨犯罪现场的微妙线索。


Zhēn tàn xū yào zǐ xì fēn biàn fàn zuì xiàn chǎng de wēi miào xiàn suǒ.

It's crucial to differentiate between authentic and counterfeit products.
分辨真伪产品是至关重要的。


fēn biàn zhēn wěi chǎn pǐn shì zhì guān zhòng yào de.

The biologist can distinguish different species based on unique characteristics.
生物学家能够根据独特特征分辨不同物种。


Shēng wù xué jiā néng gòu gēn jù dú tè tè zhēng fēn biàn bù tóng wù zhǒng.
Quiz: Please consider whether to use 分辩 (fēn biàn) VS 分辨 (fēn biàn) in following sentences.
我____不出这两个物体有什么不同。


wǒ____bù chū zhè liǎng gè wù tǐ yǒu shén me bù tóng 。

他不想再____下去了,太累了。


tā bù xiǎng zài ____ xià qù le , tài lèi le 。

这两幅画看起来很相似,很难____出哪幅更好。


zhè liǎng fú huà kàn qǐ lái hěn xiāng sì , hěn nán ____ chū nǎ fú gèng hǎo 。
Answer:
分辨 (

fēn biàn

)
分辩 (

fēn biàn

)
分辨 (

fēn biàn

)
Sign up for a free trial now!