HSK Words: 必须 (bì xū) VS 必需 (bì xū)
Wednesday, November 15, 2023
In this article, we will delve into the distinctions between two HSK words: 必须 (bì xū) and 必需 (bì xū). While these terms may seem similar, their meanings carry nuances that are crucial for precise usage in daily Chinese communication.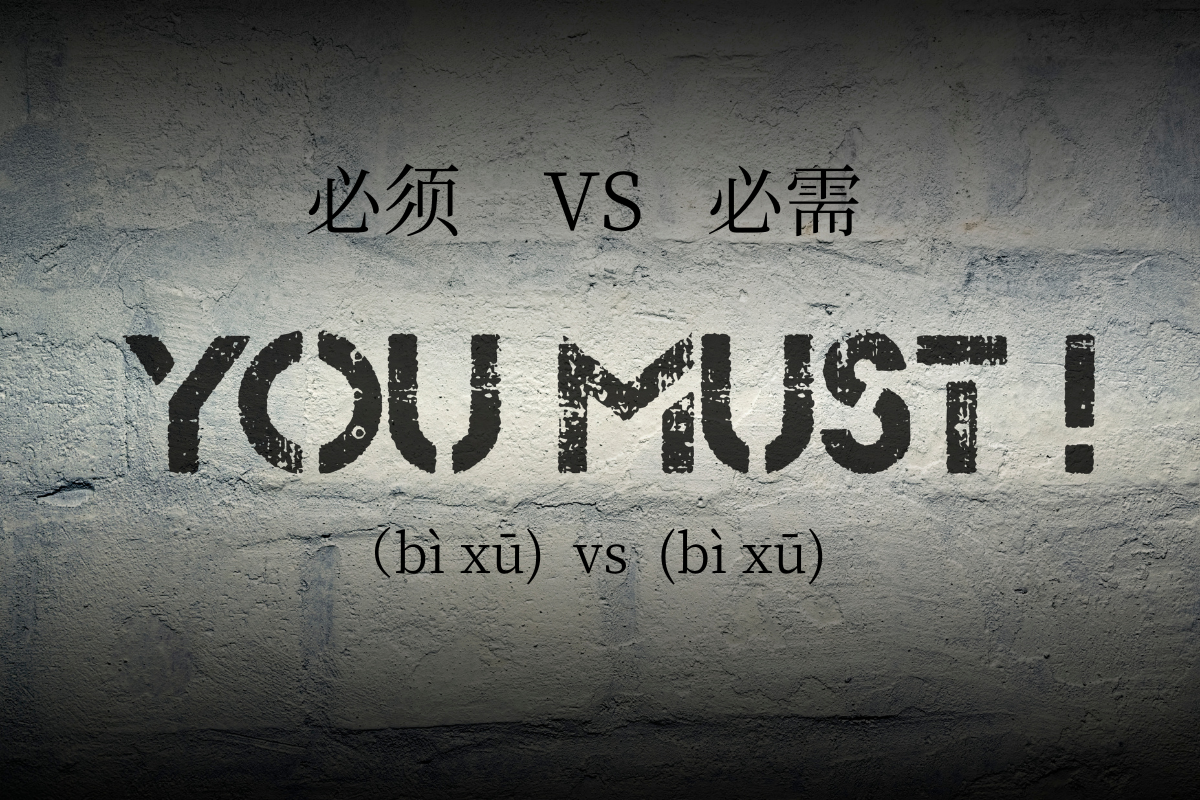 必须 (bì xū), often translated as "must" or "have to," emphasizes a mandatory or imperative requirement. It signifies a situation where compliance or adherence to a certain action is non-negotiable.
Examples:
We must find a better method to solve this problem.
我们必须找到一个更好的方法来解决这个问题。


Wǒ men bì xū zhǎo dào yī gè gèng hǎo de fāng fǎ lái jiě jué zhè ge wèn tí.

His learning method is very effective; it is something we must adopt.
他的学习方法非常有效,这是我们必须采纳的。


Tā de xué xí fāng fǎ fēi cháng yǒu xiào; zhè shì wǒ men bì xū cǎi nà de.

This is a very good marketing method that we must implement.
这是一种很好的营销方法,我们必须实施。


Zhè shì yī zhǒng hěn hǎo de yíng xiāo fāng fǎ, wǒ men bì xū shí shī.
必需 (bì xū), often translated as "essential" or "necessary," emphasizes the indispensability of something. It implies that a particular item or action is required for a process or system to function properly.
Examples:
What are your suggestions regarding the resolution of this problem? Your input is essential.
在这个问题的解决方面,你有什么建议?你的意见是必需的。


Zài zhè ge wèn tí de jiě jué fāng miàn, nǐ yǒu shén me jiàn yì? Nǐ de yì jiàn shì bì xū de.

The government has taken many measures regarding environmental protection, and these steps are essential.
在环保方面,政府已经采取了很多措施,这些措施是必需的。


Zài huán bǎo fāng miàn, zhèng fǔ yǐ jīng cǎi qǔ le hěn duō cuò shī, zhè xiē cuò shī shì bì xū de.

We need to make more efforts regarding education; it is absolutely necessary.
在教育方面,我们需要做出更多的努力,这是绝对必需的。


Zài jiào yù fāng miàn, wǒ men xū yào zuò chū gèng duō de nǔ lì, zhè shì jué duì bì xū de.
Quiz: Please consider whether to use 必须 (bì xū) or 必需 (bì xū) in following sentences.
你_____先完成作业才能看电视。


nǐ _____ xiān wán chéng zuò yè cái néng kàn diàn shì 。

水是生存所_____的。


shuǐ shì shēng cún suǒ_____de 。

我必须早点离开。


wǒ_____zǎo diǎn lí kāi 。
Answer:
必须 (

bì xū

)
必需 (

bì xū

)
必须 (

bì xū

)
Sign up for a free trial now!