The Cowherd and the Weaver Girl: A Love Across the Milky Way
Tuesday, August 22, 2023
In Chinese mythology, the story of 牛郎 (niú láng) and 织女 (zhī nǚ), known as "The Cowherd and the Weaver Girl," is a timeless tale of love that spans the celestial heavens. This ancient legend holds deep cultural significance and continues to inspire modern interpretations and applications.
The tale recounts the love between 牛郎 (Niu Lang), a young cowherd, and 织女 (Zhi Nu), a skilled weaver fairy. Separated by the vast expanse of the Milky Way, they are only allowed to meet once a year, on the seventh day of the seventh lunar month, when a bridge of magpies forms to reunite them. Their love story is rooted in a sense of longing and sacrifice, as Niu Lang tends to his cattle on Earth while Zhi Nu weaves celestial garments for the gods. With the help of a magical cow and some celestial assistance, their devotion and determination eventually move the Queen Mother of the Western Heaven, allowing them to be together as a constellation.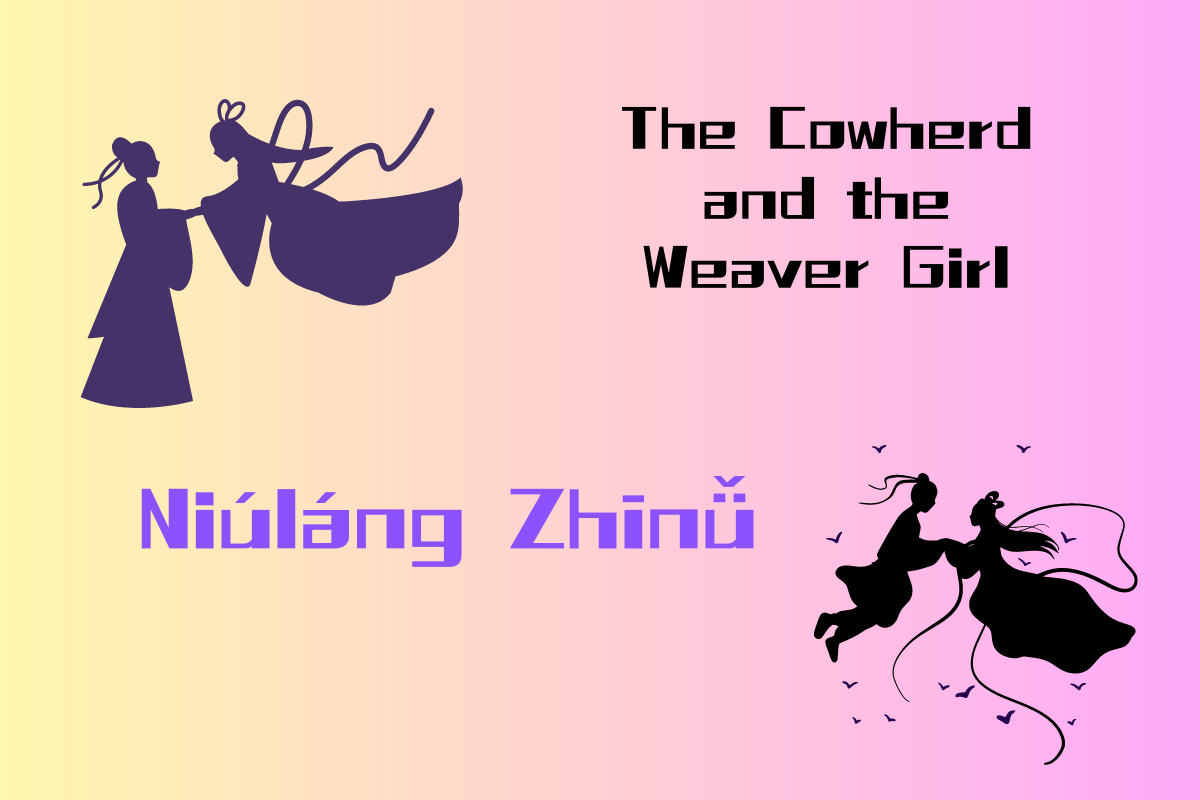 Modern Significance
The story of the Cowherd and the Weaver Girl remains a symbol of enduring love and the power of human connection. It teaches us about patience, devotion, and the willingness to overcome seemingly insurmountable obstacles for love. In the fast-paced modern world, where relationships are often tested by distance and challenges, the story serves as a reminder to cherish and nurture the bonds we hold dear.
Everyday Application
The tale of 牛郎织女 is frequently used as a metaphor for lovers separated by circumstances, be it physical distance, cultural differences, or other obstacles. It is often invoked in conversations, literature, and media to express the idea of love that transcends barriers and endures hardships. People might reference this story when discussing their own long-distance relationships, highlighting the hope that they will eventually bridge the gap, much like Niu Lang and Zhi Nu did.
The story of the Cowherd and the Weaver Girl is a popular Chinese legend.
Key Sentences:
牛郎织女的故事是中国著名的传说。
Niúláng Zhīnǚ de gùshì shì Zhōngguó zhùmíng de chuánshuō.
Every year, people celebrate the meeting of the Cowherd and the Weaver Girl on the seventh day of the seventh lunar month.
每年人们都在农历七月初七庆祝牛郎织女相会的日子。
Měinián rénmen dōu zài nónglì qīyuè chūqī qìngzhù niúláng zhīnǚ xiānghuì de rìzi.
The Cowherd and the Weaver Girl represent a love story between a mortal and a celestial being in Chinese mythology.
牛郎织女在中国神话中代表了一个凡人与仙女之间的爱情故事。
Niúláng Zhīnǚ zài Zhōngguó shénhuà zhōng dàibiǎo le yīgè fánrén yǔ xiānnǚ zhījiān de àiqíng gùshì.
China is enriched with a multitude of captivating cultural narratives. Our personalized one-on-one lessons will enhance your learning journey, providing a unique and immersive experience.
Sign up for a free trial now!