Opportunistic Heist: Easy Pickings-顺手牵羊 (shùn shǒu qiān yáng)
Thursday, October 19, 2023
Long ago, there was a thief who frequently sneaked into a wealthy farmer's sheep pen at night to steal a sheep. Each time, he carefully selected the plumpest sheep to ensure he got the most meat. However, this thief had an unusual habit: before stealing a sheep, he would put one of his own sheep into the pen.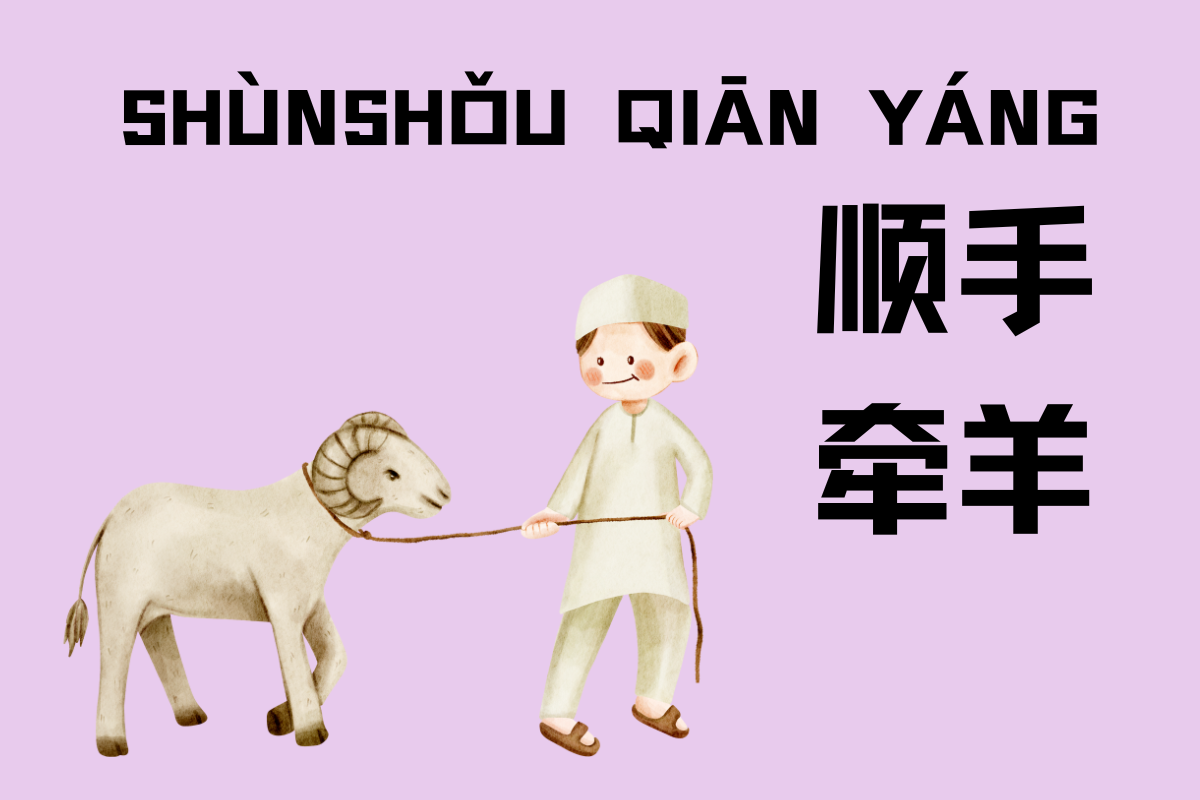 Inspiration of 顺手牵羊 (
shùn shǒu qiān yáng

)

This Chinese idiom teaches us an important lesson: greed and deceit ultimately lead to one's downfall. While the thief may have seemed clever, his greed and deceit eventually led to his discovery and severe punishment. Instead of taking from others, it's better to acquire wealth and success through 诚实 (chéng shí) honesty and hard work.

诚实 (chéng shí), noun, honesty

Examples:
Honesty is the best policy when it comes to building trust in relationships.
在建立关系时,诚实是最佳策略。


Zài jiànlì guānxì shí, chéngshí shì zuìjiā cèlüè.

His honesty in admitting his mistake earned him respect from his colleagues.
他坦诚承认错误的诚实赢得了同事们的尊重。


Tā tǎnchéng chéngrèn cuòwù de chéngshí yíngdéle tóngshìmen de zūnzhòng.
Meaning of the Phrase
"顺手牵羊" (shùn shǒu qiān yáng) "Taking a sheep along the way" is a Chinese idiom that literally means to take a sheep away effortlessly. Figuratively, it refers to obtaining someone else's property or benefits with little effort or by dishonest means.
Modern Application
In today's society, the story of "taking a sheep along the way" remains relevant. It reminds people to avoid using unethical methods to gain 财富 (cái fù) wealth or benefits, emphasizing the importance of honesty and effort. This story also serves as a cautionary tale, urging individuals to respect others' property and rights and not attempt to gain personal advantages through deceit or dishonesty.
财富 (cái fù), noun, wealth
Examples:
He amassed a great deal of wealth through wise investments.
他通过明智的投资积累了大量的财富。


Tā tōngguò míngzhì de tóuzī jīlě le dàliàng de cáifù.

Sharing one's wealth with those in need is a noble act.
将自己的财富分享给有需要的人是一种高尚的行为。


Jiāng zìjǐ de cáifù fēnxiǎng gěi yǒu xūyào de rén shì yī zhǒng gāoshàng de xíngwéi.
Key Sentences:
Trying to copy someone else's homework is like attempting to "take a sheep along the way" in school; you'll eventually be caught.
试图抄袭别人的作业就像在学校里顺手牵羊,最终你会被抓到的。
Shìtú chāoxí biérén de zuòyè jiù xiàng zài xuéxiào lǐ shùnshǒu qiān yáng, zuìzhōng nǐ huì bèi zhuā dào de.
I often use "take a sheep along the way" to borrow a pen from my coworker.
我经常顺手牵羊向同事借笔。
Wǒ jīngcháng shùnshǒu qiānyáng xiàng tóngshì jiè bǐ.
She used "take a sheep along the way" to grab a snack from the kitchen.
她顺手牵羊从厨房拿了零食。
Tā shùnshǒu qiānyáng cóng chúfáng nále língshí.
When you study Chinese, you also learn about Chinese culture. Is that kind of "顺手牵羊" (shùn shǒu qiān yáng)?
Sign up for a free trial now!