Flowing in Like Fish-鱼贯而入 (yú guàn ér rù)
Friday, November 10, 2023
"鱼贯而入" (yú guàn ér rù) is a Chinese idiom that signifies persistence and determination. In this article, we explore the meaning, lessons, and contemporary relevance of this idiom through an inspiring story.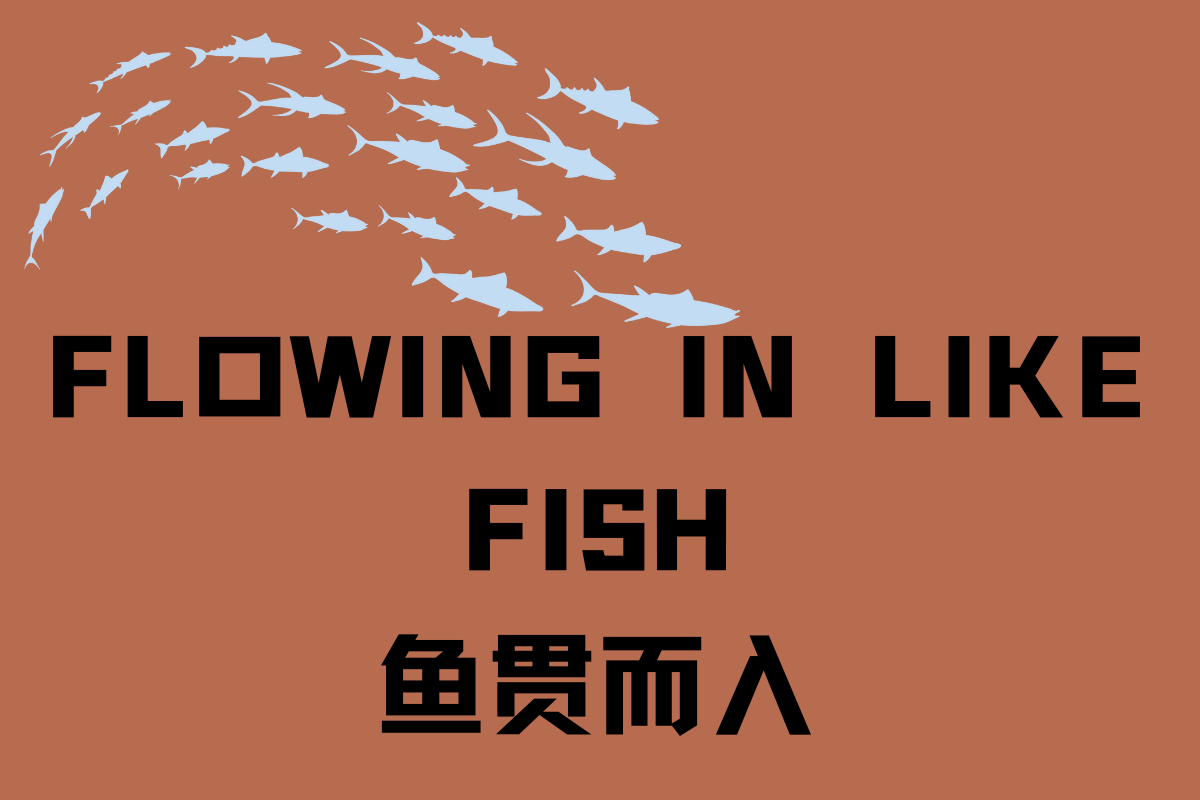 The Story of 鱼贯而入 (yú guàn ér rù)
In a small village named Qingjing, nestled among the mountains, there lived a young girl named Mei. Mei had a dream of becoming a skilled painter. However, she faced numerous challenges on her path to success. Mei's family was not well-off, and they could not afford to send her to an art school. Undeterred, Mei decided to teach herself to paint. She gathered discarded materials and used her surroundings as inspiration. Day by day, she practiced tirelessly, learning from her mistakes and refining her skills.
Years passed, and Mei's persistence paid off. Her remarkable talent could no longer go unnoticed. She caught the attention of a renowned art professor who offered her a scholarship to a prestigious art school. Mei had achieved her dream through sheer determination and hard work.
Inspiration
The story of "鱼贯而入" (yú guàn ér rù) reminds us that with unwavering determination, we can 克服 (kè fú) overcome obstacles and achieve our goals. Mei's journey from a self-taught artist to a recognized painter exemplifies the power of persistence.
克服 (kè fú), verb, overcome
Examples:
She worked hard to overcome her fear of public speaking.
她努力克服了对公众演讲的恐惧。


Tā nǔlì kèfúle duì gōngzhòng yǎnjiǎng de kǒngjù.

With determination, you can overcome any challenges you face.
有决心,你可以克服你面临的任何挑战。


Yǒu juéxīn, nǐ kěyǐ kèfú nǐ miànlín de rènhé tiǎozhàn.
Meaning of the Idiom
"鱼贯而入" signifies a relentless and determined approach to achieving a goal or overcoming challenges.
Modern Application
In today's world, "鱼贯而入" encourages individuals to pursue their 抱负 (bào fù) ambitions persistently, whether in education, career, or personal growth.
抱负 (bào fù), noun, ambitions
Examples:
She has big ambitions to become a successful scientist.
她有很大的抱负,想成为一名成功的科学家。


Tā yǒu hěn dà de bàofù, xiǎng chéngwéi yīmíng chénggōng de kēxuéjiā.

His career ambitions include reaching a leadership position.
他的职业抱负包括达到领导职位。


Tā de zhíyè bàofù bāokuò dádào lǐngdǎo zhíwèi.
Key Sentences:
Students "enter in single file" the classroom for the morning assembly.
学生们"鱼贯而入"教室参加早晨的集会。


Xuéshēngmen "yúguàn ér rù" jiàoshì cānjiā zǎochén de jíhuì.

The passengers "enter in single file" the train as soon as the doors opened.
乘客们一打开门就"鱼贯而入"火车。


Chéngkèmen yī dǎkāimén jiù "yúguàn ér rù" huǒchē.

Visitors "enter in single file" the museum to admire the art collection.
游客"鱼贯而入"博物馆欣赏艺术品收藏。


Yóukè "yúguàn ér rù" bówùguǎn xīnshǎng yìshùpǐn shōucáng.
Related Articles
Sign up for a free trial now!