Chinese story-Return in perfect condition-wan bi gui zhao-完璧归赵
Thursday, June 29, 2023
Do you want to learn Chinese through stories? Here is a story named-Return in perfect condition. Have you ever heard it before? Let's take a look.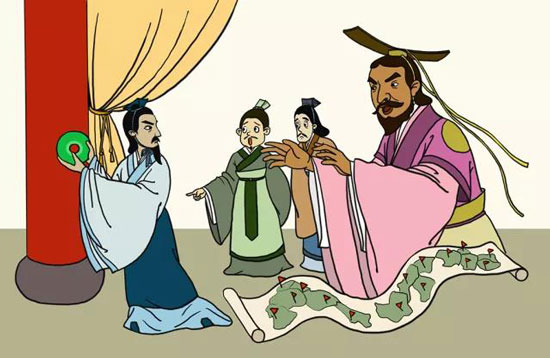 In the State of Zhao, there was a piece of priceless treasure called "He Shi Bi".
赵国有一块无价之宝,叫"何氏璧"。
zhào guó yǒu yī kuài wú jià zhī bǎo,jiào " hé shì bì "。
When the king of Qin heard about it, he wanted to buy it, but Lin Xiangru grabbed the round piece of He Clan and was ready to hit the wall.
秦王听说后想得到它,但蔺相如抓着何氏璧准备撞墙。
qín wàng tīng shuō hòu xiǎng de dào tā ,dàn lìn xiāng rú zhuā zhe hé shì bì zhǔn bèi zhuàng qiáng 。
Or use the land city for bi; or he'll crash into a wall and die,
要么用出土地城池换璧;要么他就撞墙壁碎人亡,
yào me yòng chū tǔ dì chéng chí huàn bì,yào me tā jiù zhuàng qiáng bì suì rén wáng ,
The king of Qin had no choice but to let Lin Xiangru return to the state of Zhao with his bi.
秦王理屈词穷,就只得让蔺相如带着何氏璧返回了赵国。
qín wàng lǐ qū cí qióng, jiù zhǐ dé ràng lìn xiāng rú dài zhe hé shì bì fǎn huí le zhào guó 。
Lin Xiangru, minister of the State of Zhao in the Warring States Period,
蔺相如,战国时赵国大臣,赵惠文王时,
lìn xiāng rú,Zhàn guó shí zhào guó dà chén,zhào huì wén wáng shí ,
Qin asked Zhao Qiang for the bi of the He family, and he was ordered to bring the bi to Qin. When the court tried hard, the original bi was returned to Zhao at last.
秦向赵强要"和氏璧",他奉命携璧入秦,当廷力争,最后终于原璧归赵。
qín xiàng zhào qiáng yào " hé shì bì ",tā fèng mìng xié bì rù qín,dàng tíng lì zhēng,zuì hòu zhōng yú yuán bì guī zhào 。
Zhao Huiwen 20 years, Lin Xiangru with the king of Zhao Mianchi make the king not humiliated.
赵惠文王20年,蔺相如随赵王到渑池使赵王不受屈辱。
zhào huì wén wàng 20 nián,lìn xiāng rú suí zhào wàng dào miǎn chí shǐ zhào wàng bù shòu qū rǔ 。

By virtue of his meritorious service, he was appointed senior secretary. Tolerant and humble to General Lian Po of Zhao,
因功任为上卿。对赵国大将廉颇容忍谦让,
yīn gōng rèn wèi shàng qīng。duì zhào guó dà jiàng lián pō róng rěn qiān ràng ,
Lian Po was ashamed to wake up and became friends with him.
使廉颇惭愧醒悟,彼此成为刎颈之交。
shǐ lián pō cán kuì xǐng wù,bǐ cǐ chéng wéi wěn jǐng zhī jiāo 。
Sign up for a free trial now!