Chinese story-Houyi shoots the sun-hou yi she ri-后羿射日
Tuesday, July 4, 2023
Do you want to learn Chinese through stories? Here is a story named-Houyi shoots the sun. Have you ever heard it before? Let's take a look.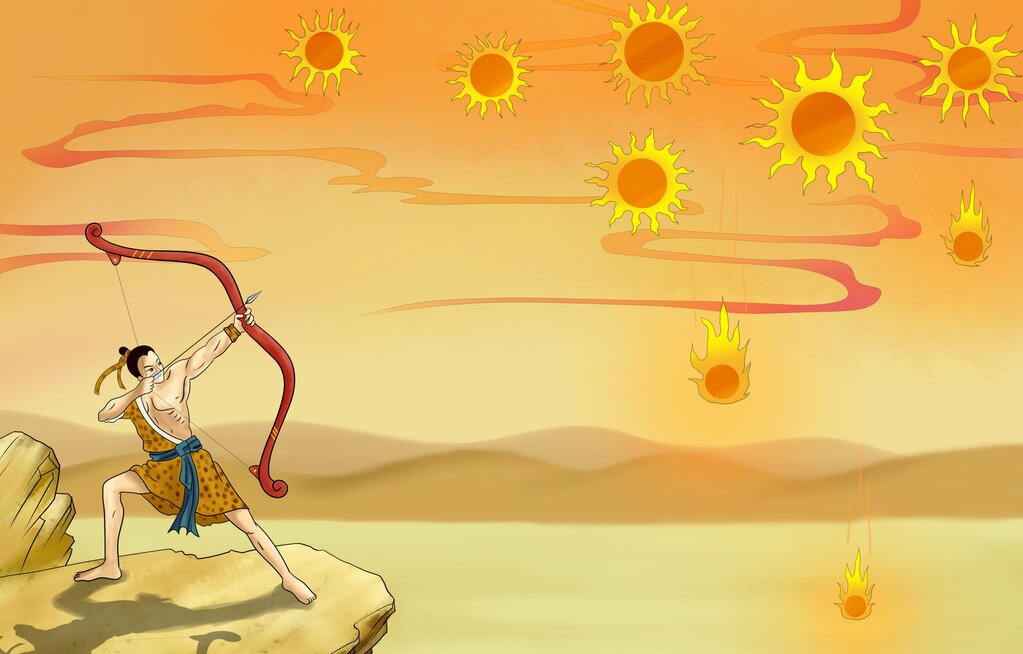 In ancient times, there was a severe drought on the earth.
远古的时候,大地出现了严重的旱灾。
yuǎn gǔ de shí hou,dà dì chū xiàn le yán zhòng de hàn zāi。
The heat scorched the forest and dried the earth,
炎热烤焦了森林,烘干了大地,
yán rè kǎo jiāo le sēn lín,hōng gān le dà dì,
Dried seedlings and plants.
晒干了禾苗草木。
shài gàn le hé miáo cǎo mù。
Originally,Dijun and Xihe had ten children, all of them were suns,
原来,帝俊与羲和生了10个孩子都是太阳,
yuán lái,dì jùn yù xī hé shēng le 10 gè hái zi dōu shì tài yáng,
They lived in the East overseas. There was a big tree in the sea called Fusang.
他们住在东方海外,海水中有棵大树叫扶桑。
tā men zhù zài dōng fāng hǎi wài,hǎi shuǐ zhōng yǒu kē dà shù jiào fú sāng。
Ten SUNS sleep under the branches, and come out in turn to serve in the sky and shine on the earth.
10个太阳睡在枝条的底下,轮流跑出来在天空执勤,照耀大地。
shi gè tài yáng shuì zài zhī tiáo de dǐ xia,lún liú pǎo chū lái zài tiān kōng zhí qín,zhào yào dà dì。
But sometimes, they all come together to bring disaster to mankind.
但有时,他们一齐出来给人类带来了灾难。
dàn yǒu shí,tā men yī qí chū lái gěi rén lèi dài lái le zāi nàn。

In order to save mankind, Yi put his bow and arrow and shot at the nine SUNS.
为了拯救人类,羿张弓搭箭,向那9个太阳射去。
wèi le zhěng jiù rén lèi,yì zhāng gōng dā jiàn,xiàng nà jiu gè tài yáng shè qù。

The sky burst into a fireball, falling only a three-legged black.
只见天空出现爆裂的火球,坠下一只只三足乌。
zhǐ jiàn tiān kōng chū xiàn bào liè de huǒ qiú,zhuì xià yī zhǐ zhǐ sān zú wù。
In the end, there was only one sun left in the sky, so the people hailed Houyi as a hero.
最后,天上只留下一个太阳,人民因此将后羿誉为英雄。
zuì hòu,tiān shang zhǐ liú xià yī gè tài yáng,rén mín yīn cǐ jiāng hòu yì yù wéi yīng xióng。
Sign up for a free trial now!