Borrowing Light Through Chiseling Walls-凿壁借光 (záo bì jiè guāng)
Tuesday, September 19, 2023
凿壁借光 (záo bì jiè guāng) is an ancient Chinese idiom that originates from Chinese history and culture. It conveys the desire for knowledge and wisdom and the willingness to make efforts to acquire wisdom. This idiom carries profound philosophical and educational significance.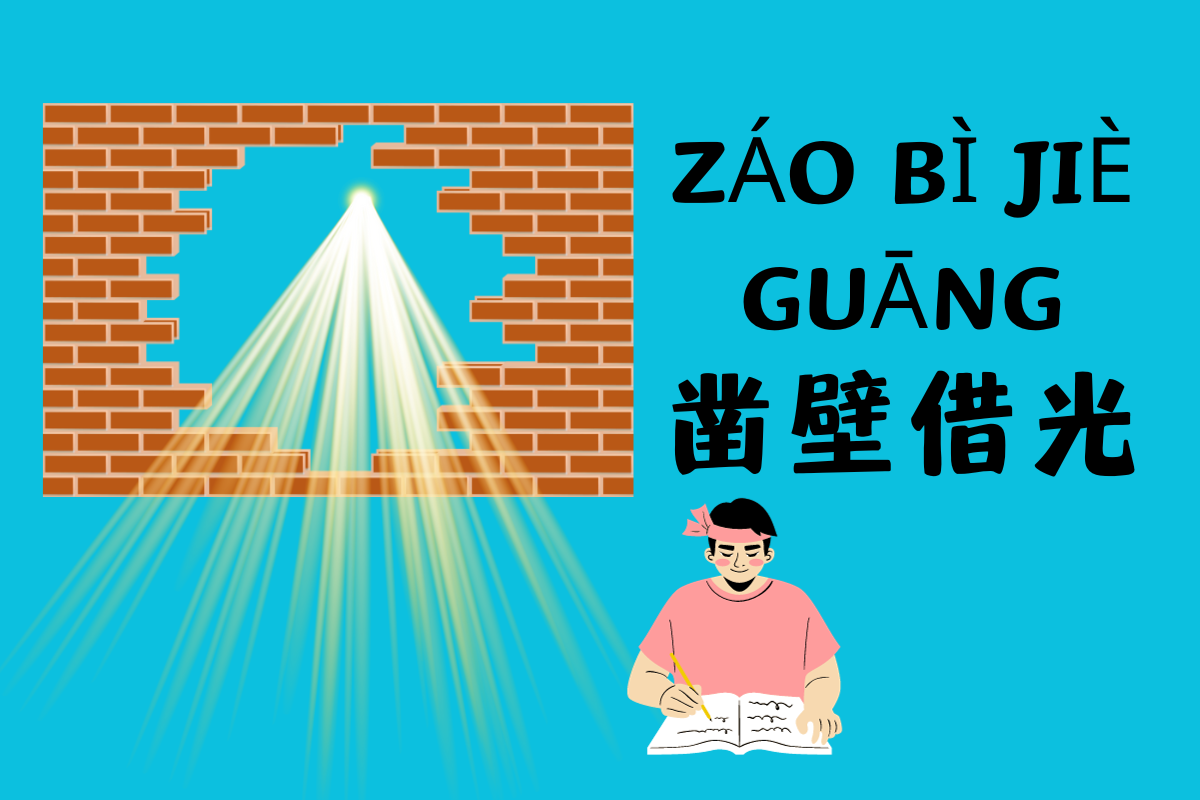 Explanation of the Idiom
"凿壁(
záo bì

)
" means to chisel or bore through a wall, signifying the effort to create a passage to access external information.
"借光(
jiè guāng
)" means to borrow light, signifying the act of obtaining knowledge and wisdom from external sources.
Therefore, the literal meaning of 凿壁借光 (
záo bì jiè guāng
) is to make efforts to create an
机会
(
jī huì
) opportunity to access the brilliance of knowledge from external sources, rather than giving up due to difficulties or limitations.
机会
(
jī huì
),noun,opportunity
This job interview is a great opportunity for you to showcase your skills.
这次工作面试是你展示技能的绝佳机会。
Zhè cì gōngzuò miànshì shì nǐ zhǎnshì jìnéng de juéjiā jīhuì.
Seizing the right opportunities can lead to success in business.
抓住合适的机会可以在生意上取得成功。
Zhuāzhù héshì de jīhuì kěyǐ zài shēngyì shàng qǔdé chénggōng.
Historical Story
The origin of this idiom can be traced back to a historical story from the Warring States period in ancient China. It involves Mengchang Jun, a statesman of the State of Qi, who faced a national crisis and sought to obtain knowledge from other states to solve his country's problems. However, due to conflicts between the State of Qi and neighboring states, information exchange was restricted, and he couldn't access external knowledge easily.
To overcome this challenge, Mengchang Jun ordered the construction of small windows in the walls of the State of Qi. These windows were designed to allow the State of Qi to see and draw wisdom and knowledge from other states without the need for war or direct interaction. This story conveys a
积极
(
jījí
) positive message: the willingness to make efforts to gain knowledge and wisdom rather than resorting to hostile actions.
She has a positive attitude towards challenges.
她对挑战持积极态度。
Tā duì tiǎozhàn chí jījí tàidù.
Having a positive outlook on life can lead to happiness.
积极看待生活可以带来幸福。
Jījí kàndài shēnghuó kěyǐ dàilái xìngfú.
Applications and Significance
The application and significance of 凿壁借光 (
záo bì jiè guāng
) are broad, emphasizing the following important concepts:
Seeking Knowledge and Learning: This idiom encourages people to actively pursue knowledge and wisdom, whether through reading books, learning from others' experiences, or using modern technology to access information.
Overcoming Difficulties: It teaches us that when facing challenges or obstacles, we can find wiser solutions by drawing inspiration and wisdom from others rather than resorting to confrontations.
Key Sentences:
In the age of the internet, we can borrowing Light through the hole in the wall from a vast pool of online knowledge.
在互联网时代,我们可以凿壁借光于丰富的在线知识资源。
Zài hùliánwǎng shídài, wǒmen kěyǐ záo bì jiè guāng yú fēngfù de zàixiàn zhīshì zīyuán.
She learns from experienced colleagues through borrowing Light through the hole in the wall.
她通过凿壁借光向有经验的同事学习。
Tā tōngguò záo bì jiè guāng xiàng yǒu jīngyàn de tóngshì xuéxí.
Let's borrowing Light through the hole in the wall from experts' insights to solve this problem.
让我们凿壁借光从专家的见解中解决这个问题。
Ràng wǒmen záo bì jiè guāng cóng zhuānjiā de jiànjiě zhōng jiějué zhège wèntí.
Sign up for a free trial now!