A Playful Monkey Mind-猴头猴脑 (hóu tóu hóu nǎo)
Tuesday, November 7, 2023
"猴头猴脑" (hóu tóu hóu nǎo) is a Chinese idiom that describes someone's behavior as being like a monkey's - mischievous, restless, and often chaotic. This idiom has its roots in a traditional Chinese tale.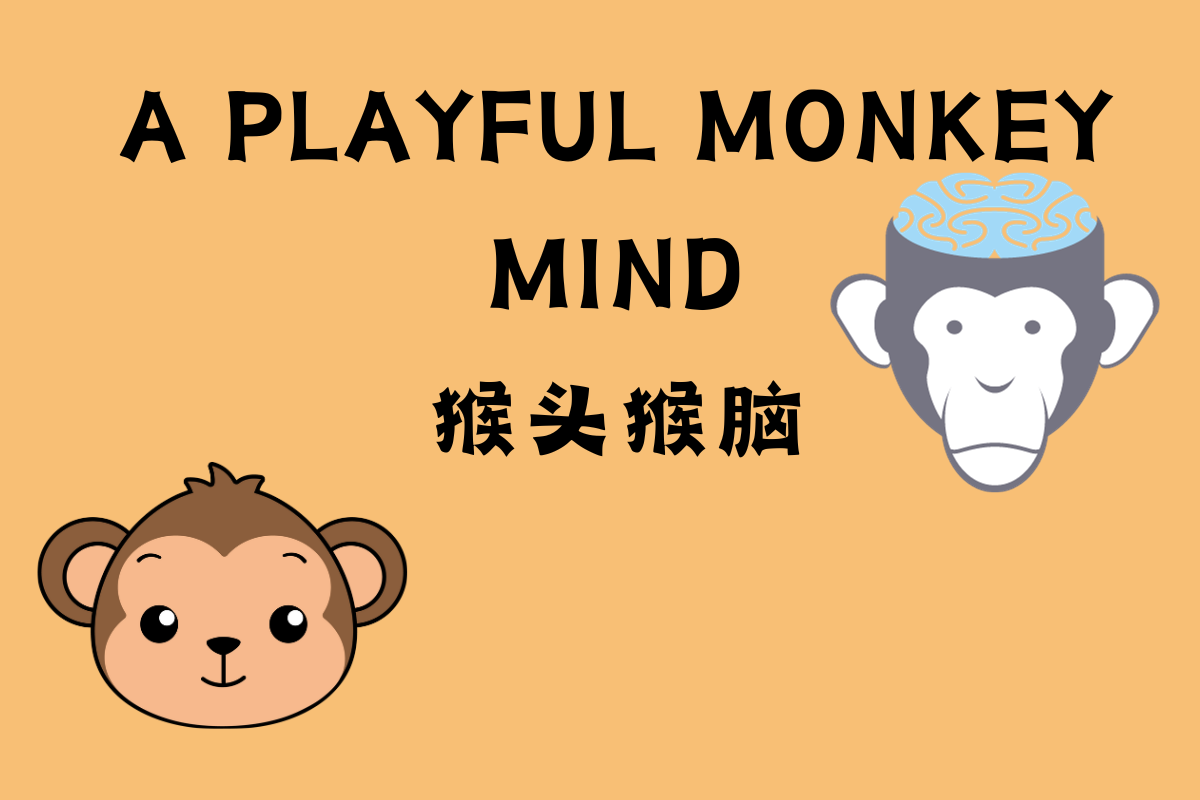 The Story of "猴头猴脑" (
hóu tóu hóu nǎo

)

Long ago, in a peaceful village surrounded by lush forests, there lived a young boy named Liu. Liu was known for his boundless energy and 好奇心 (hào qí xīn) curiosity. He was always running around, climbing trees, and causing a ruckus. His behavior was so much like a monkey that the villagers started calling him "猴头猴脑" (hóu tóu hóu nǎo). One day, the village elder decided to teach Liu a lesson about responsibility and discipline. He assigned Liu the task of caring for a small garden, hoping that it would calm the boy's restless spirit. Liu reluctantly agreed to the challenge. As the weeks passed, Liu learned to nurture the garden, watering the plants, removing weeds, and patiently waiting for them to grow. He realized the value of focus and hard work. Over time, he transformed from "猴头猴脑" into a responsible and diligent young man.

好奇心 (hào qí xīn), noun, curiosity
Her curiosity about the world led her to explore new places and learn new things.
她对世界的好奇心驱使她探索新地方并学习新事物。


Tā duì shìjiè de hàoqíxīn qūshǐ tā tànsuǒ xīn dìfāng bìng xuéxí xīn shìwù.

The child's curiosity about the world knows no bounds.
孩子对世界的好奇心无边无际。


Háizi duì shìjiè de hàoqíxīn wúbian wújì.
The Inspiration
The story of "猴头猴脑" emphasizes the importance of self-discipline and channeling one's energy into productive pursuits. In our modern world, where distractions abound, this idiom serves as a reminder to focus on meaningful endeavors and control impulsive behavior.
Modern Application
The idiom "猴头猴脑" encourages us to harness our 能量 (néng liàng) energy and curiosity constructively. In a world filled with distractions and impulsivity, it reminds us to develop self-discipline and focus on meaningful goals.
能量 (néng liàng), noun, energy
He has a lot of energy to play and run.
他有很多能量玩耍和奔跑。


Tā yǒu hěnduō néngliàng wánshuǎ hé bēnpǎo.

Solar panels convert sunlight into energy.
太阳能电池将阳光转化为能量。


Tàiyáng néng diànchí jiāng yángguāng zhuǎnhuà wéi néngliàng.
Key Sentences:
He's always "monkey-like behavior," running around and causing chaos in the house.
他总是"猴头猴脑",在家里东奔西跑,闹得一塌糊涂。


Tā zǒng shì "Hóu Tóu Hóu Nǎo," zài jiālǐ dōng bēn xī pǎo, nào de yī tā hú tú.

She used to be "monkey-like behavior," but now she's more disciplined and focused on her studies.
她以前曾经"猴头猴脑",但现在她更有自律,专心学习。


Tā yǐqián céngjīng "Hóu Tóu Hóu Nǎo," dàn xiànzài tā gèng yǒu zìlǜ, zhuānxīn xuéxí.

His "monkey-like behavior" behavior may be fun, but it's important to focus when doing homework.
他的"猴头猴脑"行为也许很有趣,但做作业时专心是很重要的。


Tā de "Hóu Tóu Hóu Nǎo" xíngwéi yěxǔ hěn yǒuqù, dàn zuò zuòyè shí zhuānxīn shì hěn zhòngyào de.
Sign up for a free trial now!