Xi'an Hu La Tang : A Spicy Delight from Ancient China!
Tuesday, September 26, 2023
Xi'an Hu La Tang is a flavorful and comforting soup that combines a spicy and tangy taste. It is made with a rich broth seasoned with various spices, including chili, garlic, and Sichuan peppercorns, which gives it a fiery kick. The soup is also infused with vinegar, adding a delightful sourness to balance the spiciness. Typically, the soup contains thinly sliced vegetables, such as carrots, mushrooms, and tofu, as well as noodles or dumplings, making it a complete and satisfying meal on its own. Xi'an Hu La Tang is a popular choice for locals and visitors alike, especially during colder months when the warm and spicy broth provides comfort and warmth. It's a must-try dish for those seeking an authentic taste of Xi'an's vibrant street food culture.
Key Words:
Xi'an: 西安
Hu La Tang: 胡辣汤 (hú là tāng)
Street Food: 街头美食 (jiē tóu měi shí)
Xi'an Hu La Tang is a traditional delicacy in China's northwest region and a specialty snack of Xi'an. The name"Hu La Tang"includes the character"胡" (Hú), representing"胡同" (hú tong), indicating that it originated from the alleyways and lanes of the city.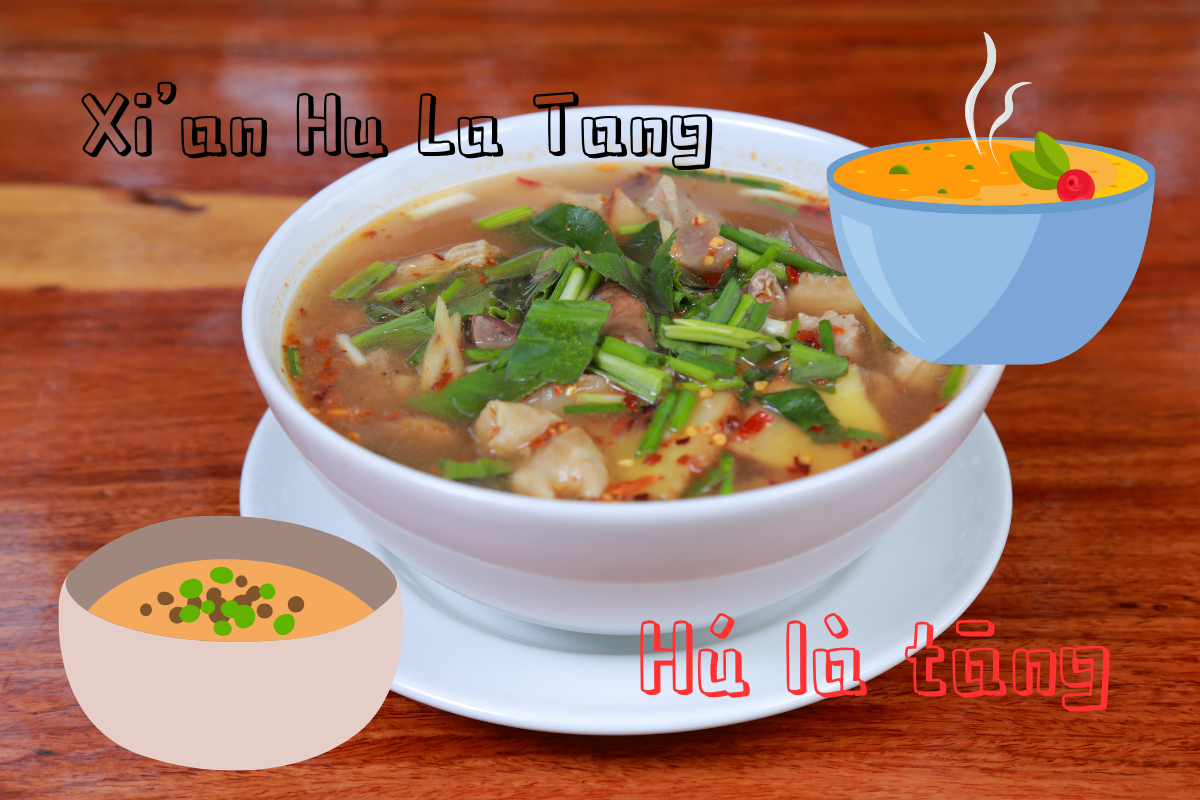 Key Sentences:
I have tasted authentic Xi'an Hu La Tang in Xi'an.
我在西安尝过正宗的胡辣汤。
Wǒzài Xī'ān cháng guòzhèngzōng de húlàtāng.
The savory and spicy taste of Xi'an Hu La Tang is irresistible.
西安胡辣汤的香辣味令人欲罢不能。
Xī'ān húlàtāng de xiāng làwèi lìng rén yùbàbùnéng.
In winter,having a bowl of steaming hot Hu La Tang is heartwarming.
冬天来临时,喝一碗热腾腾的胡辣汤很暖心。
Dōngtiān láilín shí,hēyīwǎn rèténgténg de húlàtāng hěn nuǎnxīn.
I tried the famous Xi'an Hu La Tang during my visit to China.
我在中国旅行时品尝了著名的西安胡辣汤。
Wǒzài Zhōngguólǚxíng shípǐncháng le zhùmíng de Xī'ān húlàtāng.
Sign up for a free trial now!