Tomato and Egg Stir-Fry-番茄炒蛋 (fān qié chǎo dàn)
Wednesday, September 20, 2023
番茄炒蛋 (fān qié chǎo dàn) Tomato and Egg Stir-Fry is a classic Chinese dish that is beloved for its simplicity and delightful flavors. It is a staple in many Chinese households and is often considered a comfort food. The dish is often served with steamed rice and is a popular choice for a quick and tasty meal. Tomato and Egg Stir-Fry is not only easy to prepare but also a nutritious option, as it incorporates fresh vegetables and protein-rich eggs. Its comforting taste and simplicity have made it a favorite among Chinese families and a popular dish in Chinese restaurants worldwide.
番茄炒蛋 (fān qié chǎo dàn) is often the first dish that young adults learn to cook. It holds sentimental value and represents the warmth of home-cooked meals shared with loved ones.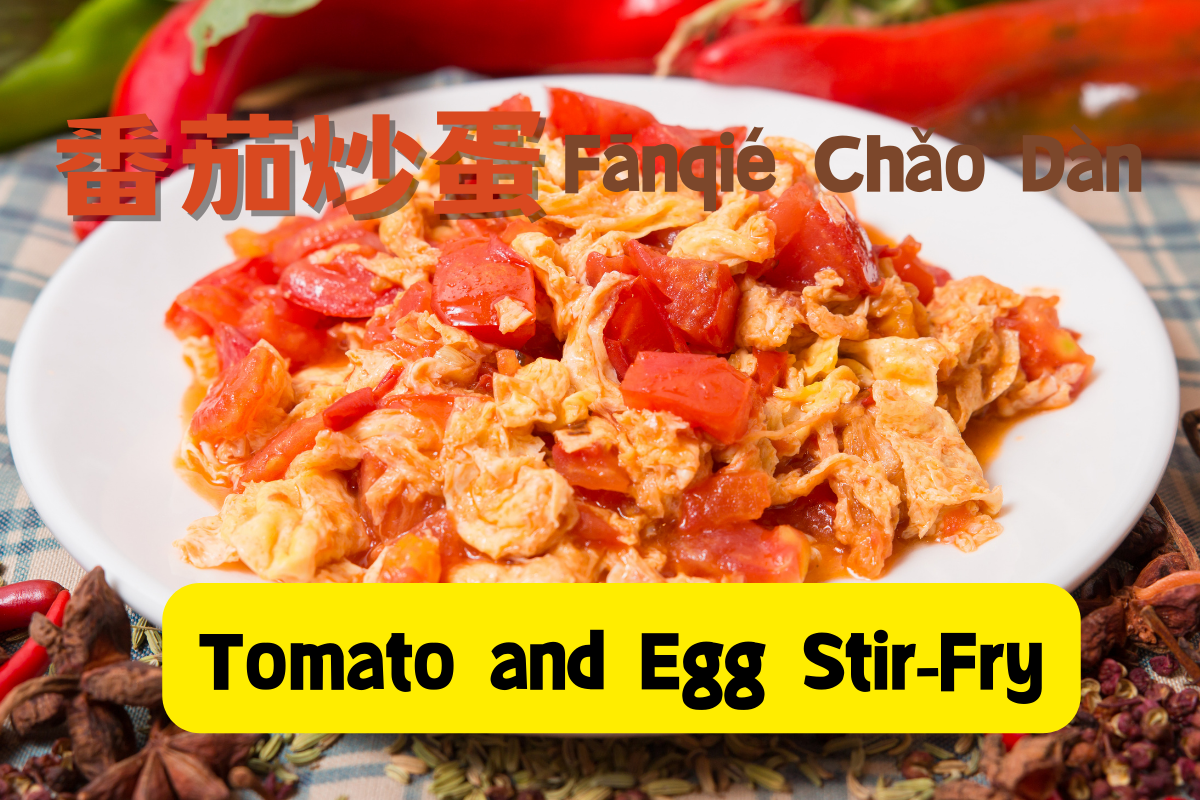 Here's a simple guide to making this dish:
Ingredients:
Eggs (蛋 - dàn)
Tomatoes (番茄 - fān qié)
Salt (盐 - yán)
Cooking oil (食用油 - shí yòng yóu)
Instructions:
Prepare the Ingredients:
Crack the eggs into a bowl and beat them lightly with a fork or chopsticks.
Slice the Tomatoes:
Wash and slice the tomatoes into thin wedges.
Cooking:
Heat a pan over medium heat and add a small amount of cooking oil.

Add the sliced tomatoes to the pan and stir-fry them until they start to soften.
Push the tomatoes to one side of the pan.
Cook the Eggs:
Pour the beaten eggs into the empty side of the pan.
Combining:
Gently scramble the eggs with a spatula, breaking them into smaller curds.

Mix the scrambled eggs with the softened tomatoes.
番茄(Tomato)-fānqié
鸡蛋(Egg)-jīdàn
炒(Stir-fry)-chǎo
Key Sentences:
I tried making Tomato and Egg Stir-Fry Eggs yesterday,and it was delicious!
我昨天尝试做了番茄炒蛋,非常好吃!
Wǒzuótiān chángshìzuòle fānqiéchǎo dàn,fēicháng hǎochī!

In China,Tomato and Egg Stir-Fry is a beloved home-cooked dish.
在中国,番茄炒蛋是一道受人喜爱的家常菜。
Zài zhōngguó,fānqiéchǎo dàn shìyīdào shòurén xǐ'ài de jiācháng cài.

Mom often makes Tomato and Egg Stir-Fry for us during breakfast.
妈妈经常在早餐时给我们做番茄炒蛋。
Māmājīngcháng zài zǎocān shígěi wǒmen zuòfānqiéchǎo dàn.
Sign up for a free trial now!