Milk Tea-nǎi chá (奶茶)
Thursday, November 2, 2023
Milk tea, also known as (奶茶) (nǎi chá) in Chinese, is a popular beverage enjoyed by people around the world. It is made by combining black tea or green tea with milk, creating a creamy and flavorful drink. Milk tea can be served hot or cold and comes in various flavors, such as classic milk tea, taro milk tea, and matcha milk tea. It's often sweetened with sugar or flavored syrups, making it a delightful and refreshing treat for tea lovers and those seeking a touch of sweetness in their beverages.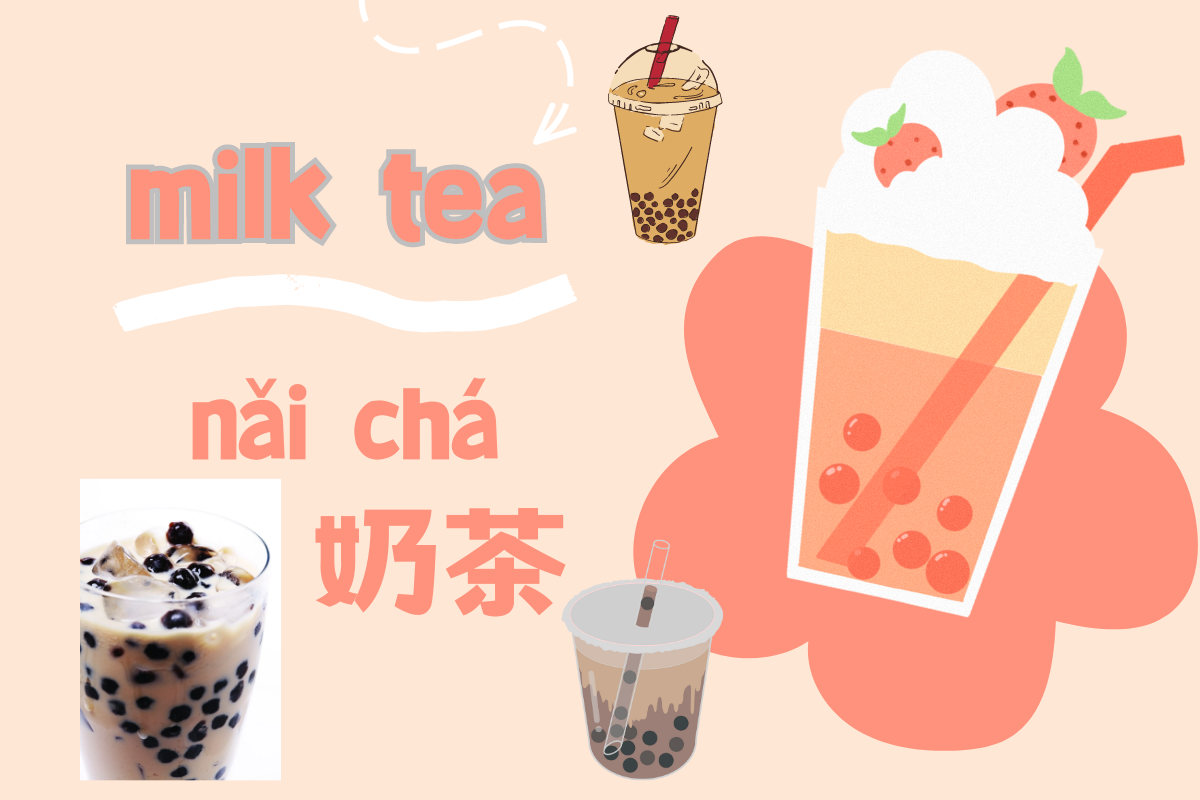 Fun introduction to the differences in milk tea from different regions
Taiwanese Bubble Milk Tea-台湾珍珠奶茶 (
táiwān zhēnzhū nǎichá

)

Taiwan is famous for its Bubble Milk Tea, also known as"Boba Tea." It features chewy tapioca 珍珠 (zhēn zhū) pearls at the bottom, adding a delightful texture to the creamy milk tea. The pearls are usually sweet and come in different sizes, making every sip a delightful surprise.
Hong Kong-Style Milk Tea-港式奶茶 (
gǎngshì nǎichá

)

Hong Kong's Milk Tea is characterized by its strong and bold flavor. It's made by brewing black tea leaves in a silk stocking-like filter, which adds smoothness to the tea. The tea is then mixed with evaporated or condensed milk, creating a rich and aromatic beverage.
Indian Chai-印度奶茶 (
yìndù nǎichá

)

In India, Chai is a popular milk tea infused with aromatic spices like cardamom, cinnamon and ginger. The tea leaves are simmered in milk and water along with the spices, resulting in a flavorful and warming beverage that's perfect for chilly days.
Thai Milk Tea-泰式奶茶 (
tàishì nǎichá

)

Thai Milk Tea is known for its vibrant orange color and sweet taste. It is made by steeping black tea with spices like star anise and tamarind, then mixed with sweetened condensed milk and served over ice. The result is a refreshing and creamy treat, perfect for Thailand's hot climate.

Key Sentences:
love to drink milk tea with tapioca pearls.
我喜欢喝加了珍珠的奶茶。


Wǒxǐhuān hējiāle zhēnzhūde nǎichá.

In Hong Kong,people enjoy a strong cup of milk tea with breakfast.
在香港,人们喜欢早餐时喝一杯浓郁的奶茶。


Zài Xiānggǎng,rénmen xǐhuān zǎocān shíhēyībēi nóngyùde nǎichá.

Japanese matcha milk tea has a unique green color.
日本抹茶奶茶有着独特的绿色。


Rìběn mǒchánǎicháyǒuzhe dútède lǜsè.
Sign up for a free trial now!