Delectable Shrimp Dumplings-虾饺 (xiā jiǎo)
Wednesday, September 27, 2023
虾饺 (xiā jiǎo) Shrimp dumplings, commonly known as "Har Gow" in Cantonese cuisine, are a popular and delectable type of dim sum. These delectable morsels are traditionally made from a thin, translucent wheat starch wrapper encasing a filling of succulent shrimp and other seasonings. Har Gow originated from Guangzhou(Canton), China, and have since become a staple in dim sum restaurants worldwide. The preparation of Har Gow requires skill and finesse as the dumpling wrappers must be delicate and thin to achieve their characteristic translucent appearance. The filling is made by combining fresh shrimp, often diced or coarsely ground, with ingredients like bamboo shoots, water chestnuts, ginger, garlic, and a touch of sesame oil and soy sauce. This blend creates a harmonious balance of flavors, allowing the sweetness of the shrimp to shine through.
Fun facts about Shrimp Dumplings
Shrimp dumplings, or "Har Gow" in Cantonese, originated in the teahouses of Guangzhou(Canton), China, during the Qing Dynasty. They were originally called "xia jiao" in Mandarin, which translates to "shrimp dumplings."
虾饺 (xiā jiǎo) Shrimp dumplings are a staple in traditional dim sum restaurants worldwide, and they're often one of the first dishes that come to mind when people think of dim sum.
虾饺 (xiā jiǎo) Shrimp dumplings are generally considered a healthier option compared to fried or heavily sauced dishes. They are steamed, making them lower in fat and calories.
In Chinese culture, Har Gow is considered a symbol of good luck and prosperity due to its purse-like shape. It is often served during festive occasions and celebrations.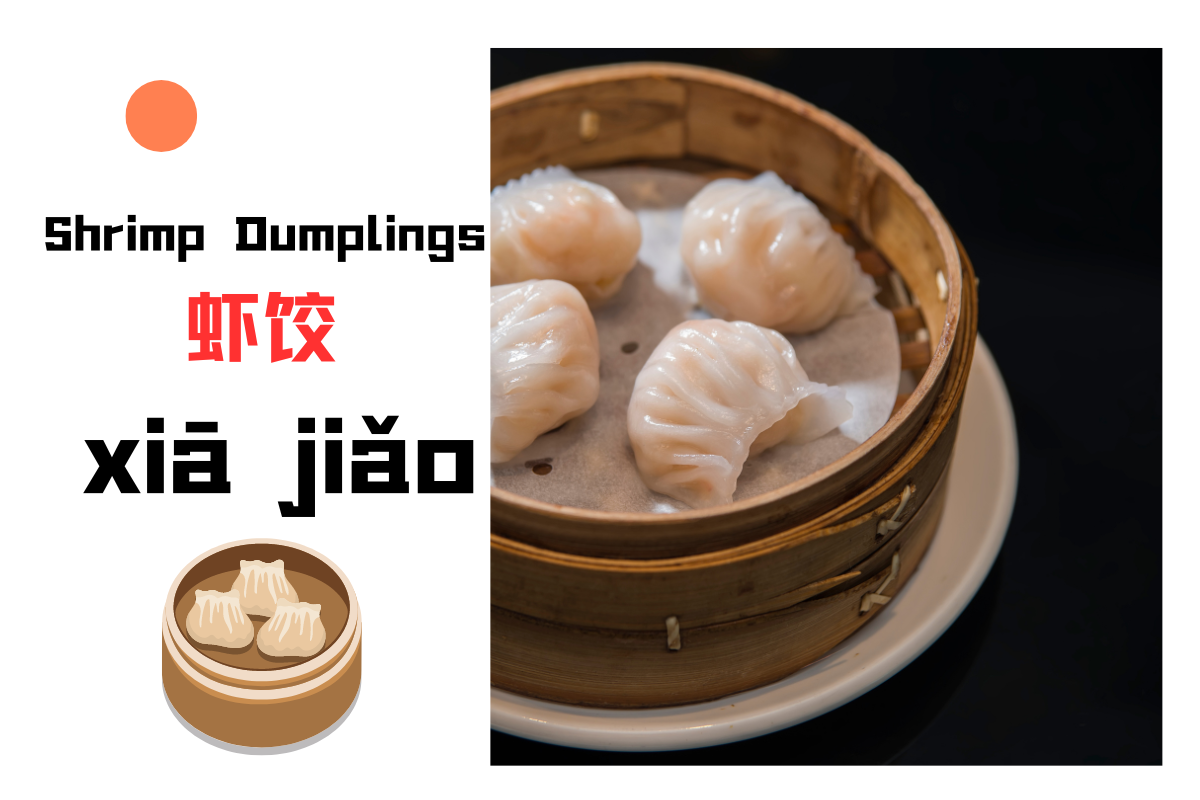 Key Sentences:
I love having shrimp dumplings for breakfast every day.
我每天早饭时都喜欢吃虾饺。
Wǒměi tiān zǎofàn shídōu xǐhuān chī xiājiǎo
My friend eats this many shrimp dumplings
我朋友吃这么多虾饺。
Wǒpéngyou chīzhème duōxiājiǎo
Mom is going to make shrimp dumplings tomorrow
妈妈明天要做虾饺
Māma míngtiān yào zuòxiājiǎo
Dumplings are a very famous food in China. There are many kinds of dumplings. What kind of dumplings do you like?
Sign up for a free trial now!