Dare to Try? Big Plate Chicken!
Wednesday, August 16, 2023
Big Plate Chicken, also known as "Da Pan Ji" in Chinese, is a popular and flavorful dish from Xinjiang, China. It is a hearty and satisfying meal that combines tender chunks of chicken, potatoes, bell peppers, and onions, all stewed together in a rich and aromatic spicy sauce. The sauce is made from a blend of various spices, including Sichuan peppercorns, chili peppers, and other aromatic seasonings, giving the dish its signature tongue-tingling spiciness. 大盘鸡 is often served with a side of hand-pulled noodles or steamed rice, making it a favorite choice for both locals and visitors seeking a taste of Xinjiang's vibrant and bold flavors.
新疆大盘鸡 ( Xīnjiāng Dàpánjī ) got its name from the way it is prepared and served. The dish is traditionally cooked in a large pan or wok along with various ingredients.
大(dà)-The word "大" (dà) in the name of Dapanji signifies a "big" plate or wok, as this dish is typically prepared and served in a large plate or pan.
盘(pán)-"盘" (pán) refers to a plate or dish, which is a container used to hold food.
鸡(jī)-"鸡" (jī) refers to the main ingredient of this dish, which is chicken meat.
Learn how to make 大盘鸡 with simple techniques!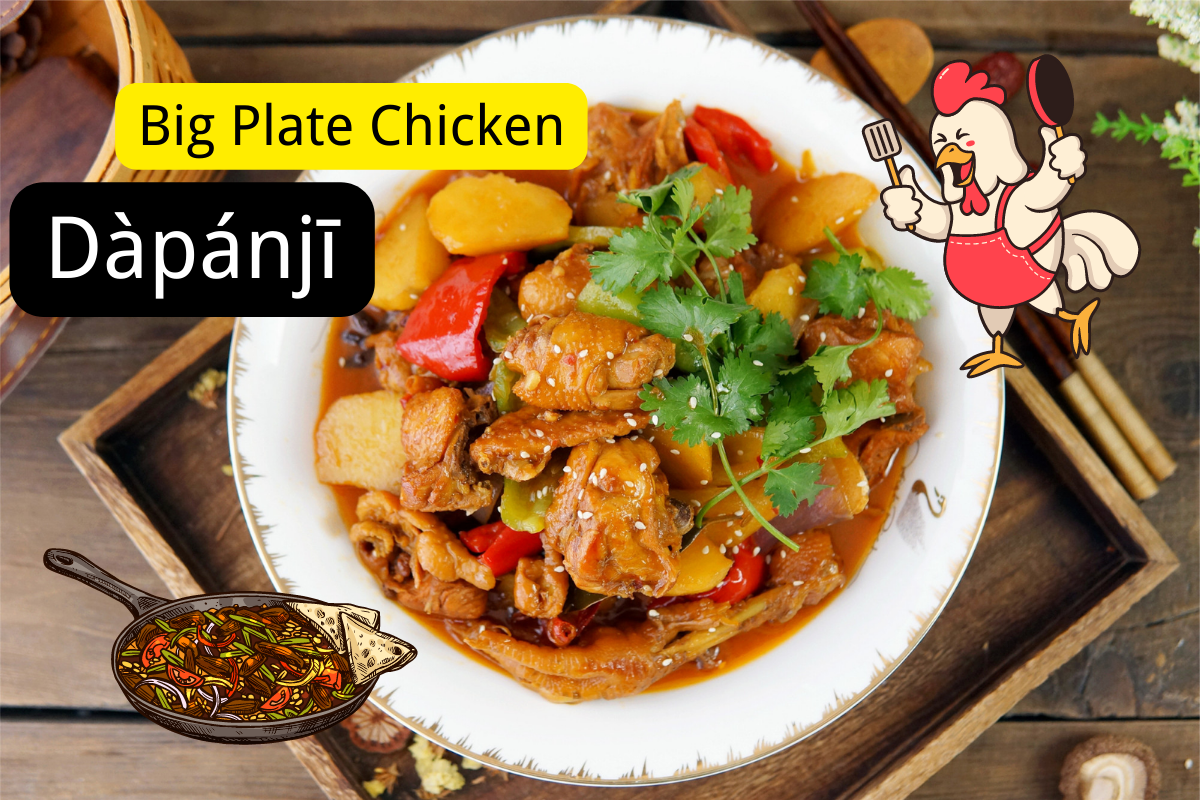 大盘子,盛美食 (Dàpánzi,chéng měishí)
Big plate, holds delicious food
鸡肉炖土豆 (Jīròu dùn tǔdòu)
Chicken stewed with potatoes
辣椒香料,酸甜滋 (Làjiāo xiāngliào, suān tián zī)
Spicy pepper and fragrant spices, sweet and sour flavors
大盘鸡,真美味 (Dàpánjī, zhēn měiwèi)
Dapanji, truly delicious!
Key Sentences:
I learned to make Dapanji using simple techniques.
我学会了用简单的技巧做大盘鸡。
Wǒxuéhuìle yòng jiǎndān de jìqiǎo zuòdàpánjī.
Let's invite friends over and cook Dapanji together.
我们邀请朋友一起来做大盘鸡吧。
Wǒmen yāoqǐng péngyǒu yīqǐlái zuòdàpánjība.
Grandma's Dapanji is the best, always full of flavor.
奶奶做的大盘鸡最好吃,总是很美味。
Nǎinai zuòde dàpánjīzuìhǎochī,zǒng shìhěn měiwèi.
Sign up for a free trial now!