Crawfish Craze-小龙虾 (xiǎo lóng xiā)
Friday, November 3, 2023
Chinese crawfish, also known as "小龙虾" (xiǎo lóng xiā) in Chinese, have become immensely popular in China in recent years. These freshwater crustaceans are native to China and are commonly found in rivers and lakes across the country. Chinese crawfish are similar to their Western counterparts, with a lobster-like appearance and a hard exoskeleton. They have long antennae and powerful claws, which they use to catch prey and defend themselves. In China, crayfish are not only cherished for their taste but also for the social experience they bring. During the crayfish season, which typically occurs in the summer, people gather in restaurants or at home for lively crayfish feasts. The crayfish are usually prepared by boiling them with a mix of spices and herbs, creating a flavorful and aromatic dish.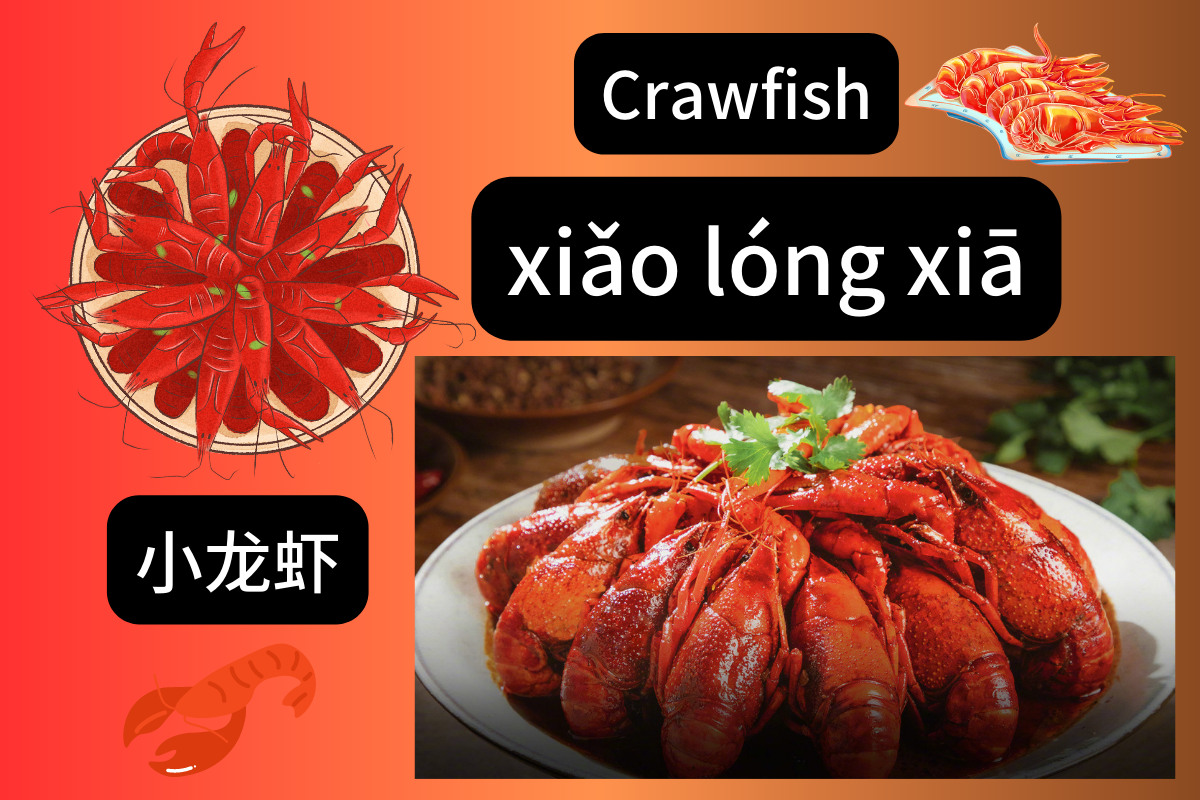 Chinese crawfish, or"小龙虾"(xiǎo lóng xiā) in Chinese, come in a variety of delicious flavors to suit different tastes. Some popular ones include:
Spicy Crawfish-麻辣小龙虾(

Málàxiǎo lóng xiā

)
These crawfish are seasoned with a generous amount of Sichuan peppercorns and chili peppers, creating a tongue-tingling and spicy sensation.
Garlic Butter Crawfish-蒜香奶油小龙虾(

Suàn xiāng nǎiyóu xiǎo lóng xiā

)
Cooked with garlic and butter, these crawfish have a rich and savory flavor with a hint of sweetness from the butter.
Salt and Pepper Crawfish-椒盐小龙虾(

Jiāoyán xiǎo lóng xiā

)
Coated with a mix of salt and pepper, these crawfish offer a simple yet tasty and crispy seasoning.
City with a Love for Crawfish:
The city of Wuhan in China, or "武汉" (Wǔhàn) in Chinese, is famous for its love of crawfish. It has earned the nickname "the City of Crawfish" due to the locals' deep affection for this tasty crustacean. In Wuhan, you can find numerous crawfish restaurants, or "小龙虾餐厅" (xiǎo lóng xiā cān tīng), scattered throughout the city.
Key Sentences:
I had a delicious meal of crawfish with my friends last night.
昨晚我和朋友们一起吃了一顿美味的小龙虾。


Zuówǎn wǒhépéngyǒumen yīqǐchīle yīdùn měiwèi de xiǎo lóng xiā.

I tried spicy crawfish for the first time at the restaurant last night.
昨晚我第一次在餐馆尝试了麻辣小龙虾。


Zuówǎn wǒdìyīcìzài cānguǎn chángshìle málàxiǎo lóng xiā.

Crawfish is a popular summer dish in China.
小龙虾是中国夏季受欢迎的美食。


Xiǎo lóng xiāshìZhōngguóxiàjìshòu huānyíng de měishí.

I tried Chinese crawfish for the first time in Beijing.It was delicious!
我在北京第一次尝试了中国小龙虾,味道真好!


Wǒzài Běijīng dìyīcìchángshìle Zhōngguóxiǎo lóng xiā,wèidào zhēn hǎo!
Do you enjoy eating crayfish? What is your favorite Chinese cuisine?
Sign up for a free trial now!