Braised Pork-红烧肉 (hóng shāo ròu)
Thursday, November 2, 2023
Braised Pork is a popular Chinese dish, known as "红烧肉"(hóng shāo ròu) in Chinese. Braised Pork is made by slowly simmering pork belly in a flavorful sauce until it becomes tender and rich in flavor.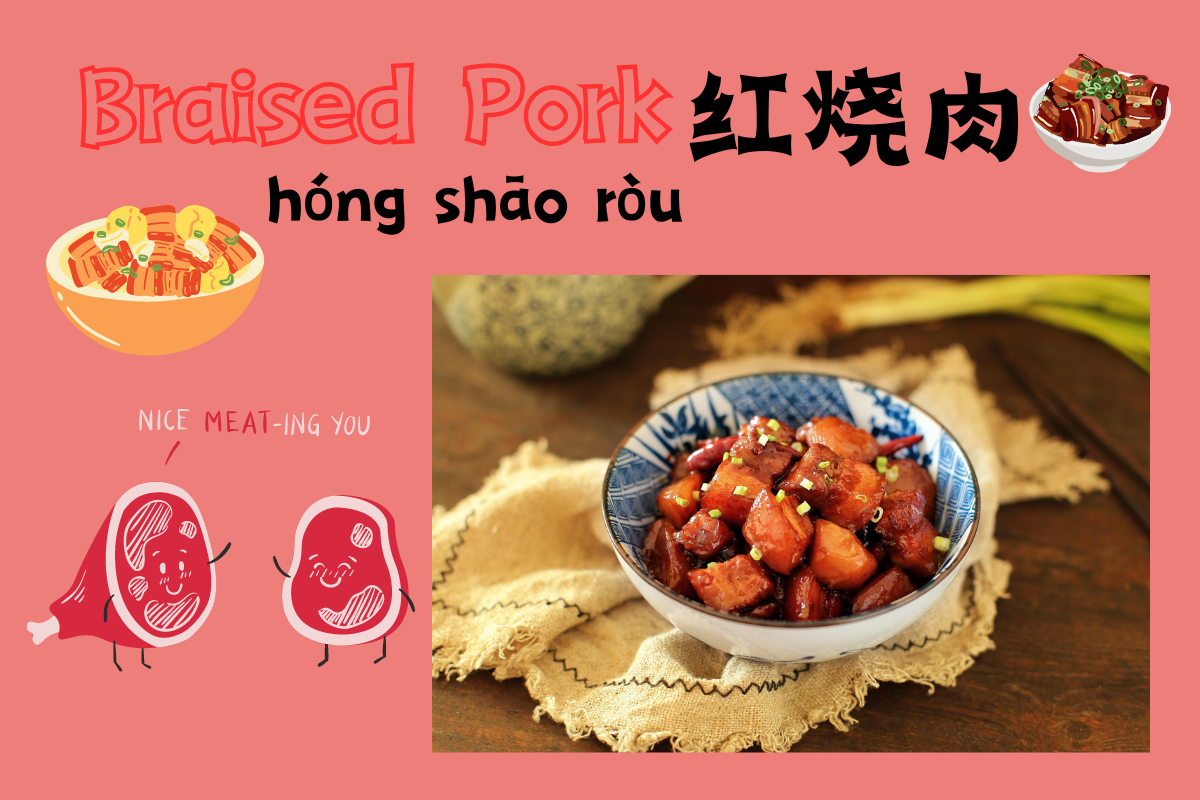 The Cooking Method of Braised Pork:
Cut the pork belly into chunks and blanch them in boiling water, then set aside.
Heat up an empty wok and add oil, followed by rock sugar. Let the sugar melt over low heat.
Add the pork belly to the wok and stir-fry.
Add ginger and garlic.
Stir-fry for a while, then pour in light soy sauce and dark soy sauce.
Continue stir-frying and pour in enough water to cover the meat.
Simmer over medium-low heat for fifty minutes.
Increase the heat to high to reduce the sauce until the pork is glazed and ready. It's done!
Essential Ingredients for Braised Pork! Don't forget any of them:
猪肉 (zhū ròu)-Pork
酱油 (jiàng yóu)-Soy sauce
糖 (táng)-Sugar
姜 (jiāng)-Ginger
蒜 (suàn)-Garlic
Key Sentences:
I enjoy the rich flavors of the Braised Pork with soy sauce and spices.
我喜欢红烧肉的浓郁口味,加了酱油和香料。


Wǒxǐhuān hóngshāoròu de nóngyùkǒuwèi,jiāle jiàngyóu héxiāngliào.

I love the tender and flavorful Braised Pork.
我喜欢肥瘦相间的红烧肉。


Wǒxǐhuān féishòu xiāngjiàn de hóngshāoròu.
Have you learned how to make Chinese food-Braised Pork? Come and give it a try.
Sign up for a free trial now!