An Exquisite Sensory Journey: Exploring the Delights of Zibo Barbecue
Monday, July 31, 2023
Zibo is situated in the central part of Shandong Province and was once an obscure industrial city. However, in recent months, it has suddenly turned into one of the top tourist destinations, alongside popular attractions such as the Great Wall and Army of Terra Cotta Warriors.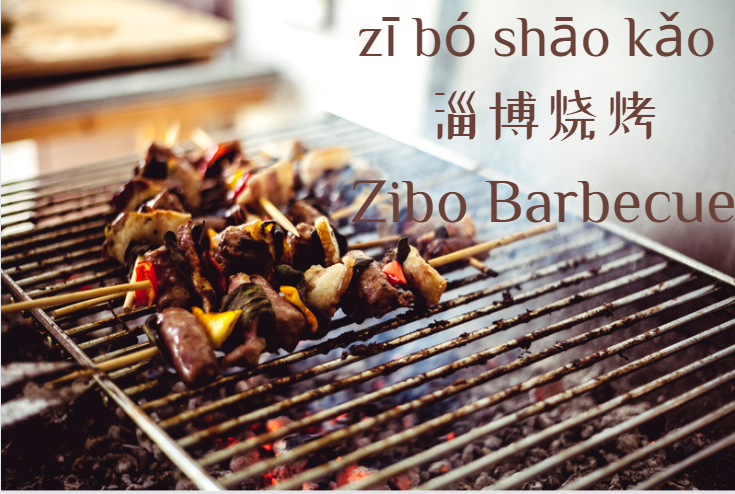 What has pushed this small city into the limelight is its specialty: Zibo barbecue. On Chinese social media platforms, Zibo barbecue is heatedly discussed. For example, Weibo and Xiaohongshu, Chinese social media platforms similar to Twitter and Instagram, are flooded with mouth-watering images and videos. Tourists from all over the country flock here, just for a taste of it. They board planes or high-speed trains with one destination in mind: the barbecue stalls. What makes Zibo barbecue so incredibly alluring? Why are tourists willing to travel great distances to have a taste?
Firstly, Zibo barbecue offers a wonderful sensory experience. As you step into the barbecue stall, the sizzling aroma of grilled meat fills the air. It is 70-80 percent cooked before being served, allowing diners to further cook it on their own stoves. Besides, there are small pancakes, scallions, and various dipping sauces such as chili powder, garlic sauce, and crushed peanuts. Pick up a skewer, roll it in the sauce, wrap it with a thin and chewy pancake, and top it with several pieces of scallions, which is similar to Beijing roast duck and creates a "Shandong Taco". With each bite, an explosion of flavors takes over your taste bud: the savory richness of the meat, the wheat fragrance of the pancake, and the refreshing essence of the scallion. Moreover, barbecue is not only a way to fill the stomach but also to spend precious time with friends and family. What truly attract diners are the down-to-earth atmosphere and relaxation amidst the smoke and flame, which is the long yearning for them in today's hurried society.
If you want to eat Zibo barbecue in an authentic way, here are some tips for you.
Starter: 煮毛豆/花生(

zhǔ máo dòu /huā shēng

) boiled green soybeans/ peanuts. They are savory, refreshing, and appetizing.
The Soul of Zibo Barbecue: 小饼和小葱(

xiǎo bǐng hé xiǎo cōng

)pancakes and scallions. People usually put two or three skewers in a small pancake with some scallions, fold the pancake into a roll and pull the skewers out.
The Dipping Source: The most authentic dips are 蒜蓉酱(

suàn róng jiàng

) garlic source, 孜然(

zī rán

)cumin, and 芝麻盐(

zhī má yán

)sesame salt, with other dips such as crushed peanuts, minced onion, chili powder, pepper, and sweet bean sauce available.
Beverage: 青岛啤酒(

qīng dǎo pí jiǔ

)Tsingtao Beer, China's most famous beer brand. Tsingtao, Qingdao in current Pinyin, is the capital of Shandong Province. It has a pure yellow color with a purified flavor, refreshing taste, light hops, and a malty aroma.
Key Notes:
kǎo chuàn
烤 串 skewer/kebab: small pieces of meat and vegetables cooked on a wooden or metal stick
chuí xián yù dī
垂 涎 欲 滴 mouth-watering: a Chinese idiom that describes the feeling of being so tempted by food that even saliva starts to drip, indicating a strong desire to eat.
yān huǒ qì
烟 火 气 the smoke and flame: it represents a satisfying barbecue experience and a cozy life atmosphere.
Xiao Ming: Xiao Hong, let's go to have the Zibo barbecue!
小明:小红,我们去吃淄博烧烤吧!
Xiǎo Míng: Xiǎo Hóng, wǒ men qù chī zī bó shāo kǎo ba!
Xiao Hong: That sounds amazing! Lately, I have been seeing videos of it, with the meat sizzling and the sauces being brushed on. It's incredibly mouth-watering.
小红:太棒了,我最近总是看到淄博烧烤的视频,烤肉滋滋作响,再刷上酱料,太令人垂涎欲滴了。
Xiǎo Hóng: tài bàng le, wǒ zuì jìn zǒng shì kàn dào zī bó shāo kǎo de shì pín, kǎo ròu zī zī zuò xiǎng, zài shuā shàng jiàng liào, tài lìng rén chuí xián yù dī le.
Xiao Ming: Me, too. I love the the smoke and flame of barbecue because it is so relaxing.
小明:我也是。我很喜欢烧烤的烟火气,它让我感觉很放松。
Xiǎo Míng: wǒ yě shì. wǒ hěn xǐ huān shāo kǎo de yān huǒ qì, tā ràng wǒ gǎn jiào hěn fàng sōng.
Xiao Hong: Yes. I can't wait to go there.
小红:是的,我都等不及要去那了。
Xiǎo Hóng: shì de, wǒ dōu děng bú jí yào qù nà le.
Sign up for a free trial now!