Escaping the Bustling World: Having a Citywalk
Monday, September 18, 2023
With several dear friends, embarking on a leisurely stroll through the bustling city streets. Recently, following the popularity of "特种兵旅行(tè zhǒng bīng lǚ xíng)", special forces tourism, "城市漫步(chéng shì màn bù)", usually called its English name "citywalk" has become the new favorite among young people. Citywalk entails strolling through the city, using one's footsteps to feel the vitality of urban life. Exploring narrow alleys, citywalkers immerse themselves in the distinctive essence and lively atmosphere of the city.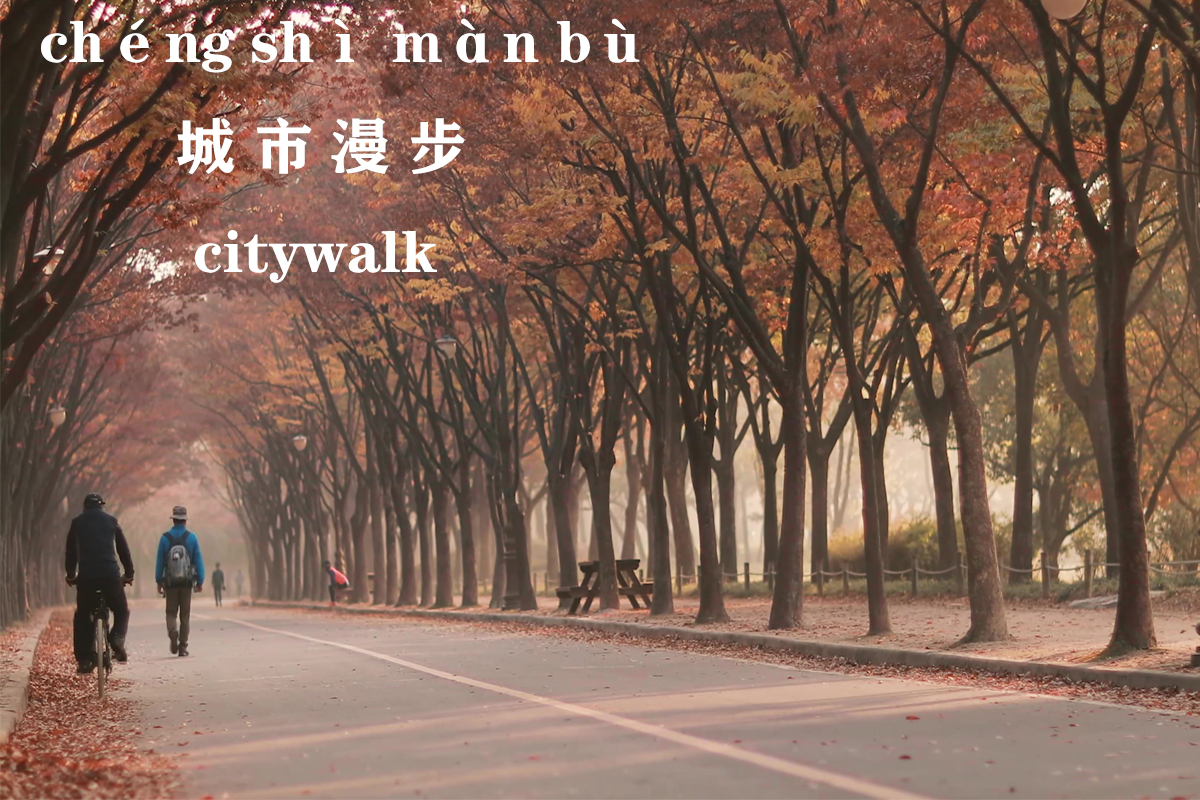 Special forces tourism focuses on visiting as many scenic spots as possible in the shortest time, while citywalk pays more attention to immersive experience of urban life. Walkers often go somewhere away from popular scenic spots and commercial centers, explore ancient buildings along unique routes, visit boutiques, have a cup of coffee and taste authentic snacks. They hope to interact with local residents and learn more about the history and culture of the city.
In fact, citywalk is more like a food tour. Walkers will carefully plan the route, include some snack shops, and sometimes invite folk culture researchers and enthusiasts as their tour guides. Some people also seize this opportunity to share recommended routes and restaurants through social media, and then more and more people shared their experiences online. Citywalk provides a way for people to interact with the city, and also provides them with new social scenes. Those who have the same experiences can easily make friends, and it is common to find posts about "citywalk dazi". It can be seen that, whether it is "special forces tourism", "dazi-based socialization" or "citywalk", the way Chinese people enjoy their leisure time is changing to socialization.
The following are two popular routes of citywalk in Xi'an:
粉巷→德福巷→湘子庙→太阳庙门 Length: 1.5km

粉巷 (

fěn xiàng

) Powder Street: 329 meters in length. Regarding the origin of its name, it is said that this street used to be a grain barn in Xi' an and was covered with thick flour, and someone holds that it is named after selling rouge.
德福巷 (

dé fú xiàng

) Defu Lane: On the street less than 200 meters long, cafes, bars and teahouses are opened one after another, full of romance and tenderness.
湘子庙 (

xiāng zǐ miào

) Xiangzi Temple Street: It is 521 meters, which is said to be the former residence of Han Xiangzi, one of the Eight Immortals, full of antique architecture.
太阳庙门 (

tài yáng miào mén

) Sun Temple Gate Street: The total length is 298 meters, and there are many small shops at the front of the gate, such as coffee, western food, and afternoon tea.

和平门→老菜场→永兴坊 Length: 2.7km.

和平门(

hé píng mén

) Peace Gate: It is a gate of Xi 'an city wall, named for expressing the desire for world peace.
老菜场(

lǎo cài chǎng

) Old Market: It is divided into two areas, one is a creative business district added after the new transformation, and the other still retains the characteristic cooked food stalls.
永兴坊(

yǒng xīng fáng

): It is mainly composed of more than 50 specialties from all over Shaanxi, as well as manual folk art performances.
Key Notes:
城市漫步(

chéng shì màn bù

): citywalk; to stroll in less-known places within a city
漫步(

màn bù

)、散步(

sàn bù

): stroll; to walk in a slow, relaxed manner, especially for pleasure
People were strolling along the beach.
人们在海滩漫步。


rén men zài hǎi tān màn bù。

It's healthy to take a walk after supper.
晚饭后漫步有益安康。


wǎn fàn hòu màn bù yǒu yì ān kānɡ。

I like to roam around the fields
我喜欢在田野中漫步。


wǒ xǐ huɑn zài tián yě zhōnɡ màn bù。
Sign up for a free trial now!