Urumqi: The Colorful Modern Capital Of The Silk Road
Tuesday, August 1, 2023
Urumqi is a fascinating city located in the Xinjiang Uygur Autonomous Region of China, known for its unique blend of cultures, vibrant history, and delicious cuisine. In this article, we will delve into Urumqi with the purpose of learning Chinese, covering topics such as tourism, the pronunciation teaching of "乌鲁木齐"( wū lǔ mù qí ) Urumqi in Chinese, historical highlights, local specialty cuisine, and customs.
旅游 (Lǚyóu) - Tourism
Urumqi boasts a diverse range of tourist attractions that showcase the region's natural beauty and cultural diversity. One of the must-visit places is the 天池 (Tiān chí) Heavenly Lake, a stunning alpine lake nestled amidst the Tianshan Mountains. 大巴扎 (Dà bā zhā) The Grand Bazaar is another highlight, where visitors can immerse themselves in the bustling market atmosphere, shop for local handicrafts, and sample delicious Uygur cuisine.
历史 (Lìshǐ) - History
Urumqi has a rich historical background and has been a vital trading hub along the ancient Silk Road. This region has been influenced by various cultures over the centuries, resulting in a unique blend of traditions. 新疆维吾尔自治区博物馆 (Xīnjiāng Wéiwú'ěr Zìzhìqū Bówùguǎn) The Xinjiang Regional Museum offers visitors insights into the region's historical and cultural development.
当地特色美食 (Dāngdì Tèsè Měishí) - Local Specialty Cuisine
Urumqi is famous for its delectable Uygur cuisine, which features a delightful mix of Middle Eastern and Central Asian flavors. 羊肉串 (Yángròu chuàn) Lamb skewers , 拉面 (Lā miàn) hand-pulled noodles , and 抓饭 (Zhuā fàn) pilaf are some of the must-try dishes. Urumqi's street food scene is vibrant, with various stalls offering an array of tasty snacks and desserts.
习俗 (Xísú) - Customs
The people of Urumqi follow a rich tapestry of customs that reflect the cultural diversity of the region. Uygur music and dance performances, such as the traditional 多兰木卡姆 (Duōlán Mùkǎmǔ) "Dolan Muqam", showcase the region's artistic heritage. 那达慕 (Nà dá mù) The Naadam Festival is a significant event that features various traditional sports and competitions, bringing people together in celebration.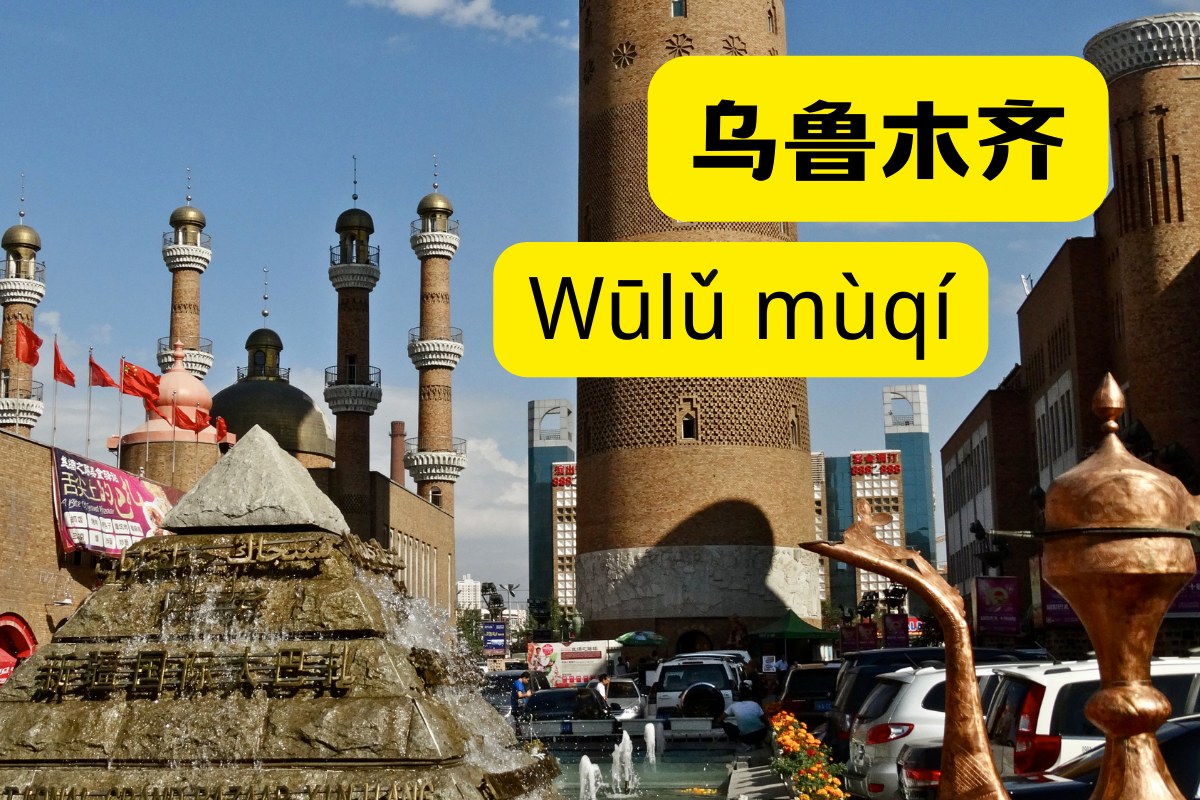 There are four tones in Chinese. The four characters "乌鲁木齐 wū lǔ mù qí" happen to encompass the four tonal variations found within Mandarin Chinese phonetics.
乌 (Wū) - The first character is "乌," pronounced as "Wū" with the first tone. For the first tone, It is high pitch and flat. Similar to the way we say "maybe" in English when expressing uncertainty. It corresponds to the first syllable "may" in the word "maybe."
鲁 (Lǔ) - The second character is "鲁," pronounced as "Lǔ" with the third tone. For the third tone, it goes down first, then goes up. Similar to the way we say "well" in English when you are thinking.
木 (Mù) - The third character is "木," pronounced as "Mù" with the fourth tone. For the forth tone, it goes down quickly, we can also say it is angry voice. Similar to the way we say "Ouch" in English when you are angry.
齐 (Qí) - The fourth character is "齐," pronounced as "Qí" with the second tone. For the second tone, it goes up. Similar to the way we say "what" in English when you are surprised.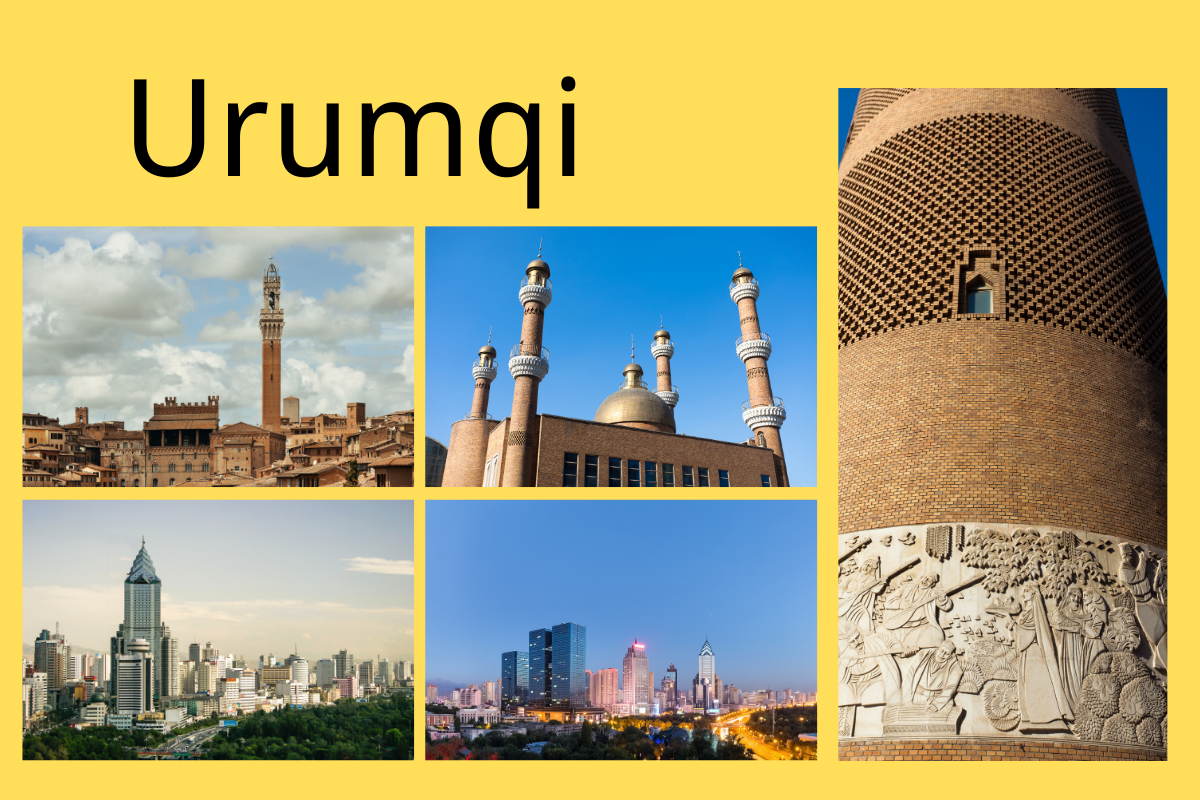 Urumqi is a vibrant city that captivates visitors with its cultural richness and warm hospitality. 

乌鲁木齐是一座充满活力的城市,以其文化的丰富和热情好客吸引着游客。

Wūlǔmùqí shì yī zuò chōngmǎn huódòng de chéngshì, yǐ qí wénhuà de fēngfù hé rèqíng hàokè xīyǐn zhe yóukè.
I had the pleasure of trying the delicious Uygur cuisine in Urumqi, and it was an unforgettable culinary experience.

我在乌鲁木齐有幸品尝了美味的维吾尔菜肴,这是一次难忘的美食体验。

Wǒ zài Wūlǔmùqí yǒuxìng pǐncháng le měiwèi de Wéiwú'ěr càiyáo, zhè shì yī cì nánwàng de měishí tǐyàn.
Urumqi's Naadam Festival is a joyful celebration filled with traditional sports and cultural performances. 

乌鲁木齐的那达慕节是一个充满传统体育和文化表演的喜庆庆典。

Wūlǔmùqí de Nàdámù Jié shì yīgè chōngmǎn chuántǒng tǐyù hé wénhuà biǎoyǎn de xǐqìng qìngdiǎn.
Sign up for a free trial now!