Mountain Tai-泰山 (tài shān)
Saturday, October 28, 2023
MountainTai (tài shān), located in Shandong Province, China, is one of the country's most revered cultural and natural treasures. Known as the "Eastern Great Mountain," it holds a profound significance in Chinese history and philosophy, attracting countless pilgrims, tourists, and adventurers.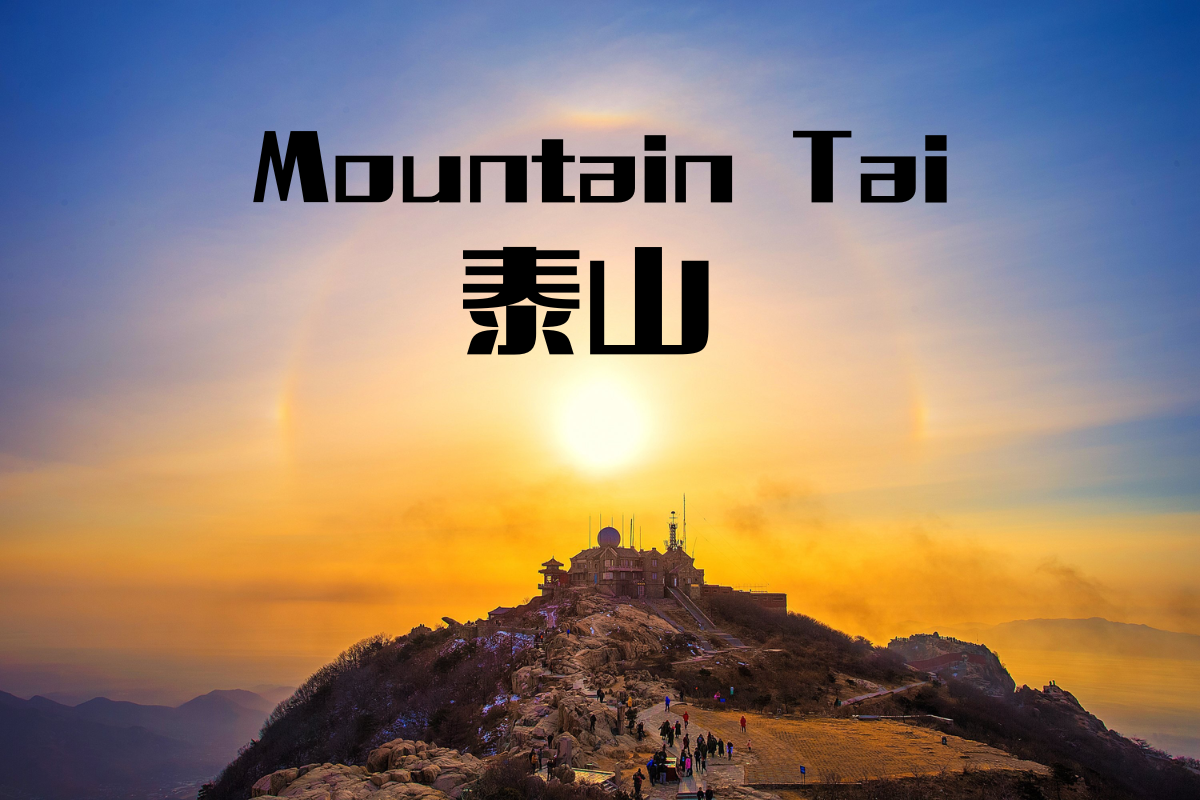 Lǚyóu - Tourism
Mount Tai is a pilgrimage destination and a popular tourist spot. The hike to the summit is an awe-inspiring journey with historical significance. The well-preserved ancient temples, inscriptions, and stone carvings along the way provide a glimpse into the rich cultural heritage of the region.
Měishí - Cuisine
Exploring the culinary offerings around Mount Tai provides a delightful experience. Local dishes like "Mǐ Xiàn" (wheat noodles) and "tài shān mǎ zhàng" (Mount Tai horse intestine) offer a taste of authentic Shandong flavors, enticing food enthusiasts to indulge.
Tèsè - Special Features of Mount Tai
One of Mount Tai's distinct features is the "Zhǐ Fēng," or the "Peak of Ultimate Emptiness." It is the highest point and offers a panoramic view of the surrounding landscape. The sunrise seen from this peak is particularly famous and is considered a spiritual experience by many visitors.
Scenery
The scenery of Mount Tai is breathtaking, with its majestic peaks, lush forests, and ancient architecture. The famous "Yúnmēng Xiá" (Cloud Valley) offers a serene natural landscape, while the "Dài Mén" (Gate to Heaven) is a magnificent architectural feat that enchants visitors.
泰 (Tài):
Chinese Pronunciation: The pronunciation is similar to the English word "tie," but when pronouncing it, curl your tongue slightly upwards and towards the palate, then produce the sound of "t".
山 (Shān):
Chinese Pronunciation: The pronunciation is similar to the English word "shahn," and when pronouncing it, open your mouth slightly and keep your tongue flat, producing the "sh" sound.
Key Sentences:
Witnessing the sunrise from the Peak of Ultimate Emptiness on Mount Tai was a spiritual moment that left me in awe.
在泰山顶的至尊峰上看日出,是一个让我惊叹的精神时刻。


Zài Tàishān dǐng de Zhìzūn Fēng shàng kàn rìchū, shì yīgè ràng wǒ jīngtàn de jīngshén shíkè.

After a day of hiking and exploring the ancient temples on Mount Tai, we indulged in a delicious bowl of "Mǐ Xiàn" at a local eatery.
在泰山徒步远足和探索古庙一天后,我们在当地的餐馆品尝了一碗美味的"米线"。


Zài Tàishān túbù yuǎnzú hé tànsuǒ gǔmiào yī tiān hòu, wǒmen zài dāngdì de cānguǎn pǐnchángle yī wǎn měiwèi de "Mǐ Xiàn".

Mount Tai's "Zhìzūn Fēng" offers an unparalleled view of the surrounding landscape, making it a must-visit destination for nature lovers and adventurers.
泰山的"至峰"提供了无与伦比的周围景色,使其成为自然爱好者和冒险者必访的目的地。


Tàishān de "Zhìzūn Fēng" tígōngle wúyǔlùnbǐ de zhōuwéi jǐngsè, shǐ qí chéngwéi zìrán àihào zhě hé màoxiǎnzhě bì fǎng de mùdìdì.
Sign up for a free trial now!