Guardian of the Great Wall: Discovering the Wonders of Jiayuguan
Thursday, September 21, 2023
Nestled in the heart of China's northwestern Gansu province, 嘉峪关 (Jiā yù guān) Jiayuguan stands as a testament to China's rich history and vibrant culture. Often referred to as the "First Pass Under Heaven," this historical city holds a pivotal position along the legendary Silk Road, serving as a gateway between the Middle Kingdom and the vast Central Asian expanse.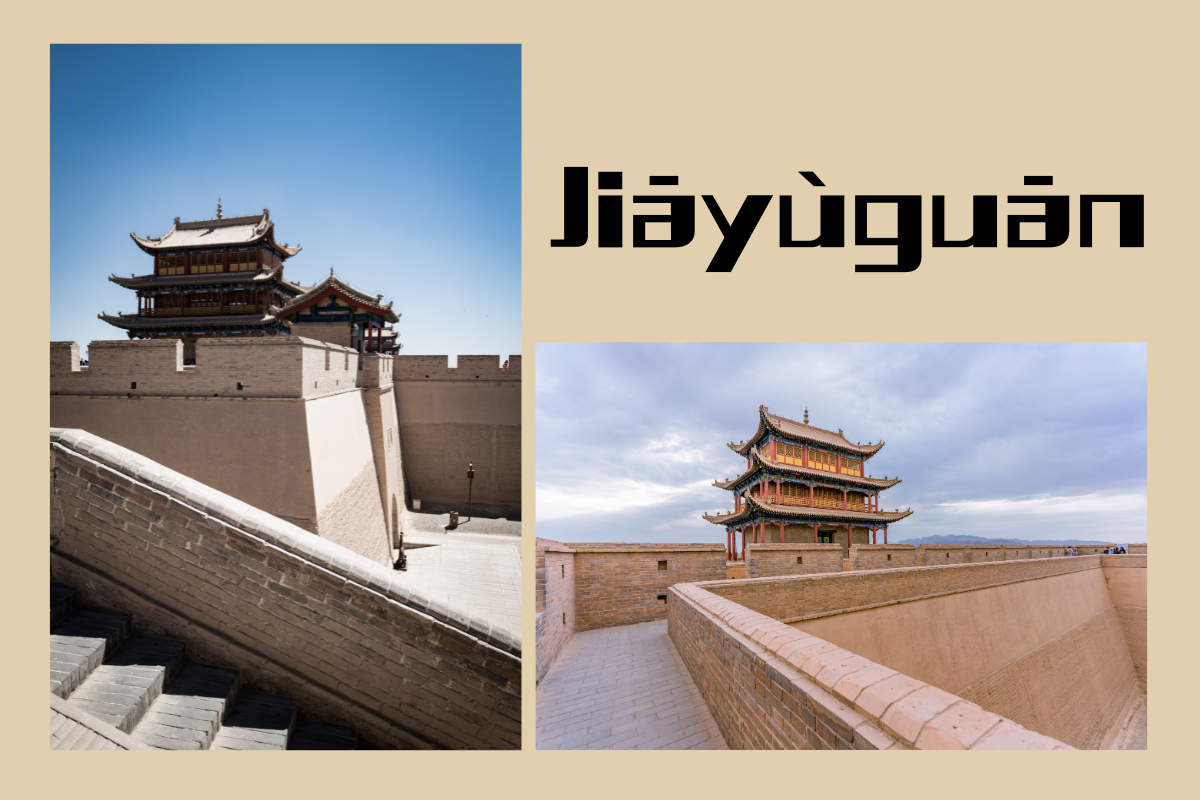 Historical Significance and Cultural Heritage:
嘉峪关 (Jiā yù guān) Jiayuguan is home to the renowned Jiayuguan Pass, one of the most strategically important sections of the Great Wall of China. This pass served as a vital defense point, controlling access to and from the Hexi Corridor. Its awe-inspiring watchtowers and fortresses provide a glimpse into the region's historical importance and the architectural brilliance of ancient China.
Local Cuisine and Specialties:
嘉峪关 (Jiā yù guān) Jiayuguan's 美食 (měi shí) culinary offerings reflect the flavors of northwestern China. Visitors can savor local dishes such as "Lanzhou beef noodles," "hand-pulled noodles," and "roujiamo" (Chinese hamburger). These delectable treats offer a delightful culinary journey that complements the city's cultural richness.
Historical Sites and Natural Beauty:
Apart from the Jiayuguan Pass, Jiayuguan boasts other historical sites, such as the Overhanging Great Wall and the Weijin Tombs. The stunning landscapes of the surrounding Gobi Desert and the Qilian Mountains add to the city's allure, inviting travelers to explore the harmonious blend of nature and culture.
"Jiāyùguān" is pronounced as follows:
The sound of "嘉" (jiā) is similar to the English word "ja," like the "ja" sound with a starting "j."
The sound of "峪" (yù) is similar to the English word "yoo," resembling the "yoo" part of the pronunciation of "you."
The sound of "关" (guān) is similar to the English word "go," akin to the "g" sound followed by the "wan" sound.
Key Sentences:
As I stood atop the Jiayuguan Pass, I couldn't help but imagine the ancient caravans that traversed the Silk Road through this historic gateway.
站在嘉峪关的城楼上,我不禁想象古代的商队是如何穿越这个历史性的门户,踏上丝绸之路的。
Zhàn zài Jiāyùguān de chénglóu shàng, wǒ bùjìn xiǎngxiàng gǔdài de shāngduì shì rúhé chuānyuè zhège lìshǐxìng de ménhù, tà shàng sīchóu zhī lù de.
Jiayuguan's rich tapestry of history and culture is woven into every stone, every alley, and every delicious bite of its regional cuisine.
嘉峪关丰富的历史和文化融入到每块石头、每条小巷,以及每一口美味的地方美食中。
Jiāyùguān fēngfù de lìshǐ hé wénhuà róngrù dào měi kuài shítou, měi tiáo xiǎoxiàng, yǐjí měi yī kǒu měiwèi de dìfāng měishí zhōng.
The stunning panorama from the Overhanging Great Wall offers a breathtaking view of Jiayuguan, a city that bridges the gap between history and modernity.
悬空长城上的壮丽全景为嘉峪关的城市美景增添了一抹壮观的色彩,这座城市架起了历史与现代之间的桥梁。
Xuánkōng Chángchéng shàng de zhuànglì quánjǐng wèi Jiāyùguān de chéngshì měijǐng zēngtiānle yī mǒ zhùanguān de sècǎi, zhè zuò chéngshì jiàqǐle lìshǐ yǔ xiàndài zhījiān de qiáoliáng.
Sign up for a free trial now!