The Early Bird Gets Shot-枪打出头鸟 (qiāng dǎ chū tóu niǎo)
Wednesday, October 11, 2023
"枪打出头鸟" (qiāng dǎ chū tóu niǎo) is a well-known Chinese fable with widespread circulation. The story revolves around a young hunter who, while chasing birds in the forest, always attempts to shoot the one flying highest. Despite the challenges he faces each time, he persists relentlessly and eventually succeeds in shooting down the bird that 引领 (yǐn lǐng) led the flock. This story emphasizes the courage to pursue excellence and surpass mediocrity.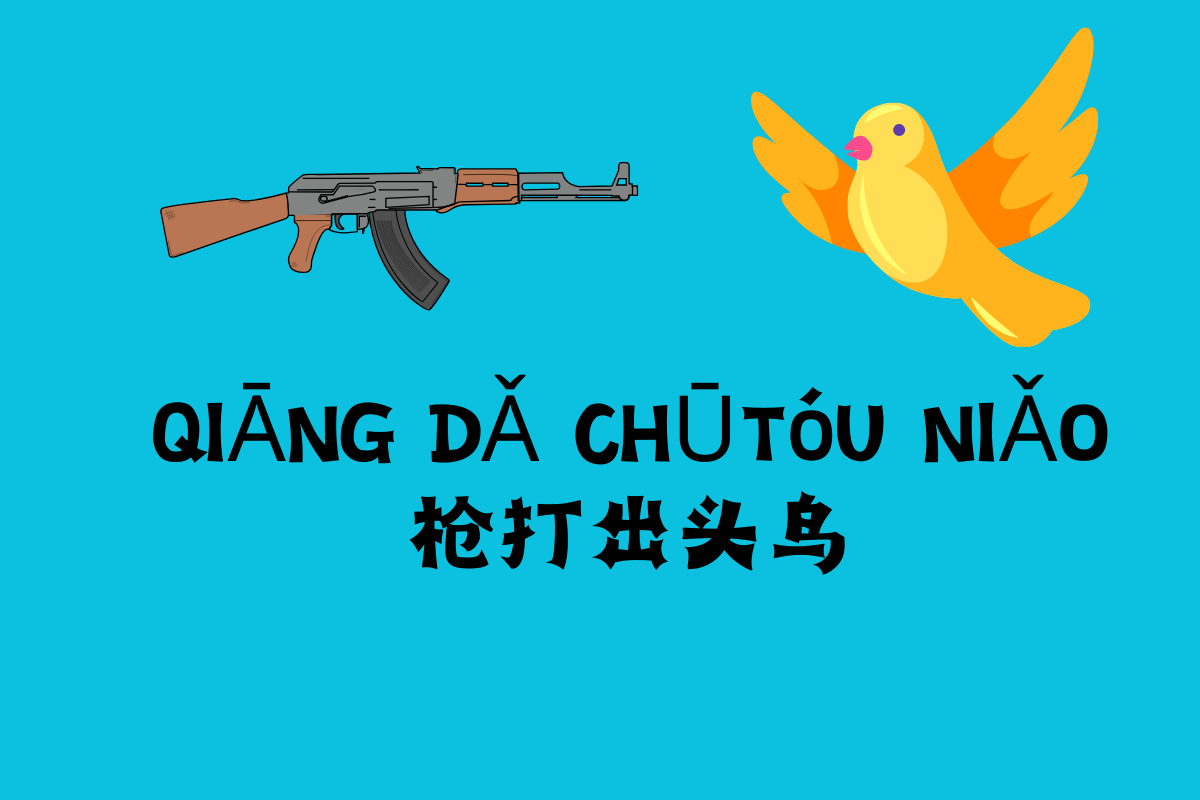 引领 (yǐn lǐng),verb,led
Examples:
She led the team to victory with her exceptional leadership skills.
她凭借卓越的领导能力带领团队取得了胜利。


Tā píngjié zhuóyuè de lǐngdǎo nénglì dàilǐng tuánduì qǔdé le shènglì.

Effective communication is crucial for a leader to successfully lead a team.
有效的沟通对于领导成功引领团队至关重要。


Yǒuxiào de gōutōng duìyú lǐngdǎo chénggōng yǐnlǐng tuánduì zhìguān zhòngyào.
Inspiration and Meaning
The story inspires people to strive for excellence and not settle for mediocrity. "枪打出头鸟" (qiāng dǎ chū tóu niǎo) metaphorically describes standing out among many competitors and achieving success. This fable teaches us to overcome difficulties, face challenges with courage, and 努力 (nǔ lì) strive to surpass mediocrity.
努力 (nǔ lì),verb,strive
Examples:
She always strives to do her best in everything she undertakes.
她总是努力做好她所承担的一切。


Tā zǒng shì nǔlì zuò hǎo tā suǒ chéngdān de yīqiè.

We should strive for a more sustainable future to protect the environment.
我们应该努力追求更可持续的未来,以保护环境。


Wǒmen yīng gāi nǔlì zhuīqiú gèng kěchíxù de wèilái, yǐ bǎohù huánjìng.
Modern Application
The story of "枪打出头鸟" (qiāng dǎ chū tóu niǎo) holds significant relevance in contemporary society. It reminds us to cultivate a mindset of pursuing excellence and continuously improving our skills and qualities to stand out in our careers and lives. This concept can also be applied to teamwork, motivating team members to pursue higher goals.
Key Sentences:
He has been working diligently, persistently seeking the opportunity to strike ahead of the pack.
他一直努力工作,坚持追求枪打出头鸟的机会。


Tā yīzhí nǔlì gōngzuò, jiānchí zhuīqiú qiāng dǎ chūtóu niǎo de jīhuì.

The company encourages employees to innovate and stand out as "strike ahead of the pack."
公司鼓励员工创新,脱颖而出,成为"枪打出头鸟"。


Gōngsī gǔlì yuángōng chuàngxīn, tuōyǐng érchū, chéngwéi "qiāng dǎ chūtóu niǎo."

"strike ahead of the pack" is an article rich in profound meaning.
枪打出头鸟是一篇富含深意的文章。


"Qiāng dǎ chūtóu niǎo" shì yīpiān fùhán shēnyì de wénzhāng.
Sign up for a free trial now!