The source of the February 2st and customs
Sunday, February 26, 2023
The source of the February 2st and customs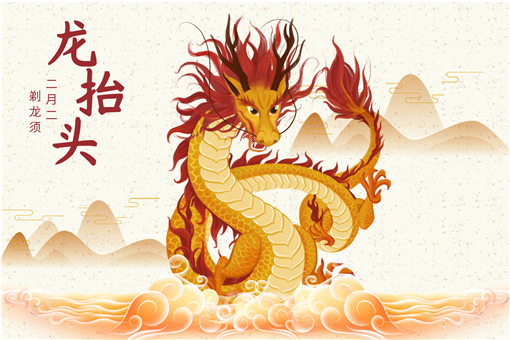 What do you know about the origin?
February 2st, originating in fu era, fu xi heavy farming, service field, every year on tillage farmland. To ji fa, every February 2st, held a grand ceremony, the emperor personally farming, queen sent food, called for the military baiguan plow, to persuade farming. This custom was continued in later dynasties.
· Folk Customs
𝟏. Focal grey wheat meal
Folklore, the lunar early February 2st, sex who is in charge of the day of the dragon looked up, since then, the rain will gradually raised, promises a good harvest this year. So on the second day of February, every household in the yard with stove ash sprinkled out a big circle, the grains into the middle, called a ton or fill, meaning that the hope that the year can be grain harvest, food full.
𝟐. ChunNiu.
February 2st, the day to make ChunNiu in the field, but also chanting February 2st, dragon head, long live, HuangYe Taurus, palace empress to send meal, bless the people of grain.
𝟑.Haircut.
In fact, the dragon raised its head to represent the arrival of spring, everything to recover. In the north in February 2st also called dragon looked up, which is also called spring dragon festival. In the south, the dragon raises its head and is called Taqing Festival. So the second lunar month, known as the second month shaving head. It is widely believed among Chinese people that shaving one's head on this day will bring good fortune. Therefore, folk rumor: February 2 shaved head, a year have a spiritual head. Every February 2 this day, the street barbershop is full of customers, business is booming.
𝟒 Diet.
There is also a certain amount of attention to diet. Because people believe that the dragon Wei big, so this day of food in the name of the dragon. Eating spring cake is called eating dragon scale, eating noodles is called eating dragon beard. Eating rice is eating longzi, eating wontons to eat longan and eating dumplings is called eating dragon ears. These customs are the people hope that the dragon King bless the strong desire of good weather and good crops.
Sign up for a free trial now!